When it comes to smartwatches, there are a lot of things to consider, especially when there are so many options to choose from. Even though there are a large number of brands that manufacture smartwatches, Apple and Garmin are the only two names that you would hear first. Both firms have been making solid, rugged utility smartwatches for a very long time. Apple has its own line-up of Apple Watches, while Garmin is more focused on sports and fitness part.
Also, not every smartwatch is really a smartwatch. It also depends on your needs, but a typical smartwatch is usually one that runs on an independent OS, such as wear OS, watch OS, etc. Many fitness band cum watches also feature most of the mainstream features such as GPS navigation, music, etc. Another difference between a typical smartwatch and a fitness watch that you would notice would be the battery backup.
For a device running an OS, or which features apps and interaction it is pretty normal to get a battery backup of 12-24 hours. As it is a watch and just like your smartphone, even it needs to juice up at times. But on the other hand, Fitness watches are known to last many days on a single charge, as they don't usually have a high-brightness AMOLED screen. However, recent releases from both firms have come with some exceptional features, which are definitely worth checking out!
Planning on getting a new smartwatch? Confused between the Apple Watch Ultra and the Garmin Felix 7x? Well, you've just landed in the right place. This article intends to compare and conclude a winner between these two high-end smartwatches.
Firstly, we will be looking at the Garmin Fenix 7x Sapphire. This is a high-end multisports GPS-enabled smartwatch, which features a scratch-resistant solar charging lens.
We would be talking about the Fenix 7x Sapphire solar, as all models come with three different versions, sapphire solar is the high-note version.
Solar Charging
You can actually charge your watch under sunlight, as confusing as it may sound, there are solar panels integrated under the display of the watch, so it can charge even when there's no power available outside.
The Fenix 7x can also predict your race pace, which basically means it will show you how fast you can run and also how fast you've run before. Further, it will show an estimate of how much time it will take you to run a marathon. You can also check how you have been improving, or deteriorating, compared to previous estimates.
Garmin has always been that brand that truly defines a sports watch, with tons of information on the screen regarding your every move and changes, it surely fails the Apple Watch ultra at this segment at least.
Track Your Stamina
Fenix 7x can also show you how much stamina you have in the form of a vertical meter, which depletes when you use your stamina. It also shows you how much energy is left for you to use. Garmin monitors your creatine metabolism, your anaerobic metabolism, and your aerobic metabolism to show you accurate energy readings.
Garmin's Gen 4 wrist heart sensor can measure your heart-rate 1.3 mm vertically. It comes equipped with PulsOx, which can measure the oxygen saturation of your blood.
For advanced users, there's a tracklog filter feature in the Garmin, which shows you your traveled route, with certain parts colored, which signifies your performance on the run.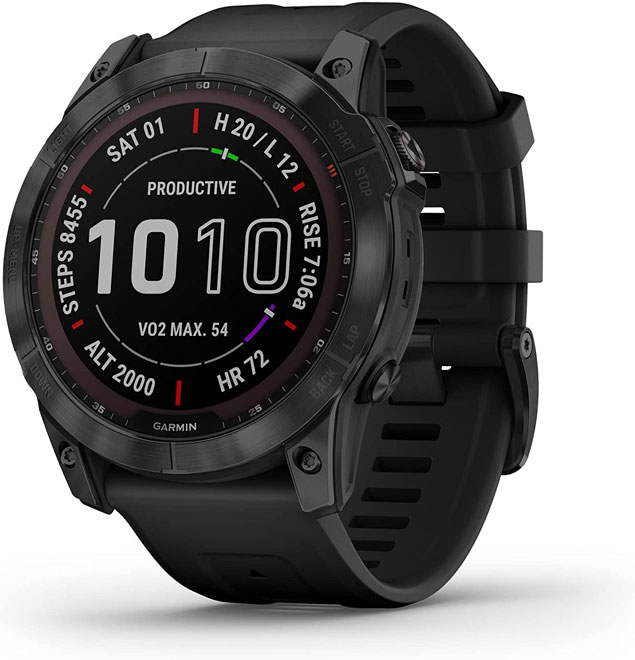 How smart is too smart?
Garmin Epix 7x can also track the steps you walked, while you were trail-running. Certain steep areas are not suitable to run, in those areas when we start walking from running, the watch even tracks that.
The Fenix 7x comes with a great utility feature, that's the flashlight it houses. The Fenix 7x comes with a flashlight integrated into it. It can be very helpful in low-light areas while walking, running, or doing any sport. It also comes in handy as it's a light attached to your wrist. If you ever meet with an accident, you can use the SOS feature where the watch will start flickering the flashlight as an SOS indication.
A sports feature worth checking out would be the new AMRAP mode, which stands for As many rounds as possible. Other features also include EMOM (Every Minute On the Minute), and TABATA, which is a form of high-intensity physical training in which very short periods of extremely demanding activity are alternated with shorter periods of rest, typically over a period of four minutes.
Although the Apple Watch Ultra is a seamless mini-wrist iPhone, the Garmin possesses some very handy features, which are as follows.
Garmin Pay
Typically in Garmin watches, you can simply add your credit card via the smartphone application and you can use contactless payments anywhere with Garmin Pay, just by waving your wrist.

Garmin Music
Music is a very important feature for most people out there, thanks to Garmin, you will just need a Spotify or Deezer account to enjoy your music on the watch. To enjoy music on the run download it while connecting the watch via wifi.
You never get lost with Garmin watches, with the accurate three-axed compass and a barometric pressure altimeter you can always be certain of your position.
In terms of activity tracking, your Garmin watch is seamless, as it can track stress levels, steps, heart rates, calories, and the quality of your sleep. So you can be pretty certain of your estimates whenever you check them.
When connected to an Android Phone, you will get notifications regarding, mail, message, weather, etc. You can also choose to reply via your watch.
Touch screen
You typically don't have to use the touch screen on the Garmin Fenix 7x, you can fully use the watch even with just the buttons. In terms of design, The Garmin Fenix 7x has become 2.1mm thinner than previous Garmin watches.
Multi-continent Map on the Garmin
Along with pre-installed top maps, you can also download new maps directly on your watch, which also has Skyview. If you happen to load your run before you actually run, you will be notified about the route like turns and steeps beforehand.

Out of the box, the watch comes in a solid titanium case, which makes it look more rugged and confident. The Apple watch ultra takes a lot of time to connect/or say to get a GPS fix sign, whereas the Fenix 7x actually takes just a second, it feels more like a button that you click, and boom you are now connected via GPS. This kind of delay in The apple watch ultra can be a turn-off for many people out there, especially who convey a sports routine every day, such as a trail run.
To use the Apple Watch Ultra, you will always need an iPhone. The Apple Watch Ultra is a very smooth and seamless device, but it is of no use if you don't pair it with an iPhone. The Apple Watch Ultra can also be said as a rugged exploration tool, with tons of useful features that you wouldn't expect from a watch.
Brightest Display Ever
The display is as bright as you can imagine, for a wristwatch, it packs 2000 nits Always on Retina display. If you're an explorer and don't mind the action, then this is all you need. The watch can easily take on extreme conditions such as -20° C to 55° C.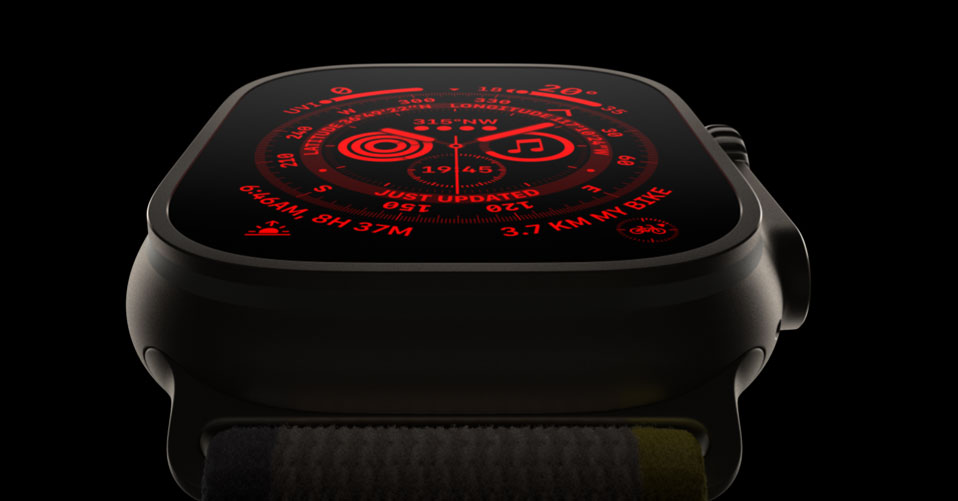 Unlike Garmin's Flash-light feature, the Apple watch ultra has a loud siren feature, which is 86 decibels loud. The siren is audible up to 180 meters away. To use the siren as a safety feature, just press and hold the action button till you hear the siren.
In terms of battery, the apple watch ultra lasts up to 36 hours on normal usage. If you turn on the low-power mode, you can get up to 60 hours of battery backup. Low power mode also limits the number of times your watch syncs with your phone over Bluetooth.
Certified for any kind of Dive!
When Apple says action, it means intense action. The apple watch can be worn while you are jet-skiing. If you happen to fall in the water, there's a depth gauge that accurately shows how deep you are currently in the water. The watch also comes with EN13319 certification, which is an internationally recognized standard for diving accessories.
Due to the partnership with Huish Outdoors, you get a bona fide dive computer on your wrist which is specifically designed for scuba diving for up to 40 meters. The Oceanic+ app shows you exactly what you need to see when you are submerged in water. Not only that, but you can also measure water temperature, duration underwater, and maximum depth you've reached.
You can even customize the action button for your own comfort, post which will open the specific app, or execute the mode when you press it.
Below are the health features that the Apple Watch Ultra houses.
ECG = The electrical heart sensor can record your heartbeat and rhythm, and then check for atrial fibrillation, which is a form of irregular rhythm.
Blood Oxygen = The sensors can read the oxygen level in your blood, which is an important feature to consider.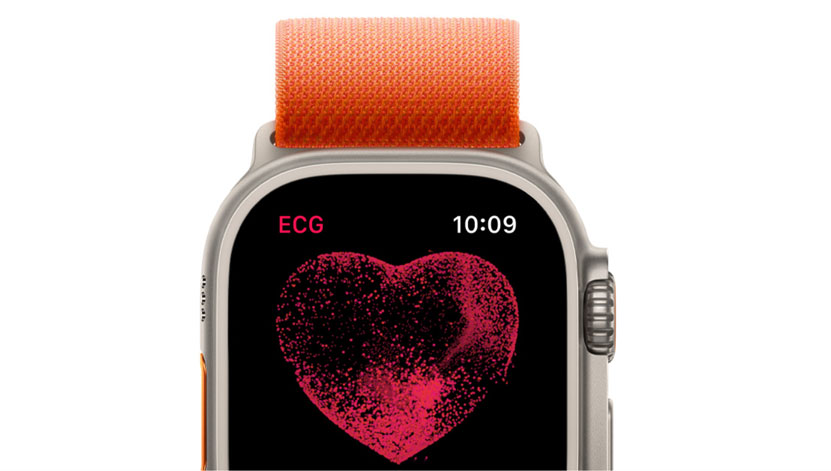 Receive Heart Health notifications = The apple watch ultra can record heart rate and rhythm, and warn you beforehand if it notices an irregular rhythm.
Sleep Tracking = The Apple Watch Ultra can track your sleep and create an estimate for how much you have slept. It also tracks when you might've woken up, and how many hours of deep sleep you are getting. Advanced temperature sensing can be used for women's health and advanced cycle tracking. It can even record overnight temperature changes, which can be viewed from the health app.
Safety features = It features Crash detection, which detects if you've had a car accident and it informs the nearby emergency services along with your contact.
Fall Detection = If you've fallen and you are unresponsive for a certain period, then the watch will alert the nearby emergency services. Or you can just press and hold the side button to contact emergency services, which will also provide them with your accurate location.
The Watch Ultra also features the Apple wallet which comes in handy while storing tickets or boarding passes. You don't need an iPhone's internet connection as the watch ultra is cellular and can download any store from the app store on its own.
Compared to previous Apple Watches, this one comes with a bigger digital crown which makes it easier to use even when you are using gloves.
The three-microphone array features machine learning, which automatically adapts to a condition depending on the wind, and your environment so as to capture the clearest audio possible.
Comparison
Readability under Direct Sunlight
Apple Watch ultra is super easy to read under direct sunlight, and it has the brightest display out of every other Apple smartwatch. Meanwhile, the Felix 7x has a great display that is fully visible in direct sunlight, although it may require you to flix your hands a little so that the reflection is not on the screen. The Garmin Fenix 7x is also easy to read under direct sunlight, but it's not as bright as the Apple Watch Ultra. But again, it pretty much does the job. In this segment, the clear winner is Apple Watch Ultra.
Battery Life
Apple Watch Ultra comes with 36 hours of battery backup in normal use, and the upcoming low-power mode can even stretch it up to 60 hours. This includes some changes in the sensor scan intervals. On the other hand, The Garmin Fenix 7x is the battery champ that you'd prefer to carry when you are going out on an adventure. It is also suitable for a longer period of time and when there's no availability of power outside. Garmin Fenix 7x can run for 28 days on standby and up to 90 days on low power mode. As you also get a solar charging option with the Garmin Fenix 7x, which can last up to 1 year while just charging on solar.
While everything is enabled on the Garmin Fenix 7x, you get 16 hours of total battery backup. You get 18 days of battery in smartwatch mode, which will be shown on the display when you are on smartwatch mode. If you fear you are lost, you still can find a way, as the high-accuracy topo maps show you the area on your wrist, with a whopping 57 hours of battery backup in GPS mode.
The Garmin Fenix 7x is the clear winner here!
GPS
Both of the smartwatches come with a Dual bank GPS system, which can accurately track your location on the map. The Garmin is way faster than The Apple watch ultra in terms of getting a GPS fix before you start your run/trail. On the other hand, the Apple Watch Ultra takes some time to get a GPS fix.
The Fenix 7x comes with multi-band GPS support and pre-installed top maps, so you can never get lost in the unknown. You don't have to worry about screen protection, as Garmin watches come with Corning Gorilla Glass screen.
Sports Modes
Without a doubt, The Garmin Fenix 7x has more sports options compared to the watch ultra. Watch ultra misses out on some important sports features, such as trail running, and many other sports modes.
Emergency Feature
Both the Apple Watch Ultra and the Garmin Fenix 7x come with emergency features installed. These can be a lifesaver when needed. Both have crash detection features, which can detect if you've had an accident and immediately inform nearby services. The information also gets to your emergency contacts.
A True Smartwatch?
Garmin Fenix 7x and Apple Watch Ultra both pack ton of features that significantly makes life easier. But, there can be only one winner. The Apple Watch Ultra is clearly the winner here, as it has more features and apps installed and it has cellular built-in. You technically don't need a connection with your iPhone for the Watch Ultra to function. It can independently run on its own, it's just like a wrist iPhone. Although, you do need Bluetooth to connect to your phone so you can check your estimates in the health app. The watch also features much clearer speakers than previous Apple Watches, which makes it easy to take calls on your watch.
On the other hand, the Garmin Fenix 7x has more features regarding sports and a better battery backup. It is expedition ready, but it doesn't have a lot of apps like the Apple Watch Ultra. The Garmin Fenix 7x is more of a fitness watch than a smartwatch. It has lower brightness, low-power options, and a ton of sports features. The flashlight also does make it a good utility watch.
Music
The Apple Watch Ultra lasts around 20 hours even when you are using GPS while playing songs on the watch. Sadly, for the Garmin Fenix 7x, the battery life while playing music and using GPS is just about 10 hours.
The Apple Watch Ultra comes with dual speakers. Which are currently the loudest in any Apple smartwatch, and other smartwatches as well.
Apple Watch Ultra takes the crown here!
Sports Tracking
The Garmin Fenix 7x has amazing sports features such as Dual-band GPS which provides the most accurate GPS tracking. The Apple Watch Ultra too features dual-band GPS bands and tracking. In comparison, both watches have almost similar accuracy in GPS tracking mode. For tracking, the Garmin Fenix 7x has much more options than the Watch Ultra. Garmin has way too many sports to track what you are doing.
On the other hand, the Apple Watch Ultra has more traditional tracking modes and currently misses out on many modes. Also, you can dive up to 100 meters with the Apple Watch ultra and it would still show you estimates.
It is very easy to create Custom Running sessions in both watches. With Garmin, you can download training plans seamlessly. While on the Watch Ultra, stores a lot of data but doesn't really use it anywhere. With Garmin, if you miss out on a few hours of sleep, it will be shown how much sleep you need to cover. Which is really helpful.
To download maps on the watch ultra, you will need a 3rd party application. While on Garmin, you can download all maps and store them in your 32GB memory.
Garmin Fenix 7x wins the game here!
Design & Display
The Apple Watch ultra comes with a 49mm titanium bezel design. It also houses a kind of lip design on the top, for increased protection. On the left side, you get an action button, which you can set on your own quick action. The best part is the new and bigger crown, which is very easy to use even while wearing gloves.
On the Fenix 7x, you get the same 5-button setup. To operate the watch without touching the screen, you may use the side buttons. It comes in different sizes of 42mm, 47mm, and 51mm (including all Fenix 7 models). The display does the job pretty well, considering it is more of a fitness band watch.
But, if you consider display as an important aspect of a smartwatch. Then you have no option other than the Watch Ultra. Moreover, it is currently the only smartwatch that packs 2000 nits of brightness. You can even switch to night mode, by just rotating the digital crown.
Apple Watch Ultra wins this round, for having the most rugged design, as well as the brightest display.
Cellular & Connectivity
The biggest difference between the Apple Watch Ultra and the Garmin Fenix 7x would be the cellular feature. This exclusive feature of the watch ultra separates it from the rest. You can stay connected with a plan for up to 18 hours on LTE. With apps you can even listen to songs, talk to Siri, or even get directions in the unknown. Whereas the Garmin Fenix 7x needs a connection with your android/iPhone at all times, and it doesn't offer cellular connectivity.
It's hard to conclude a winner here, as both watches are unique. Both can be of use to two different types of people. A cellular connection could be necessary for some, while it also could be useless for others.
Final Verdict
Concluding the comparison, there are two options, for two different budgets. The Apple Watch Ultra is clearly the better smartwatch. While the Garmin Fenix 7x is a brilliant and very confident multisports utility watch.
Let's talk about the price, the Apple Watch Ultra costs $799, while the Garmin costs $899. The Garmin is quite expensive, but the solar panel and tons of sport-tracking features satisfy it. While the Watch Ultra is a cheaper option, and it is a complete SMART watch. It does come with fewer sports features when compared to Garmin. The Apple Watch Ultra sounds like the perfect option here. But you can consider Garmin if you're much of an active sports person.