Android phones always have big batteries compared to iPhones. This is because the Android operating system is quite power-hungry, and having a small-sized battery in an Android device won't be enough for a full day charge. Most Android phones nowadays come with a battery capacity of around 4,000 mAh. Still, even that can seem low to some users if they have some buggy or power-hungry applications installed in your Android smartphone.
If you are always looking for your phone or tablet's charger despite having a decently sized battery in your Android device, then you need to check which application or service is draining your battery. By default, Android has a battery screen that displays battery usage of apps, system services, and even hardware in terms of percentage since the last full charge. So if you notice that a particular application or service is draining a lot of your battery, you can uninstall that application or disable that service to fix your battery drain issue. But how do you access the battery usage screen on your Android device? That is what we will see here in this article. So without any further ado, let's get into it.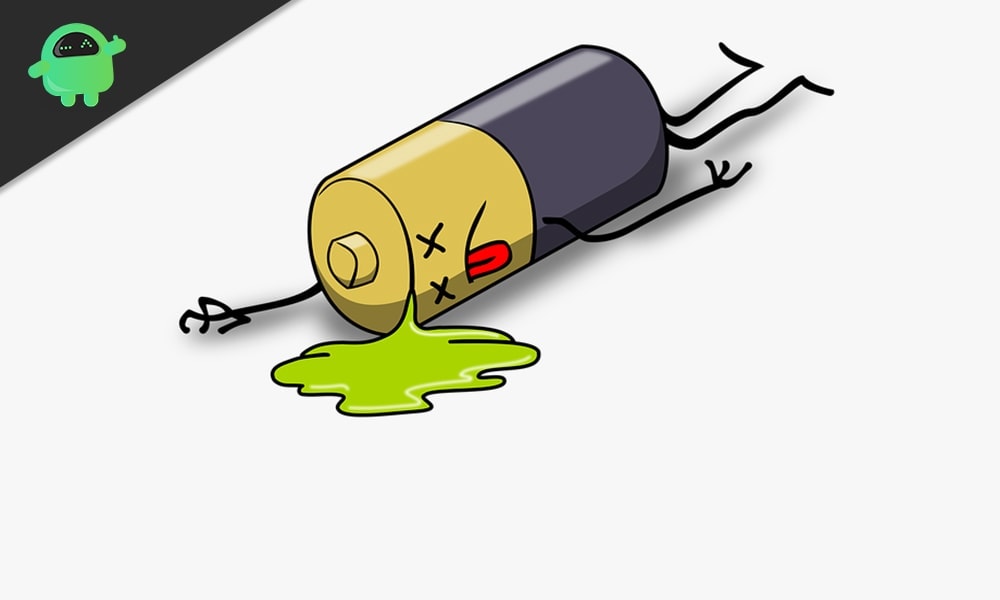 How to see which applications are draining the battery in an Android phone or tablet?
Different Android OEMs use different UI for their Android devices. But the battery information screen access procedure is similar in almost all the UIs. Additionally, the battery information screen is part of the Android operating system. So the information is accessible on all Android devices.
How to open the battery usage screen?
We will show you how you can access the battery usage screen in an Oneplus device for reference purposes. But the process will be somewhat similar with other Android smartphones or tablets too.
Open up "Settings" on your Android smartphone or tablet.
Scroll and find the battery option here. Once you find it, tap on it. If you can't find the battery option directly in the Settings menu, it is hidden under another submenu. In that case, click on the search bar in the Settings menu and type in "battery." In the results, you will see the battery option. Tap on it, and you will get to the battery settings section.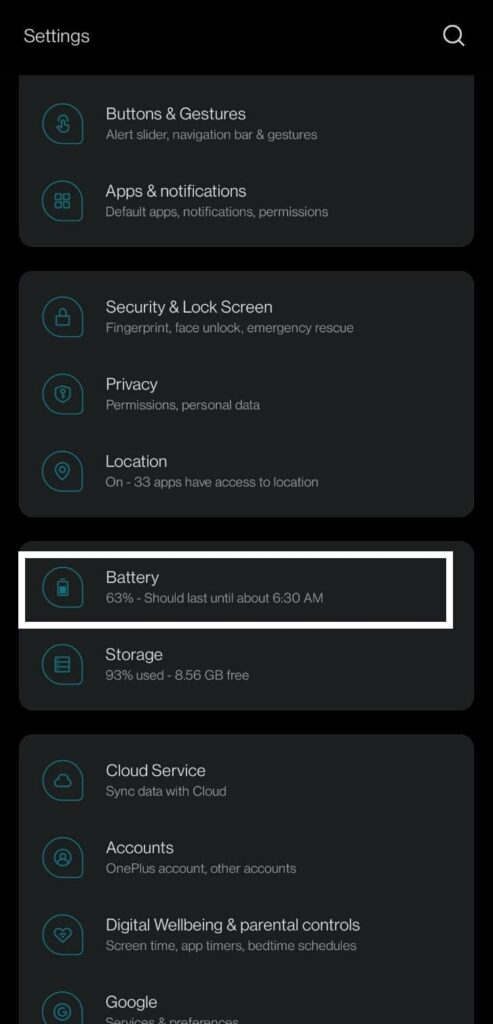 Here, tap on the detailed usage details, and you will see a detailed report on your battery usage by various apps, system services, and even hardware pieces. The report will show the battery usage in terms of percentage, and the evaluation will be based on your usage since the last time your battery was fully charged.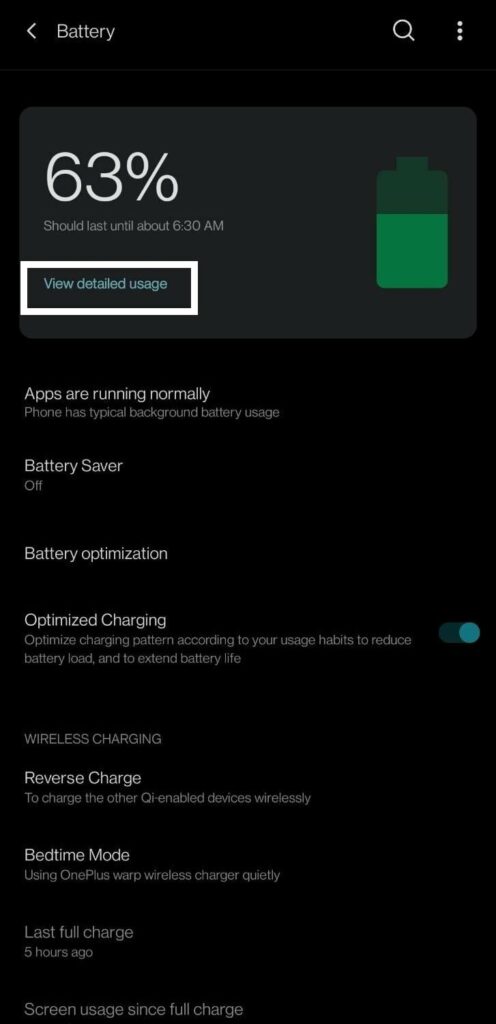 If you have recently charged up your device, there is no use in checking the battery usage. The ideal way to check for battery usage is by charging the device to 100% and then letting it discharge till the least possible number(possibly in between 1%-5%). Since the battery usage only keeps track after a full charge, charging the phone halfway and checking it won't do you any good either. You might get information about which app has been using your battery more, but you won't get any proper information about the screen on time of your device.
Once you see the apps and services with a percentage of battery drain on each of them, you can tap on these apps and services to get more detailed information about the usage. As mentioned above, different Android phones have different UIs and here, tapping on usage details revealed the results, but with a Samsung Android device, you will have "Battery Usage." Tapping on that will give you detailed usage information of all the apps and services.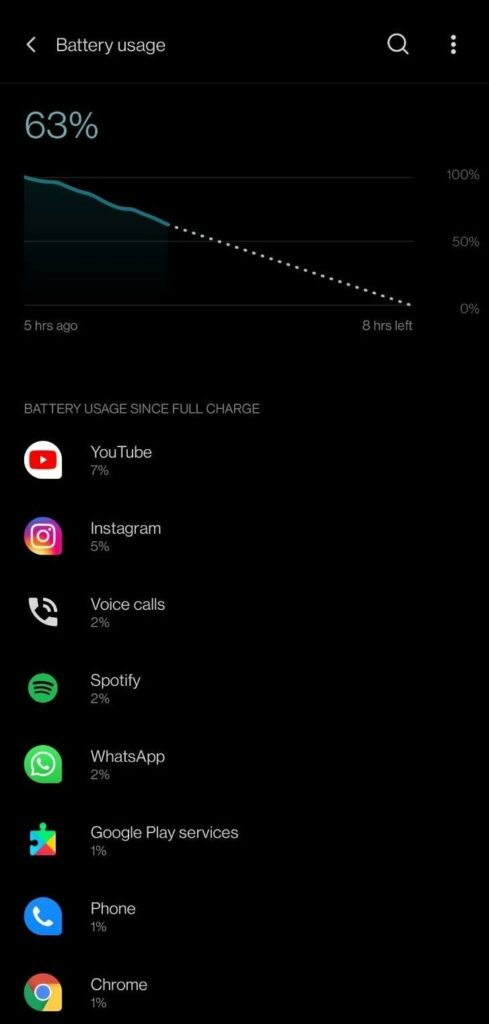 Before, several third-party applications could use the battery stats permission to access any additional battery drain details. But with recent Android updates, Google revoked this permission, and now all we get is Android's very own battery details page. If you have a rooted Android device, you can use several battery applications to give you additional information on battery usage. But rooting an Android phone comes with its own share of problems. So we would advise you not to root your phone to check your battery usage. But if you already have a rooted device, you should go for apps like "Better Battery Stats" that uses root access on your phone to bring out all the details about the battery usage of your Android smartphone or tablet.
There are still some apps that give you additional battery information even without rooting your Android device, but the credibility of these details cannot be verified. Since Google now controls most of the battery-related permissions, the information you get from third-party applications might be inaccurate.
Hardware and System services:
Again, when you check your battery usage, you only see which apps are using most of your battery. You don't get to see the battery usage information of your hardware and system services. For viewing that piece of information, you need to select more options. Once you are on the page that displays battery usage information, you will see an icon in the top right corner of your screen. Tap on that icon, and you will see the option "Show full device usage." Tap on it, and system and hardware services battery usage will be displayed on your screen.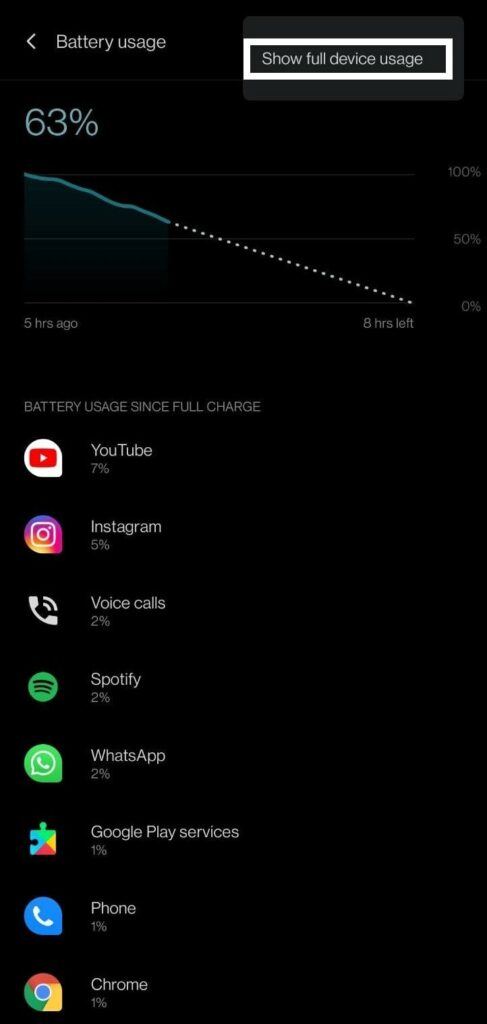 Here, you will see your apps as well as non-app related battery usage. You will see things like Screen, WiFi, Cell Standby, Android system, Android OS, Google Play Services, System UI and more.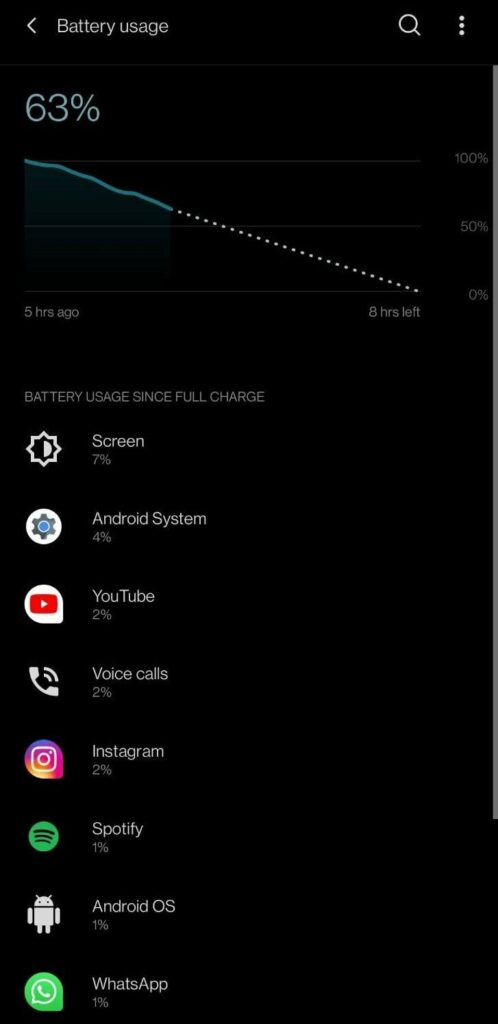 Let's take a look at what these services are all about.
Screen- Whenever you are using your Android device, you interact with your screen, and it is turned on. All the power used by your screen and its backlight are displayed in this section of the battery usage page. If you see an alarmingly high number here, then you can reduce it by reducing the brightness when in use. You should also turn on any display related effects and see if that lowers the number.
Wi-Fi- If you have a habit of having the Wi-Fi turned on all the time, then you will see a big number next to it. The battery drain by the WiFi module is the same when it is connected and when it isn't. When it is not connected, then it is constantly searching for a network to connect. That, in turn, takes a hit on your battery. Maintain a habit of keeping the WiFi off when you are not using it to connect to a network.
Cell Standby- It shows the battery usage from cellular usage in your smartphone or tablet. If you reside in an area when the device is constantly struggling to maintain a network, then you will see high battery usage with this service too.
Android System- It represents the battery usage by things like Settings, Bluetooth devices, and more. It does not account for the battery usage by the operating system. It only accounts for the various services that are actively used in an Android device.
Android OS- All the process running in the foreground or background of the device works with the operating system. This, in turn, results in battery usage by the operating system.
Google Play Services- Google Play Services are a necessity for an Android device. It ensures that all the services related to Google Account Manager, Google Services Framework, Google Backup Transport, and more are working flawlessly on your Android device. In the past, Google Play Services has been guilty of several battery drain related problems, but Google seems to have fixed it with new Android updates. But if you are using an Android device, then Google Play Services might be the cause behind your battery drain issue too. In that case, update Google Play Services on your device to the latest version, and you should be good.
So now you know how to check apps and everything else related to battery usage in your Android smartphone or tablet. If you have any questions or queries about this article, then comment down below, and we will get back to you. Also, be sure to check out our other articles on iPhone tips and tricks, Android tips and tricks, PC tips and tricks, and much more for more useful information.