Since Apple has launched the new macOS Catalina, now iTunes not work in those devices. Every guy who uses an iPhone or iPad finds it challenging to back up their devices. Normally any iPhone or iPad devices are back up with the iTunes earlier. Later on, they have launched the new macOS and created different applications for music, TV apps, and podcasts. Earlier all these applications are available in iTunes only. Now all these separate applications play in the back and you can use your iPhone or iPad as external devices.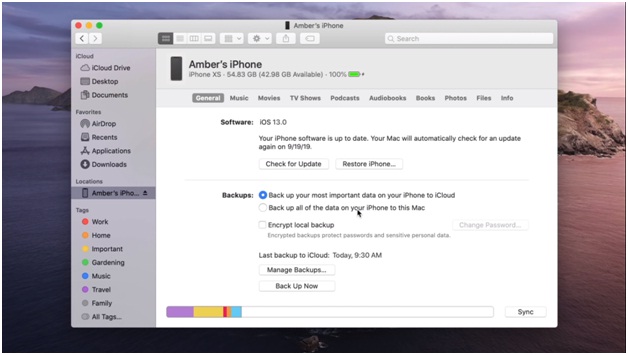 The loss of iTunes doesn't mean that it is difficult to back up devices. Just a way we follow the process changed with the help of finder. With the help of finder, you can see your devices connected on the sidebar of Finder window.
Let's see how we can back up the iPhones or iPads through Finder.
How to run back up for iPhone or iPad to Mac in macOS Cataline by using Finder
First of all, connect your iPhone or iPad to mac with the help of data cable. Open the Finder app by clicking on the icon on the dock.

On the sidebar of your Finder window, click on your device.

For the first time user, enter the passcode to authenticate the user access by clicking on the "trust" button.

On the next screen, click on the "General" tab and select the option "Back up all of the data on your [iPhone or iPad] to this Mac.

You can also select the option "Encrypt local backup." This is particularly encryption of your data, which protects your username, password, and necessary key information. You will be asked to provide a password whenever you decrypt your data.

Click on the "Back up now" button and let that process to complete.
It is easy to back up your iPhone or iPad data to Mac by using Finder. You can also update your OS to macOS Catalina, but make sure that you will back up your data.
It is always recommended to back up all of your iPhone or iPad data on iCloud and Mac. You can also back up your data on PC by using iTunes. To avoid any unwanted issues about losing your data, keep continuing your routine back up process. Maintaining the timely back up of your data can make you prepared for any conditions.
You can also check the above steps in the video below.