There is no doubt that Samsung phones are some of the most popular mobile devices available today. Because of their advanced features, they are convenient to use since they are powerful and innovative. Samsung mobile devices, however, require you to follow multiple security protocols and settings before you can use them. By default, your device comes with the Factory Reset Protection (FRP) lock, including Samsung devices.
However, when this feature is enabled on your Samsung device, you won't be able to reset or format your device. So, how do you bypass this security without any hassle? Well, in this guide, we have one of the best Samsung FRP unlock tools, i.e., iToolab UnlockGo Android – Easy Samsung FRP Tool. So, if you want to know how to bypass Google account verification after reset, make sure to read the guide until the end.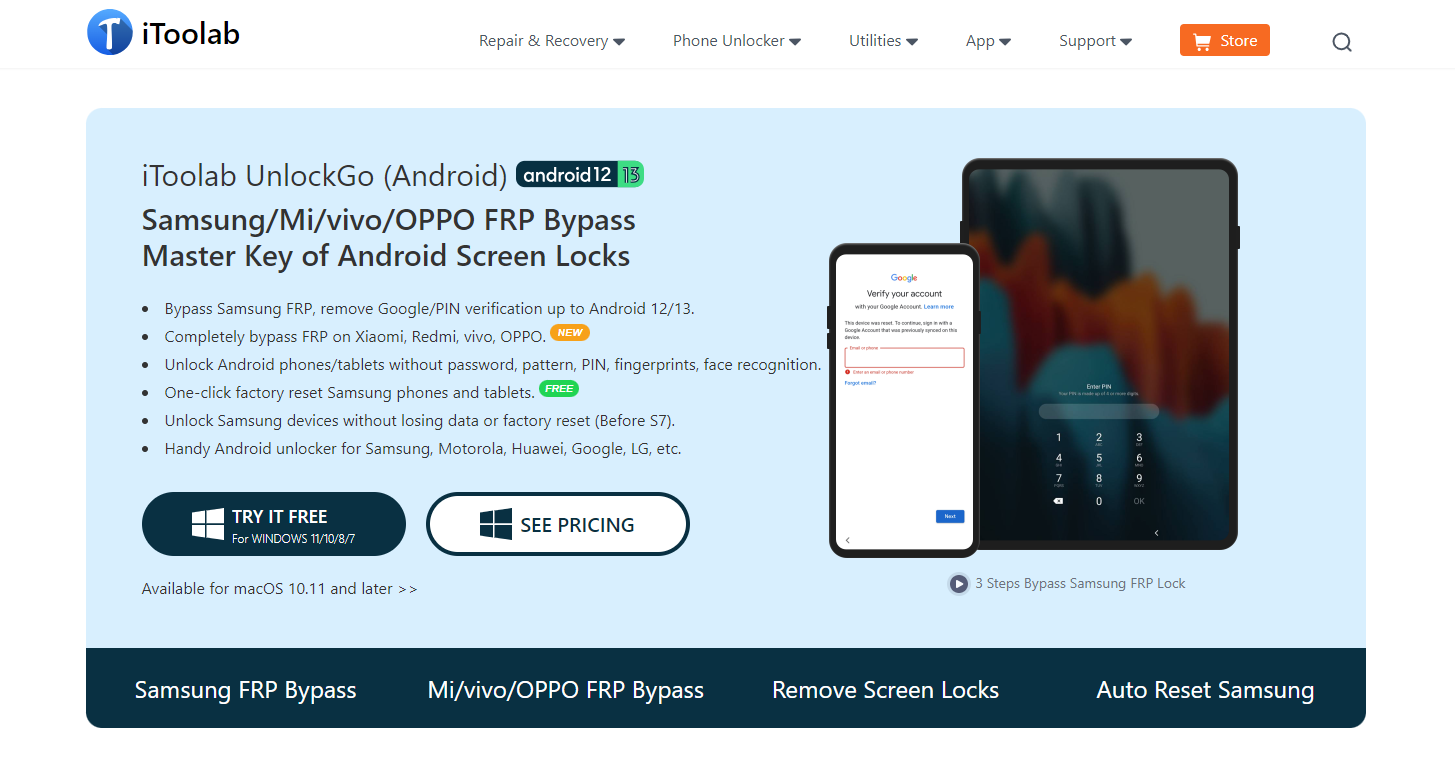 What is Samsung FRP Bypass Tool?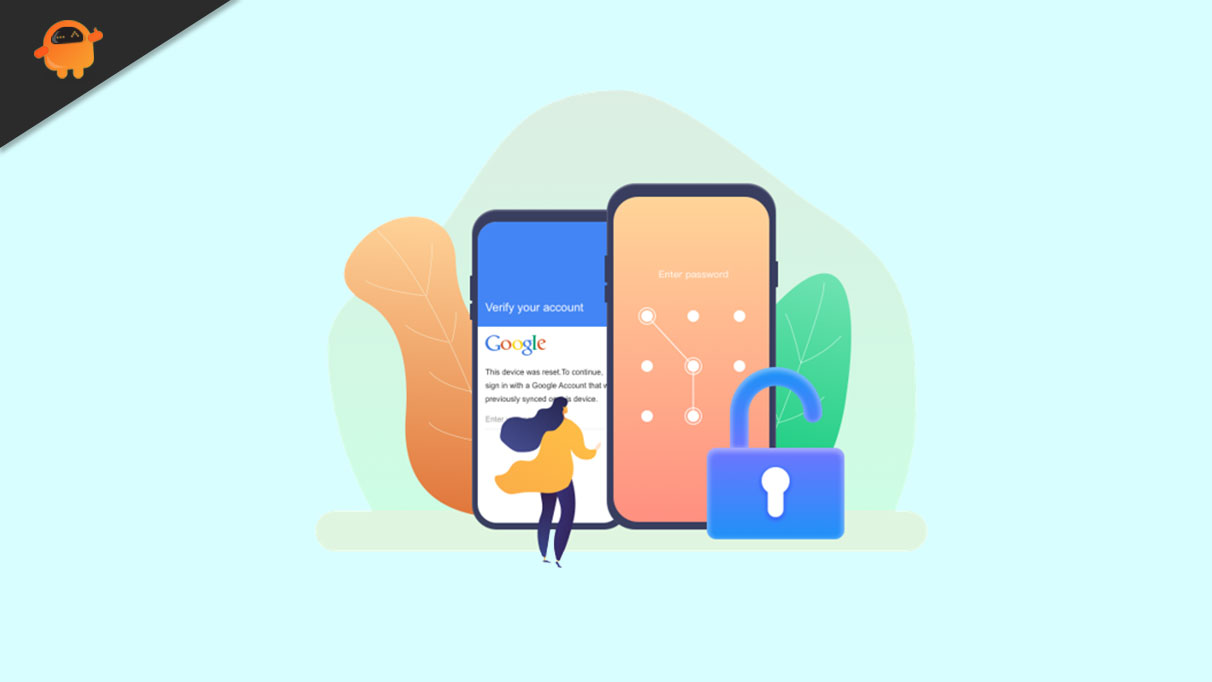 This Android app bypasses Samsung's Factory Reset Protection (FRP) lock on devices and is available for both Android and iOS. The Samsung FRP lock can be reset and disabled using this tool, then your data and apps can also be reset after the lock is disabled. Furthermore, if you use a reliable FRP bypass tool like iToolab UnlockGo Android, you can bypass Samsung's security FRP lock easily.
Why do you need to unlock Samsung FRP?
You can restore all settings to their defaults when you perform a Factory Data Reset. The data on the phone, including apps and files, is erased.
In case you have a Google Account configured on the device, FRP is enabled. Therefore, you will have to use your Google Account username and password after the reset. It is possible to log in with any of the Google Accounts set up on the device if you have more than one.
It would still require logging in with the Google username and password if an unauthorized person tried to reset the device by another method. Hence, it would be impossible for another person to reset your device if it is lost or stolen.
In spite of this, Samsung devices with this feature enabled cannot be reset or formatted. So, it is possible that you need to do this in some cases. That's where the Samsung FRP unlock tool comes into play. It helps you to bypass the FPR lock feature.
Here's how you can unlock Android screen locks and bypass Google FRP locks
If you want to know how to bypass Google account verification after reset your device, you must perform the steps we have mentioned below. Also, if you want to know how Android pattern unlock works, you must check our guide on this.
Use a USB cable to attach your Samsung device to your PC once you have downloaded and installed UnlockGo for Android on your computer. After that, select the option to remove Google Lock (FRP). To continue, click "

Start

".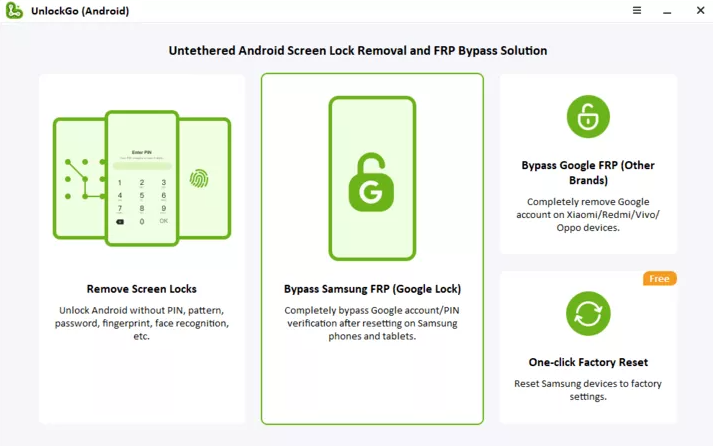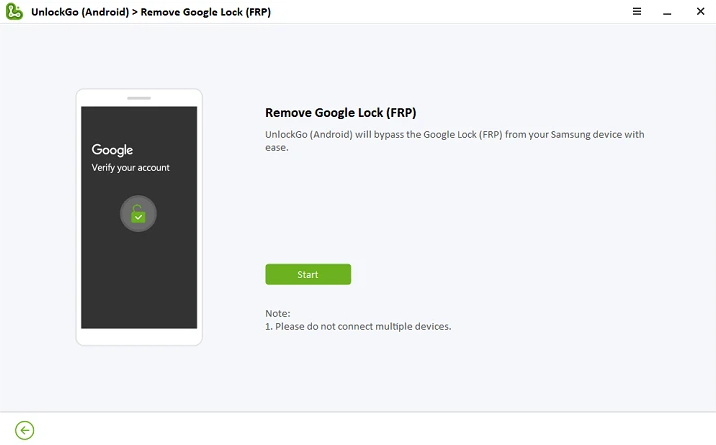 2.Here, you can choose from different unlocking options based on your Android version. If you are interested in removing Samsung FRP locks from Android 5-13 in 3 minutes, we highly recommend you try the first option. Click Next to continue.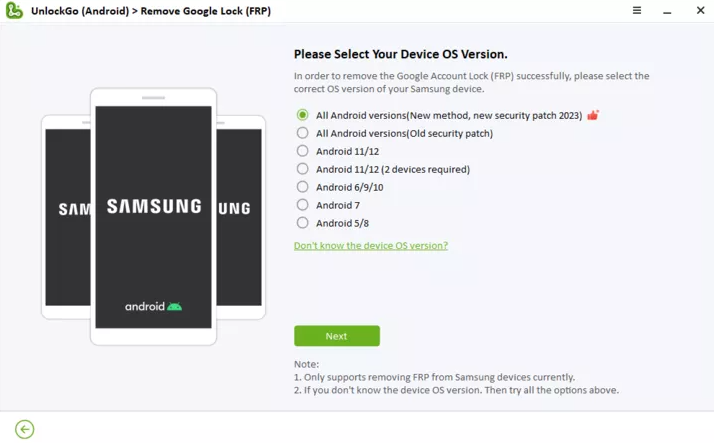 3.Afterward, you will see a pop-up window with instructions. You can access the Samsung Diagnostics menu by using the secret code (Test Menu). Your Samsung device should then be able to enable USB debugging thanks to UnlockGo for Android.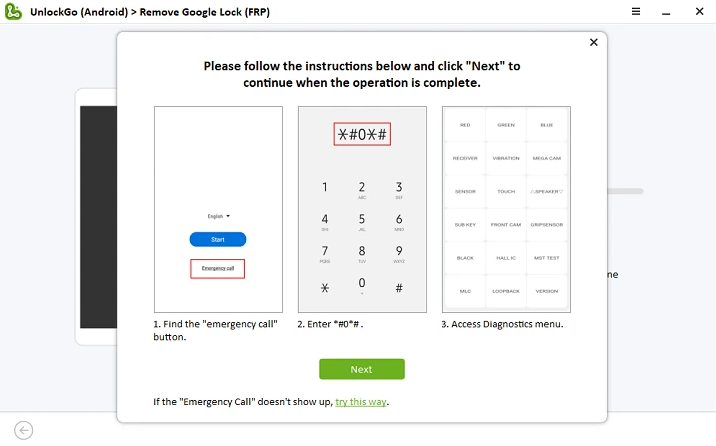 4.Within a few seconds of allowing the permission, the Google account verification screen should disappear. Samsung devices are automatically rebooted.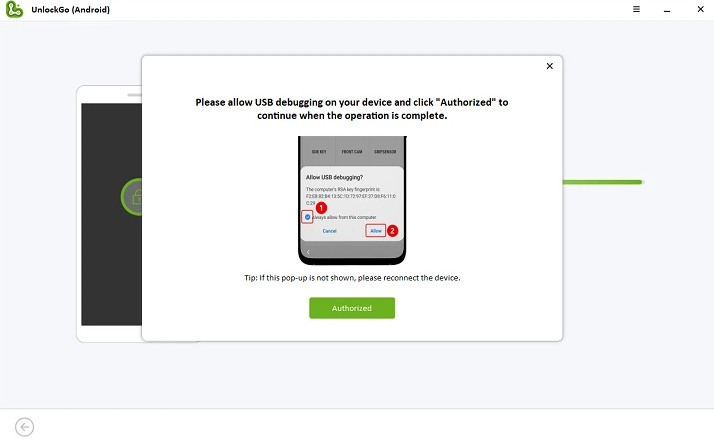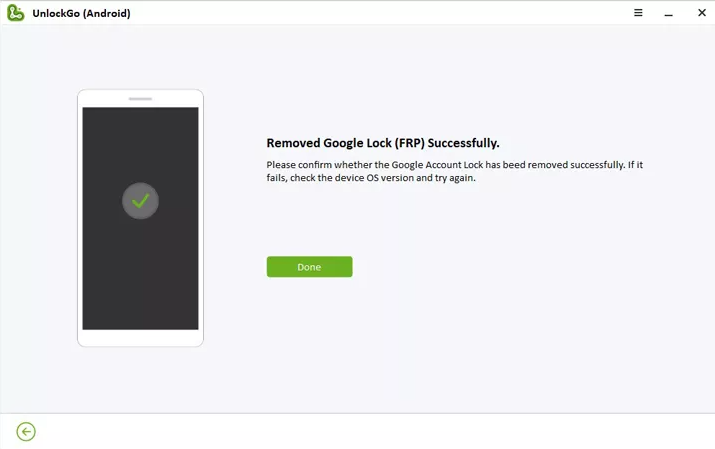 How The iToollab UnlockGo is Different From Others?
This program is a modern Samsung FRP unlock tool. With iToollab UnlockGo, you can disable factory reset protection entirely in just a few clicks without a password. Also, using this tool is very easy and reliable. Regardless if the Android lock screen is encrypted with a PIN code, pattern, password, fingerprint, or facial recognition, Android lock screen removal allows users to unlock their phones and tablets with no hassle.
Conclusion
So, that's all we have for you about the Samsung FRP unlock tool. We hope that you find this comprehensive guide helpful. In the meantime, comment below and let us know.