While DOCX file formats are very useful to submit your documents such as your reports, Guides, etc, you can't use them for presenting. In case you want to present the document as a presentation using projectors, you can use MS Word to open the file but it will not be as impressive as a Microsoft Powerpoint presentation. So you have to convert the DOCX document to a PPTX file and then use it with Microsoft Powerpoint.
In case you do not have any idea what these file types are, then let us explain them to you. DOCX is a file type that the Microsoft Word program uses to save files. DOCX is an upgraded version of DOC that is used with MS Office versions 2007 and above up to Microsoft 365. The DOC format should be the one to choose to save files compatible with older versions of Microsoft Word.
Whereas PPTX files are the ones that Microsoft Powerpoint uses for storing PowerPoint presentation files. Similarly, PPTX is the upgraded version of the PPT file used by MS office version 2007 and above. You have to save the file in .ppt format if you are planning to use it with an older version of MS office. So if you are wondering how you can convert to PPTX format, do not worry. Because we have written this article just to solve this particular issue.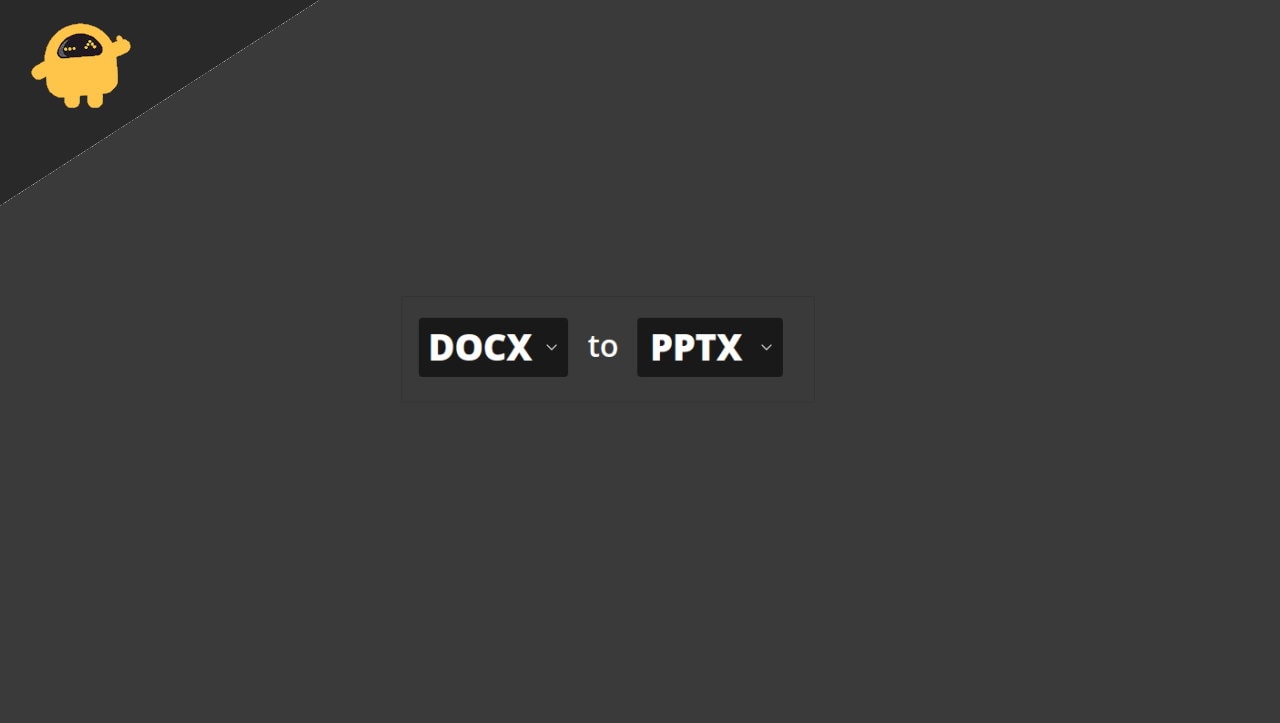 How to Convert a DOCX Document to a PPTX File
Method 1: Using convertio.co
ConvertIO is an online conversion tool that will help you to convert between various file formats. One of them being the Docx to PPTX conversion. So to convert your word document file to PowerPoint presentation format, follow these steps:
Go to the convertio website by clicking on this link.

Click on select files and select your file from the pop-up.
Click on convert and let it run converting for you.

Once the conversion is complete, you can download your file and use it as a presentation file.
You can also add the extension for Chrome if you are using the Google Chrome web browser. Here is the link to the extension.
Note: You can convert only files up to 100 MB. But if you want to convert more than that, you have to create an account with convertio.
Method 2: Using Online 2 PDF
This is another great online tool that can help you to complete the work quickly. Although I prefer this tool over the one that I have mentioned previously. This tool is very simple and fast. But its interface looks a bit old when compared to ConvertIO. But looks can be deceiving, but the tool can get your job done.
Visit the Online 2 PDF website by clicking here.
Click on Choose files and select your Docx file or drag and drop your files to it.

Select the file type to which you want to convert the file to. in this case, you have to select PPTX.

Click on convert and wait for the tool to complete your conversion.

Now the file will be automatically downloaded after the completion.
Are there any Applications to convert?
Now you may be wondering whether there are any applications that can be used to convert the file without having internet. But there are only a few proven applications. That is the reason we suggest online services. There are plenty of them, if one doesn't work for you, just google the term DOCX to PPTX conversion, you will find many websites.
Online DOCX to PPT convert services have certain advantages. For instance, you cannot install a program on an office computer due to restrictions. So it's viable to use online services. Additionally, all of these programs run on the cloud. So you do not need to have a decent computer to do this conversion task. You can even use your smartphone to do this.
Conclusion
So as you can see, converting your DOCX document to PPTX file is not that hard, You can do them easily using these online free conversion tools. Now there are plenty of tools that can help you to accomplish the same task. You can go ahead and try all of them if one tool doesn't satisfy your needs. Since all these tools cannot be as accurate as even those paid versions, it's always a good idea to recheck the converted files and make necessary changes. Do not send them blindly because some components might not be correctly aligned.