A more powerful version of Corsair's HS60 is the HS60 Pro. Several things stood out about the HS60, including excellent build quality, solid sound quality, and a comfortable design. A better microphone, softer memory foam around the earcups, and better drivers distinguish the HS60 Pro Surround from its predecessor.
It is an absolute pleasure to use this headset because of its exceptional build quality and material choices. A really high level of finish has been applied to the stitched grid design along the inside of the headband.
But unfortunately, there are some Corsair HS60 and HS60 Pro users who reported that the Corsair HS60 And HS60 Pro sound not working or their audio cutting out issue. We're here to help you with that. Here you will get all the necessary troubleshooting methods to resolve the sound not working or audio cutting out issue.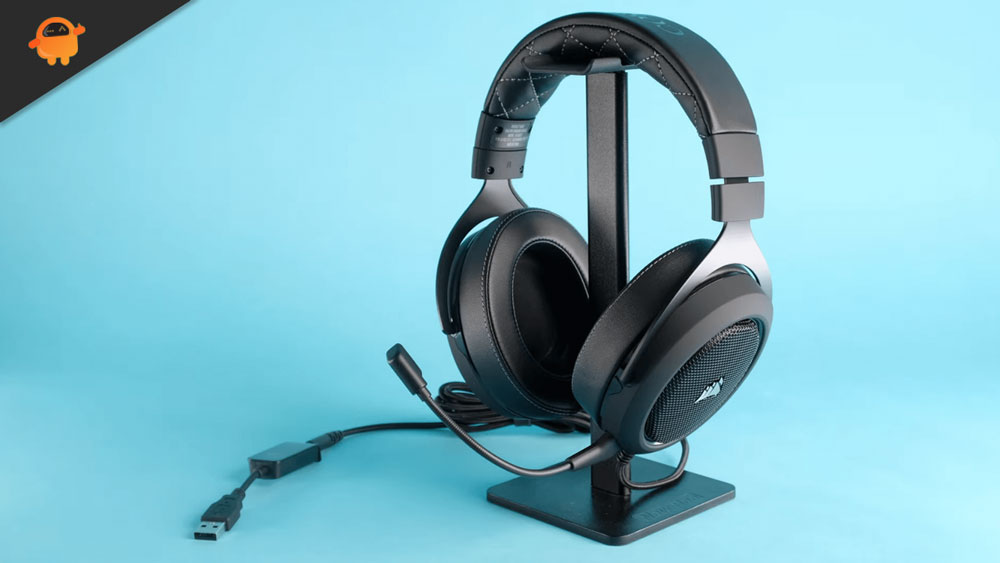 How To Fix Corsair HS60 And HS60 Pro Sound Not Working or Audio Cutting Out
To fix the Corsair HS60 and HS60 Pro sound not working or audio cutting out issue, you just need to perform these simple methods that we have mentioned further in this guide. So, let's check out those methods:
Fix 1: Reboot Your Device
Several factors can cause your headphones to malfunction if you try to fix them. Nevertheless, restarting the computer can sometimes resolve severe hardware problems. Try this to see if it changes your Corsair HS60 and HS60 Pro performance.
Fix 2: Reconnect You Headset
It may be necessary to reconnect your Corsair HS60 or HS60 Pro several times if you have a problem with it not playing sound continuously. Try disconnecting and reconnecting the Corsair HS60, and HS60 Pro first is necessary. It may be necessary to repeat this process several times.
Fix 3: Check Your Device Volume
When connected to your PC, your Corsair HS60 or HS60 Pro might not play music, so this troubleshooting tip might not occur.
The headphones themselves may be fine, but the device they are connected to might be having problems. To resolve this problem, you can easily check your Windows volume settings:
On your screen, you will find the sound icon. Right-click on it to activate it.

Then click

Open Sound Settings

.

From the menu, select

Sound Control Panel

.

Click the

Playback

tab in the Sound Control Panel.

After that,

right-click

on the

Default Sound Device

and ensure it is checked.

Then, click the

audio test

button.

Your device will show a green bar once the sound is not working or the audio cutting out issue gets resolved.
Fix 4: Change Your Audio Device (For PC)
There is a high probability of sound issues being caused by your device, not your sound system, since most sound issues occur when your headset is connected to a device. Using these steps, you can change the Audio device on your PC if your Corsair HS60 or HS60 Pro does not play sound:
You may need to restart your computer. If this does not solve the problem, you may need to replace your audio device.

Select the

Playback

tab in the Sound Control Panel.

In the dropdown menu, select another audio source.

Click

Set Default

to set the default.
Fix 4: Update Your Audio Drivers
You can also fix this type of issue by updating your audio drivers. To verify if your audio drivers for the Corsair HS60 and HS60 Pro are up-to-date, you need to follow the steps below:
Open the

Device Manager

first.

Next, click

Audio inputs and outputs

.

Right-click the audio device manufacturer and select

Update Driver

.
Fix 5: Disable Audio Enhancements
Several third-party headphones like Corsair use these enhancements, but they typically focus on quality rather than compatibility.
However, Windows audio enhancement may not work properly in some cases for various reasons. You can try disabling it first to see if it works. This feature can, however, be disabled using these steps:
Start by opening the Sound Control panel and clicking the Playback icon.

To access the Properties tab of an audio device, right-click it and select the Properties option.

Select the Enhancement tab and deselect Audio enhancements.
Fix 6: Check For Damage
You should take extra care with wired headphones since they can easily be damaged. Therefore, you should take your Corsair HS60 and HS60 Pro to the nearest service center if damaged, cracked, or dented.
Many users claim that their headphones have become internally damaged, due to which they are getting the sound not working or audio cutting out issue, which is extremely frustrating.
Fix 7: Connect To Another Device
When you experience sound not working or audio cutting out issues from the Corsair HS60 or HS60 Pro, you might think it isn't playing because it isn't connected to any device. If the issue persists, you should connect it to another device.
It might face a compatibility issue with your previous device if it works on other devices.
Fix 8: Try Playing Different Content
Whenever you watch or listen to content that does not have sound, you may receive the sound not working or audio cutting out issue on your Corsair HS60 andHS60 Pro. We recommend playing another piece of content on your device to determine if your device's sounds work correctly.
Fix 9: Contact To Support Team
It may not be possible for you to fix the problem using the above solutions, depending on the reason for the problem. In this condition, it might be a good idea to reach out to Corsair's official support site and request a warranty claim for your headphones if they still have warranties.
So, that's how to fix Corsair HS60 and HS60 Pro sound not working or audio cutting out issue. We hope this guide has helped you. We will be happy to answer any further questions you may have, so please comment below and let us know.