Crime Boss: Rockay City is an engaging, organized crime game that blends first-person shooter gameplay with strategic turf battles. Players can immerse themselves in the solo campaign or join forces with friends. Assume the role of Travis Baker, an ambitious individual determined to conquer Rockay City and become its undisputed ruler. Developed by INGAME STUDIOS and published by 505 Games, Crime Boss: Rockay City is available on PC, PS5, Xbox Series X, and Series S platforms. After downloading this game, some players are experiencing multiple issues with Crime Boss Rockay City, and the Screen Flickering or Tearing Issue on the PC is one of them.
Now, if you're also one of the victims of such an issue, don't worry because here, we've shared the troubleshooting guide for you that should help you out. Screen flickering, tearing, or freezing has been common among PC games for years. Whatever game you're playing, you might encounter such issues on multiple occasions. But there are some ways to fix this issue that you can check out easily.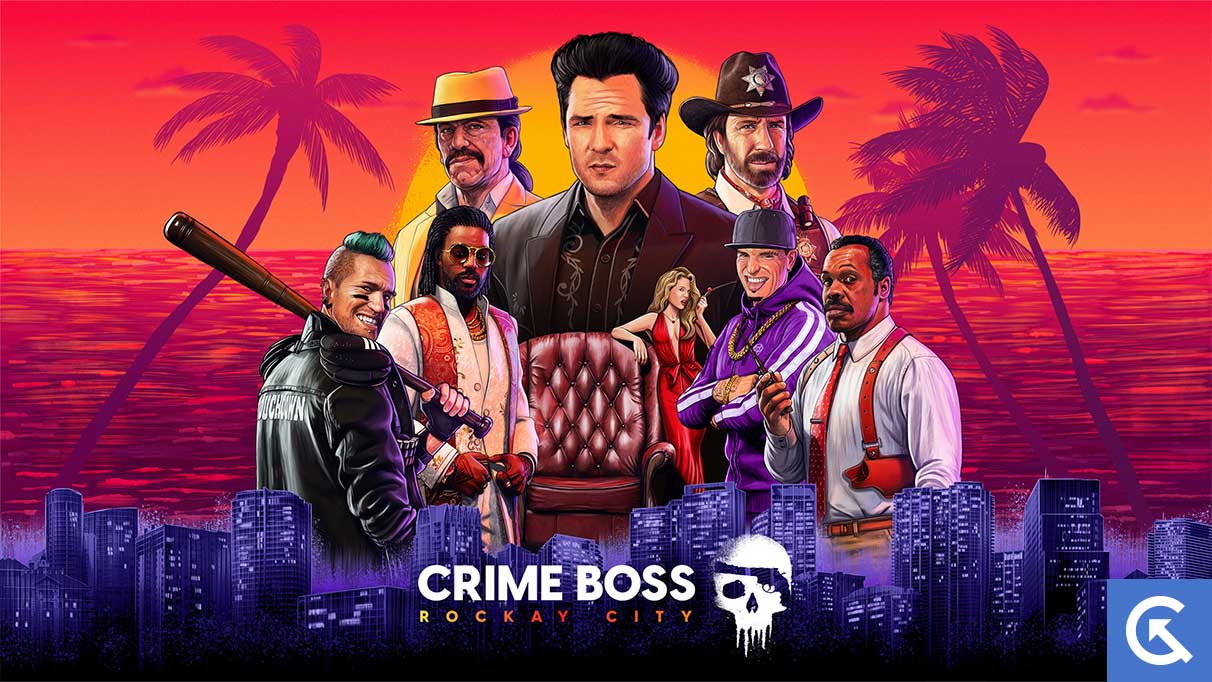 Fix: Crime Boss Rockay City Screen Flickering or Tearing Issue on PC
Suppose you're facing the screen flickering or tearing issue while playing the multiplayer game modes, during specific sessions, or even during checkpoints. In that case, you should check whether your internet connection is working properly. Sometimes in-game graphics settings may also trigger these issues whatsoever. Some reports also indicate that screen shimmering occurs during the cutscenes.
Whereas it's also worth recommending cross-checking the V-Sync option for the Crime Boss Rockay City game because that can trouble you a lot for some titles on the PC. So, until the problem gets fixed for you, follow all the methods. Now, without wasting any more time, let's jump into it.
1. Enable V-Sync in Nvidia Control Panel
Turning on the Vertical Sync feature on your Nvidia Control Panel app for the Crime Boss Rockay City game is recommended to avoid graphical glitches up to some extent. Remember that this method only applies if you use an Nvidia graphics card.
Launch the Nvidia Control Panel from the Start menu. If it's not installed, go to Microsoft Store and install it.
Go to '3D Settings' > Select 'Manage 3D settings in the Nvidia Control Panel interface.
Select 'Program Settings' > Click on 'Add' and select 'Crime Boss Rockay City' from the list of programs on your PC.

If the game application isn't listed, then click on 'Browse' and head over to the installed Crime Boss Rockay City directory on the drive. Simply locate the Crime Boss Rockay City folder and add the Crime Boss Rockay City.exe application > Then select the game in the list and add it.

Now, scroll down to 'Vertical sync' > Click on it and select 'On' to enable it. This will force Crime Boss Rockay City game to use V-Sync every time.
Restart your computer to apply changes and play the game to check for the issue again.
2. Try Lowering In-Game Graphics Settings
First, you should try lowering the in-game graphics settings on your PC or console to check if that helps you fix the frame drops or stuttering issues. Try turning off some of the display settings for the Crime Boss Rockay City game, such as texture details, shadow effect, v-sync, anti-aliasing, etc. This should improve the FPS count and performance/smoothness in gameplay.
3. Update GPU Drivers
If in case, you haven't updated your graphics driver on the Windows computer, then make sure to install the latest patch version. To do so, you'll need to check for available updates by following the steps below:
Press Windows + X keys to open the Quick Link Menu.
Now, click on Device Manager from the list > Double-click on Display adapters.
Right-click on the dedicated graphics card that you're using.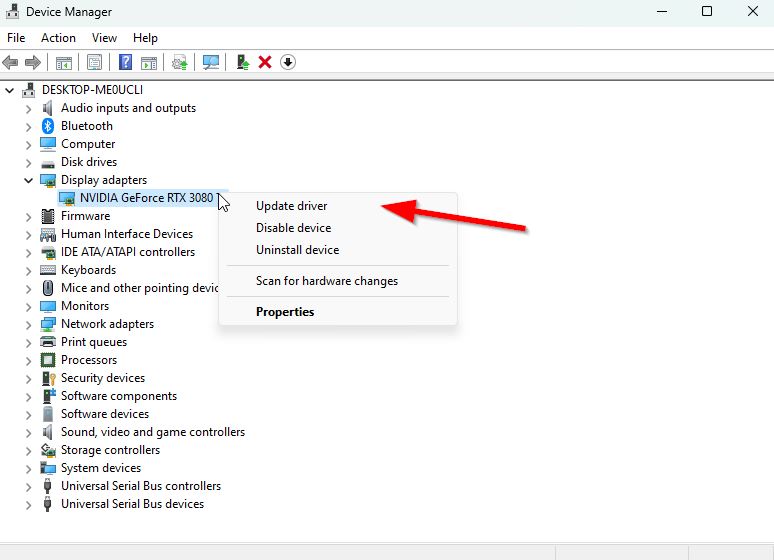 Next, select Update driver > Choose to Search automatically for drivers.
If an update is available, the system will automatically download & install it.
Once done, restart the computer to apply changes immediately.
4. Close Unnecessary Background Tasks
Another thing you can do is close unnecessary background tasks on your PC to ensure there is no additional consumption of system resources happening in the background. Keep Crime Boss Rockay City, and other system-related tasks running. To clear out background tasks:
Press the Ctrl + Shift + Esc keys to open Task Manager.
Click on the Processes tab > Select the task you want to close.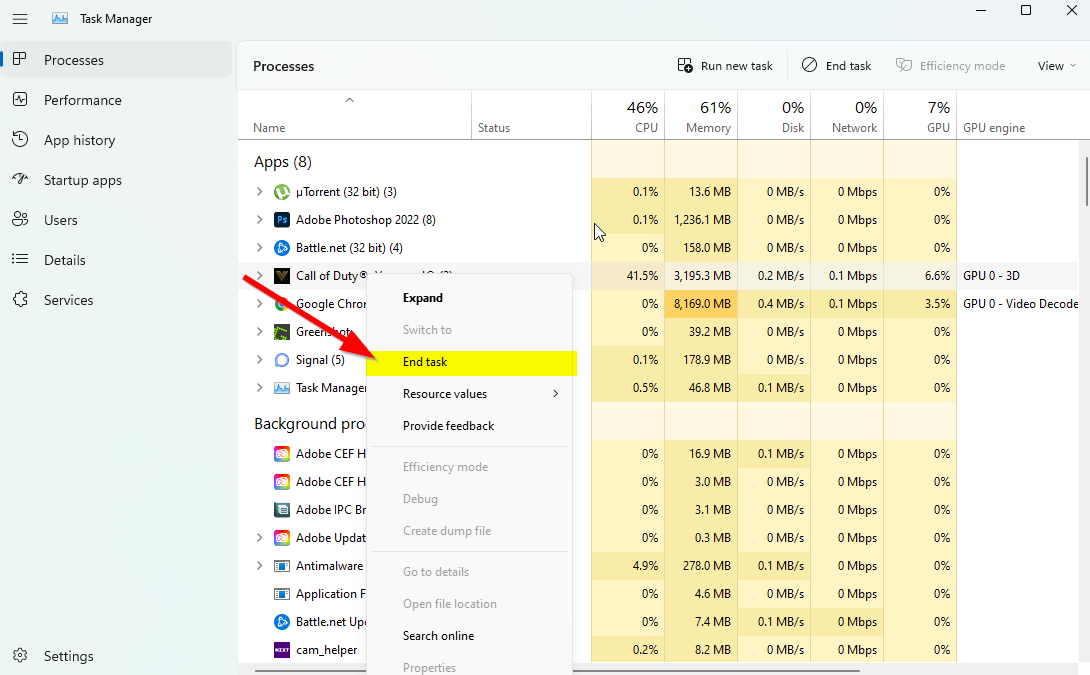 Once selected, click on End Task. Make sure to do the steps for each task individually.
Finally, restart your computer immediately to change effects, and check for Crime Boss Rockay City screen flickering or tearing issues.
5. Check Your Internet Connection
You should also try checking for the internet connection on your PC and whether it's running well. A slower internet speed or unstable connectivity can cause issues with the game launching or fetching data from the server. You can also try switching the internet connection from wired (ethernet) to wireless (Wi-Fi) to cross-check the network connectivity problem.
If your IP address has some issues or your DNS address is troubling you a lot, then make sure to use the Google DNS address on the PC to avoid rubberbanding connection or stuttering, or even lagging issues which can happen due to slow internet.
6. Update Crime Boss Rockay City
Sometimes an outdated game version can also bring multiple bugs or issues. Updating your Crime Boss Rockay City game is better by following the steps below. If an update is available, then simply install the latest patch. To do this:
Open the Epic Launcher client > Go to Library > Look for Crime Boss Rockay City from the left pane.
You must tap on the three-dot icon on your Crime Boss Rockay City application.
Make sure to check the auto-update to get a new update installation automatically.
It'll automatically search for the available update. If there is an update available, make sure to click on Update.
Finally, reboot your PC to apply changes and launch the game again.
7. Verify Integrity of Game Files
If, in case, there is an issue with the game files and somehow it gets corrupted or missing, then make sure to perform this method to easily check for the issue.
8. Set High Performance in Power Options
If in case, your Windows system is running on the Balanced mode in Power Options, just set the High-Performance mode for better results. Although this option will take higher power usage or battery usage. To do this:
Click on the Start Menu > Type Control Panel and click on it from the search result.
Now, go to Hardware and Sound > Select Power Options.
Click on High Performance to select it.
Make sure to close the window and fully shut down your computer. To do this, click on the Start Menu > Go to Power > Shut Down.
Once your computer is turned off, you can power it on again.
9. Set High Priority in Task Manager
Make your game priority in the higher segment via the Task Manager to tell your Windows system to run the game properly. To do this:
Right-click on the Start Menu > Select Task Manager.
Click on the Processes tab > Right-click on the Crime Boss Rockay City game task.
Select Set Priority to High > Close Task Manager.
Finally, run the Crime Boss Rockay City game to check if it crashing on PC or not.
10. Update Windows
Updating Windows OS build is essential for PC users and gamers to reduce system glitches, compatibility issues, and crashes. Meanwhile, the latest version mostly includes additional features, improvements, security patches, etc. To do that:
Press Windows + I keys to open up the Windows Settings menu.
Next, click on Update & Security > Select Check for updates under the Windows Update section.
If there is a feature update available, select Download and install.
It may take a while to complete the update.
Once done, restart your computer to install the update.
That's it, guys. We assume this guide was helpful to you. For further queries, you can comment below.