In the race to increase screen to body ration, many smartphone companies are adopting a pinhole display concept. The latest smartphone Huawei Nova 4 is offering the same. However, customers are wondering whether Huawei Nova 4 is waterproof or not with its pinhole screen.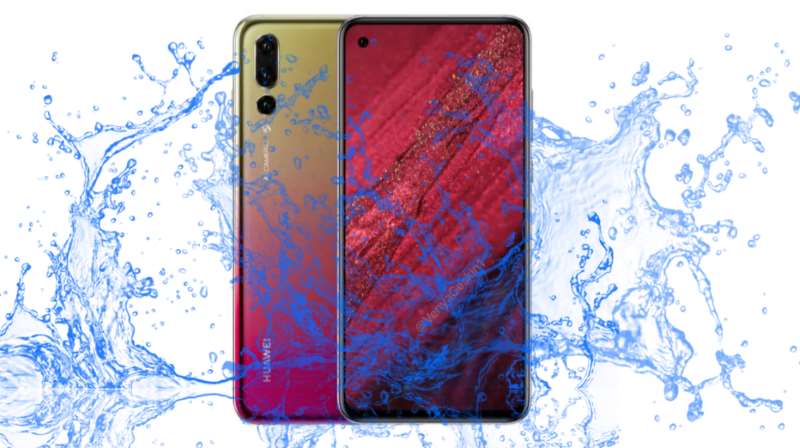 Huawei Nova 4 was launched in Indian markets in December 2018. The device pushes the screen to body ration with its elegant pinhole display. However, customers are wondering whether this new device will hold under water or not. To do that, we have to perform Huawei Nova 4 waterproof test.
Did Huawei make a Nova 4 with Waterproof and Dustproof protection?
Modern smartphones need to have waterproof certification to withstand any possible water damage. In the case of Huawei Nova 4, it is not having a waterproof certification. However, this doesn't mean that it is not waterproof at all. Today we will conduct Huawei Nova 4 waterproof test, to find out whether this device is waterproof or not. But before that, have a look at the latest Huawei Nova 4 trailer from Huawei.
https://www.youtube.com/watch?v=-Y5YTx30CjU
Before we start with Huawei Nova 4 waterproof test, let's get to know some of the device features first. Huawei Honor comes with a massive display of 6.4 inches. With its pinhole display, it is able to cover 86% screen to body ratio. The device is powered by Octa-core processor coupled with 8GB of RAM. Talking about the camera department, the device is having a triple camera system on the back. 48 MP, f/1.8, PDAF, 16 MP, f/2.2 and 2 MP, f/2.4, depth sensor. For selfie enthusiasts, it's packing a 25MP camera in front. Huawei Nova 4 is having a nonremovable 3750mAh battery.
Huawei Nova 4 waterproof test
Many smartphone buyers check the waterproof rating of a smartphone before buying the product. A waterproof device can't get any liquid damage while swimming, in rain or in the shower. This is why the modern generation demands a waterproof smartphone.
Also read: Download Essential Phone January 2019 Security Update
There are a couple of tests we can perform to find whether Huawei Nova 4 is waterproof or not. These include Splashproof test, water immersion test, rainwater test, and dustproof test. After performing all these tests, we will be able to know whether Huawei Nova 4 is waterproof or not.
warning
This test is purely based on individual/team observation. This test will only give an idea whether a device is waterproof or not. So users are advised not to try this at home, as it might damage your device.
Huawei Nova 4

Splash Proof Test
In this test, we are going to put some water droplets on the device to find out how the device reacts to it. Since most of the devices have an oleophobic coating which saves them from any kind of water splash from fatal damage.
After performing the splashproof test we didn't find any signs of damage on the device. It seems that the device is indeed splashproof to some extent.
Huawei Nova 4 Shower test
In this test, we are going to suspend the device in an artificial shower/rain environment. Later one we will see if the device is ideal to use in rainy conditions or showering conditions.
After testing Huawei Nova 4 in artificial rain condition, we came to know the device doesn't hold good in rainy conditions. The speaker doesn't work properly in such conditions. This means that a user will not be able to make or receive calls in the shower or rainy environment.
Huawei Nova 4

Quick Immersion Test
In this test, we are going to immerse the device with a bucket full of water for 30 seconds and will see whether it survives this or not.
After performing this test we found out that the device cannot hold under water. The speaker becomes completely malfunctioned
| | |
| --- | --- |
| Touchscreen Control | Doesn't respond to touch inputs |
| Water damage with hardware | Not found |
| Speaker | Non-functional |
Huawei Nova 4 DustProof Test
In this test, we will keep the device in a sandy environment with lots of grain and sand particles with a running fan around it. This situation mimics dust storms and will check how the device holds in such conditions.
Also read: Download Huawei Nova 4 Stock Wallpapers
After the dustproof test, no dust was found in the internal parts fo the device. This shows that indeed Huawei Nova 4 is dustproof.
Conclusion: Can Huawei Nova 4 survive under water?
After performing the tests on Huawei Nova 4, we can say that the device is not ready for any water-related activities. But the device is splashproof and dustproof to some extent. We recommend users not to use this device near the pool, lakes or beaches.
| | |
| --- | --- |
| Splash Proof Test | Pass |
| Shower test | Fail |
| Quick Immersion Test | Fail |
| DustProof Test | Pass |