Updated on October 01, 2021: Today, we have added the latest Google Maps Go APK for Android, and you can find the download links for the same down below.
Google Maps is the most used Maps app for navigation available on the Google Play store. It is an excellent app with lots of features and precise maps. However, there are some flaws with Google Maps app, like it takes too much space, and is somewhat slow.
So, if you use Google Maps often and searching for a similar alternative, then Google Maps Go is the app for you. It is a web-based application; it can also work with a poor internet connection. Not only that, but you will get real-time traffic information, discover places, see reviews, and much more.
You can install the Google Maps Go app on any Android device. Since the app is web-based, it will work on any android device until it has an internet connection. The developer of the Google Maps Go app has updated the app; we will talk about its features. Also, we will discuss whether it's safe to install the Google Maps Go app on your Android device or not.
Google Maps Go APK Overview
Google Maps Go is capable of running smoothly on low memory, so if you a device with low RAM, it's not a problem. Even more, Google Maps Go is available to view maps and directions, even if you have a bad network connection. These basic features make the app that everyone would like to use.
It consumes less memory, works on unreliable networks without compromising anything. Thus, you will get your real-time location, traffic information of your local areas, directions, etc. very fast. Similarly, like Google Maps, Google Maps Go allows you to search for places, phone numbers, and addresses; thus, you can look for millions of places on the map.
Is it safe to download and install the Google Maps Go APK?
Well, there is no report for the Google Maps Go app for containing any malicious file to infect or harm its users. However, there are slim chances that people have modified the APK, injecting the app with a malicious file. You must have a Google Play Protect enable on your device or have a third-party Anti-virus tool for safety.
If you are so concerned about safety, you can download and install the app directly from the Google Play store. However, if you have an APK file, then scan with an Antivirus tool, or do an online APK scan for any malicious file.
Lastly, you can check the HASH signatures of the app using HASHDROID and match the signature with provided HASH signatures. If the signatures match, then you are safe to go. If not, you shouldn't install the app.
Download Google Maps Go APK For Any Android device
If you want to download the app from a safe source, then click on the link provided below.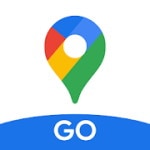 Google Maps Go APK 152 For Any Android device
Google Maps Go Old Version
Google Maps Go Official Download
Google Maps Go APK Features & Changelogs
To get quick directions and map details, you can click/tap on the map for it on Google Maps Go. It also views live city transit schedules, perfect if you often ride on the bus or train very often.
If you are in a new place and want to explore the streets, use the walking direction feature.
You can also discover new places using the app. You can search for local or global restaurants, famous places, or nearby local places.
People also tend to rate and review the places they visit on Google Maps go. It is very helpful if you are looking for the opinion of someone for a particular place you haven't visited.
The maps are comprehensive and very accurate, at least for the 200 countries and territories.
If English isn't the native language you use, there are 70+ languages to choose from.