Updated on September 05, 2022: Today, we have added the latest version of Google Camera Go APK for Android devices. Check out the new version of Camera Go 3.8, which brings new features and fixes for free.
From this post, you could download the latest Google Camera Go APK for any Android device. Pixel devices are deeply regarded as among the best Android smartphones that one could get their hand on. Agreed, they aren't pleasing to the eyes if we talk about the look and feel of these devices. But it more than makes it up for that through its excellent software. Providing the purest and cleanest stock Android experience is one of its USPs. But that isn't its only selling proposition. The device boasts of probably the best smartphone camera that you get your hands on.
To clarify, MegaPixels aren't the sole yardstick for judging the camera quality. For example, the 12MP camera of Pixel 4 performs much better than many of the 48MP and 64MP devices. Furthermore, these cameras have tons of other benefits, which we will look at in quite a while. Furthermore, thanks to the Android open-source nature, many developers have ported these Pixel-Exclusive GCams to tons of other devices.
However, the users in possession of Android Go devices were the only ones that couldn't get a hold of this GCam. All this is about to change now, for good. Google Camera has now made its way over to the Android Go devices. Let's check out the steps on how you could try it out. Even if you aren't having an Android Go, you could still download and install it onto your devices. With that said, here are the required instructions.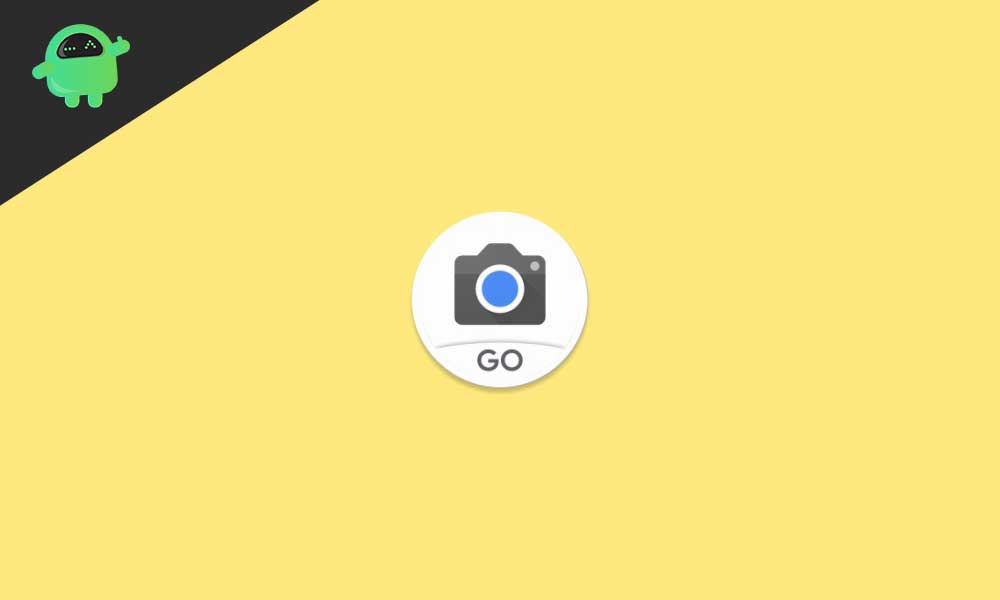 Google Camera Go APK for any Android device
Android Go is a trimmed-down version of the stock Android OS. This has been adopted by many low-end specs devices such as Nokia 1.3, Xiaomi Redmi Go, Samsung Galaxy J2 Core among others. These devices only have some basic necessities apps. Furthermore, the apps are specially designed for Android Go devices. For example, there's YouTube Go, Gallery Go, Gmail Go, Maps Go and man other Google apps. And now we are seeing the addition of the most famous camera apps to it.
Google Camera or more popularly known as GCam has made its way over to Android Go devices. Named Google Camera Go, there are some pretty nifty features added to it. The original GCam boosts of Night Sight, Astrophotography Mode, Slow Motion, Photo Booth, Motion photos, HDR+, Panorama, and Portrait Mode. It is quite understandable that the trimmed-down version of it won't hold all such features. But still, you get some basic features like Face Enhance, Timer, and Zoom functionality.
Download Google Camera Go
The best part about Google Camera Go is the fact that it doesn't matter if your device is running Android Go or not. It is compatible with Android One, Stock Android, One UI, OxygenOS, and many other Android-based OS. On that note, if you wish to try it out, download the app from the below link:
Google Camera Go 3.8 APK (arm-v7a) | Download
Google Camera Go 3.8 APK (arm64) | Not available yet
Google Camera Go 2.12.422490447: Download
Camera Go 2.3.366173626 APK: Download
Google Camera Go APK: Download
Once you have downloaded it, install it as you do it for any other APK. On launching it, you will have to grant it a couple of permissions. These include the permission to record audio, access files on your device and take pictures, and record videos. Make sure you allow all these permissions.
Features of Camera Go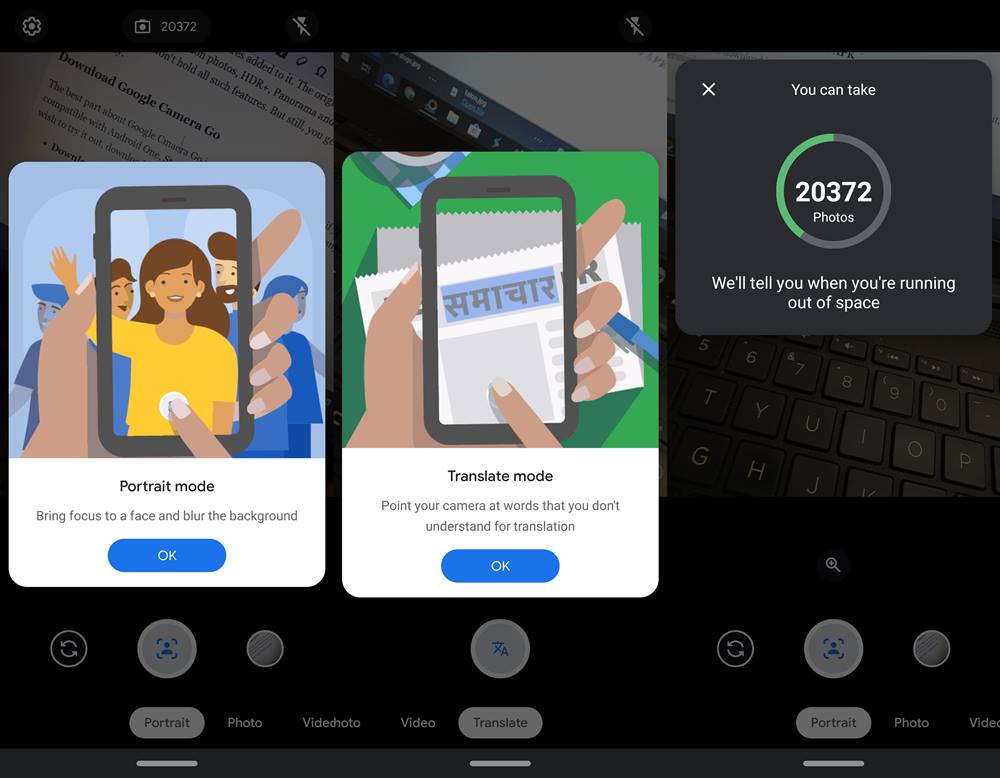 Now that you have successfully installed the camera and gave it the required permissions, here is how you could make full use of it. By default, you will be taken to the Photo tab. Next up is the Video section and both these are self-explanatory. However, there are a couple of interesting features added as well. The first one is the incorporation of the Translate feature. Just point the camera at the text to be translated and hit the capture button.
There's also a Portrait Mode. This allows you to take pictures while blurring the background so that the subject remains in focus. Apart from that, you might also notice some numbers in the top center of your screen. Well, it denotes how many photos you could take, until you run out of space.
Conclusion
So this was all about the newly released Google Camera Go for Android devices. The normal GCam sizes range anywhere from 70MB-100MB whereas this one is just around 13MB. Even in a small size, it has managed to pack some pretty impressive features like Portrait Mode and Translate. On that note, do let us know hat you think of this camera, in the comments section below. Rounding off, check out some iPhone Tips and Tricks, PC tips and tricks, and Android Tips and Tricks.