The new Google Pixel 3a and 3a XL smartphones undoubtedly offer the best quality t its price segment with better photography. Google has brought the HDR and Portrait mode on Google Camera apps from 2017. The GCam app is quite powerful and intelligent as well to understand the lighting conditions quite nicely. Google uses a single rear and front camera to take pictures and record videos so clearly and easily. While the rest of the smartphone OEMs are busy in providing camera counts on both sides instead of improving the software. Here we will discuss how to get portrait mode on Pixel, Nexus, and other Android devices.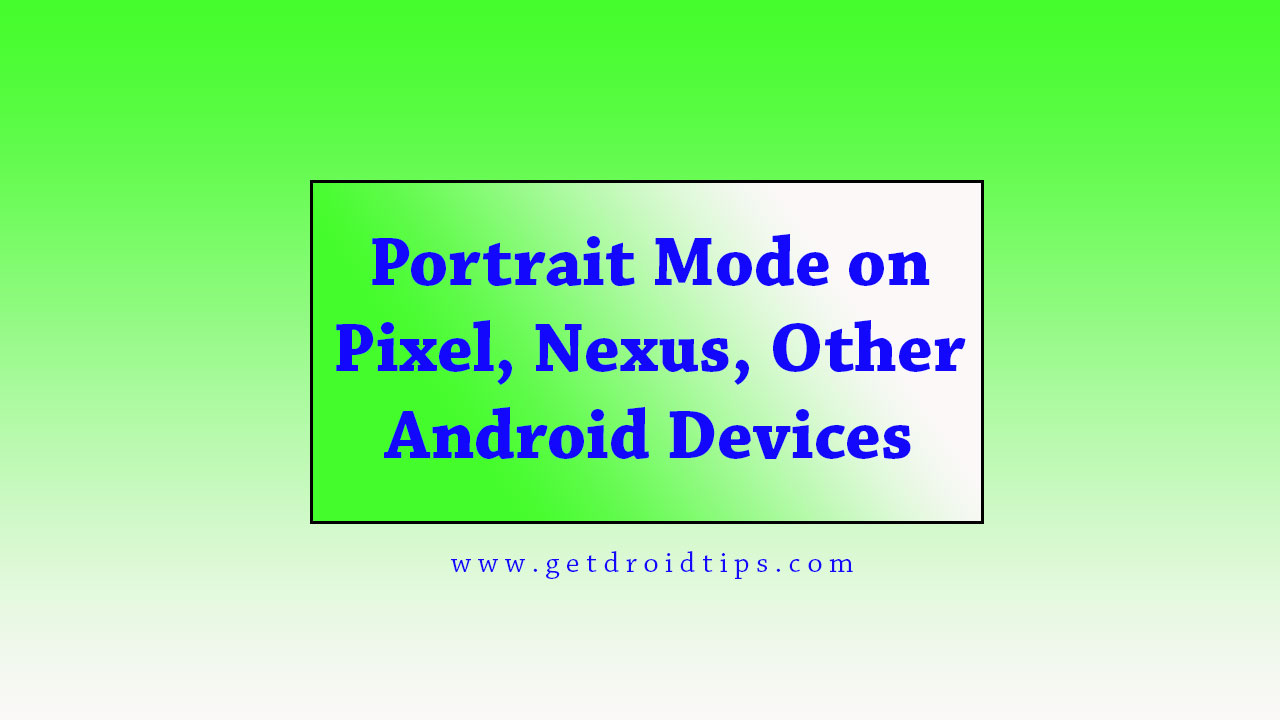 The camera quality of Pixel 2 and Pixel 3 series smartphones especially the portrait mode is quite impressive. It offers better mobile photography than other flagships like the Samsung Galaxy Note series and the iPhone series. Google's dual-pixel technology divided a single pixel into two left and right pixels as same as the dual camera lens. The Pixel 2/Pixel 3 series camera can calculate the depth effect and differentiate between the objects in the background and foreground.
Get portrait mode on Pixel, Nexus Devices
Google's artificial intelligence (AI) with machine learning technology offers better image and focus or blur them automatically. The Google Lens and Night Mode feature is a cube of ice on the top. Offers sharp details, less noise, and better day/night light effects without any customization.
The Pixel 2 and Pixel 3 camera app has been ported for Android Oreo and Pie running devices with almost the same features. The Google Camera App modified version available for most of the Android models. It offers HDR+, Portrait mode, Video Stabilization, Zero Shutter Lag, Google Lens, and Google's AR Stickers, etc. You can get the Pixel, Pixel XL, Nexus 6P, and Nexus 5X compatible camera apps, AR Core, AR Stickers from here.
Get portrait mode on other Android devices
While the Pixel and the 2015 Nexus smartphones can get portrait mode from here. You need to just download and install the Camera NX V7.3 APK file on your smartphone. Thanks to a developer called Arnova8G2 who has ported Camera NX 7.3 and managed for other Android devices as well. Such as OnePlus 3/3T, Moto G5S Plus, and Galaxy Note 8, and more. Arnova8G2 has also modified GCam app for Nokia, Lenovo, Moto, Asus, Xiaomi, Huawei devices according to its compatibility over Android versions.
Get all the latest Arnova8G2 modified camera APK files for most of the Android device models. If you want to know more about how to get Portrait mode on Nexus/Pixel/Other Android devices, follow the links below.
Get Pixel 2 portrait mode on any android device
Enable Pixel 2 Portrait Mode on Pixel/Nexus 5X/6P