From this tutorial, you could download the latest MRT Key Dongle setup file. There are quite a few MediaTek devices around in the market. OEMs like Oppo, Vivo, and Xiaomi have a set of smartphones lined up with the said underlying chipset. These devices are always in high demand due to their USP of providing feature-rich devices at affordable prices of the masses. But that's not where the offerings end. If you are among the tech enthusiasts, then there are a plethora of tweaks waiting out for you. These OEMs are quite active players in custom development.
From unlocking the device's bootloader to gaining access to the system partition, the opportunities are endless. But all these tweaks require quite a lot of effort in successfully executing them. This is where the MRT Key Dongle Setup tool comes into the picture. This software has incorporated all these nifty features that you could carry out with just a click. Apart from that, there are some useful device protection and backup features backed into the tool as well. Let's check out all these features and the associated advantages that it brings with itself. After this, we will also share the download link for the latest MRT Key Dongle setup file. Let's begin.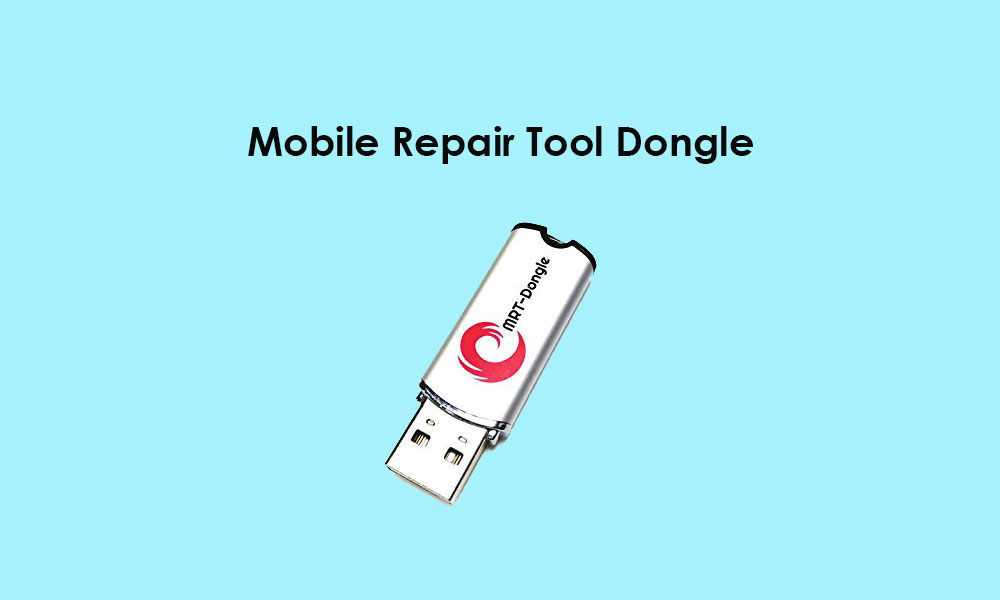 What is MRT Tool (Mobile Repair Tool Dongle)?
The Mobile Repair Tool or more popularly known as the MRT Tool provides all the useful functionalities that your MediaTek device could ever need. To begin with, there are a lot of tweaks that require the execution of a lot of effort. Apart from that, there are a few fastboot binaries and commands that needed to be perfectly executed. However, this tool streamlines the entire process and makes it quite easy for you, the user, to get on with the desired tweaks.
But that is just one side of the coins. For the unawares, these modifications do bring in some risks as well. Making note of the same, you could use this dongle to preserve some of your data, including the ability to repair your International Mobile Equipment Identity right from within the tool. On that note, let us check out some of the advantages that the MRT Key Dongle brings in with itself.
Advantages of MRT Key Dongle
This tool has quite a lot of useful features that might come in useful for the MediaTek devices. Here are some of the noteworthy ones that caught our attention:
Unlock Bootloader/ReLock Bootloader
To carry out any of the aforementioned tweaks, an unlocked bootloader is a first and foremost requirement. This is because by default every OEM ships their device with a locked bootloader. You will then have to execute a few lines of command and make use of some drivers to start the unlock process. Well, the MRT Key Dongle tool streamlines the entire process and make the entire unlock process quite easy. Along the same lines, if you wish to revert to stock and relock the bootloader, you could do the same right from this tool itself.
FRP Unlock
Once you have formatted your device, then on the next boot, you will have to enter your Google credentials before you could gain access to the device. The Silicon Valley giants have put in place the Factory Reset Protection. However, in some cases, a user might face an issue or two in logging in to their Gmail account. This is where the FRP Unlock feature comes to the fore. Using this functionality, you could easily unlock the FRP from your device.
IMEI repair
By carrying any modifications or tweaks to your MediaTek powered chances if you end up corrupting the EFS partition, then you might have a hard time getting your IMEI number back. For the unawares, the said partition holds all the important unique IMEI number and once you end up messing with this, you might face quite a lot of issues later on. Well, not anymore. Using the MRT Key Dongle tool, you could easily repair your IMEI without any issues as such.
Support for the Aliyun OS system
Aliyun OS is a Linux distribution developed by the Alibaba Clouds. Based on the Android Open Source Project, there are quite a few devices making use of the said OS. However, there isn't much support for the devices with the said underlying OS, and users might have to dig into the corners of the World Wide Web in finding help. Well, that could be a thing of the past. MRT Key Dongle tool supports all the devices with the Aliyun OS and hence you could carry out the desired activities onto your Aliyun OS devices.
Various device supports
One of the major takeaway from this tool is that supports near-about all major OEMs having the MediaTek chipset. Oppo, Vivo, Meizu, HongMi, Huawei, and LeEco are some of the noteworthy smartphone manufacturers that could make full use of this tool. Apart from that, the support list also includes various MTK Android device models (MT6580 or MTK X10 6753/6752/6595/6795 and older CPUs like MTK 6575/6577/6572/6571).
There are plenty of other useful features or advantages of MRT Key. Check out from below:
Vivo FRP Unlock/IMEI repair/flash
Oppo FRP Unlock/IMEI repair/flash
HongMi (MTK CPU) Unlock password/FRP Unlock/IMEI repair/flash
Meizu Phones without Open Mobile phone Flash and Unlock Password/FRP (Account) Remove by one-click
Supports the Aliyun OS system
Supported with Huawei FRP Remove/Unlock Bootloader/ReLock Bootloader
LeEco Qualcomm FRP Full Support (Account/Google ID) remove
Supports X800,X800+,X900,X900+, etc
Supported on all MTK Android device models (MT6580 or MTK X10 6753/6752/6595/6795 and older CPUs like MTK 6575/6577/6572/6571)
What's New on MRT Key v3.57?
New Update Hw Flash Add Emui 10 10.1 System Flash Support
New Update Hwflasher Add New Fastboot To eRecovery (Fastboot To Download Mode)
Like Mate30 Mate30 Pro…
New Update Hwflasher Add Med Moa Key Huawei Mtk Phone Remove Account And Frp Phone
(Mtk 6765 6762 6761…)
New Update Add Remove Huawei Account With Usbdebug
(Ex, if Mobile Working Normal, can In The System Enable Usbdebug, just One Click Can Remove Account)
Its More Simple One Click!!!
New Update Adjust Huawei Server Unlock, old System, like Emui 5 & Emui 7
More Stable Server Update
New Update Add Vivo Y70 Unlock!!!
Latest Update Changelog: V3.29
Add support for MIUI 9.6.8 system for Xiaomi devices. So, before bootloader unlocking, you need to downgrade it.
Add Huawei 8C (BKK-XXXX) Unlock Account and FRP support the last version.
Vivo MT6771 CPU Boot options enabled. [If you enable ADB and CDC driver not appears, you can unlock directly by clicking start option and press+hold the Volume Up and Power button for unlocking]
Vivo MT6771 working fine with preloader drivers. That means you can Unlock by Power Off mode.
New update support Huawei Qualcomm DUB-AL00/DUB-TL00/DUB-AL29. The 8.2.178 version unlocks account FRP directly, requires EDL PIN to 9008. Mobile adds in hw_flash tool.
Vivo Mtk 6765 6771 Write Flash
Add Vivo Z5x Format Support (remove user lock and account)
Add Meitu T9 V7 Unlock Support (In other mobiles, support user lock & account)
Meizu 16s/16sx/Note 9/Note 8/X8/E3 Support (IMEI Repair/erase account/user lock)
Oppo A5S (Added Oppo Tab exclusive A5S meta mode factory reset and more)
QC_Tool move to 3.15 software and more options supported (Qualcomm Flash/erase FRP/format/Read Flash)
New GUI includes all Huawei COM 1.0.exe (No activation requires)
Fixes server communication on startup
Improves exe protection key data for strong protection
QC_Tool supports Xiaomi S2/Y2 Write Flash
Other bug fixes