Miracle Huawei Tool is one of the great additions by AMiracle Team that allows Huawei devices users to easily perform a factory reset, unlock FRP, unlock pattern, flash firmware, and more. It's basically an all-in-one repair tool for Huawei smartphone users whether the device runs on Kirin or any other processor like MTK or QCOM. If you're interested then you can Download the Miracle Huawei Tool V2.21 Latest Setup file from this article.
It's worth mentioning that the Miracle Huawei Tool Dongle users can use this setup file on Windows computers. The tool is also capable of reading stock firmware on Huawei devices, flashing Stock ROM, repairing IMEI numbers, and all other possible issues on Huawei MTK, SPD, QCOM, Kirin-chipset devices. It also supports read, write, backup, and restore apart from removing FRP lock & NV data repairing.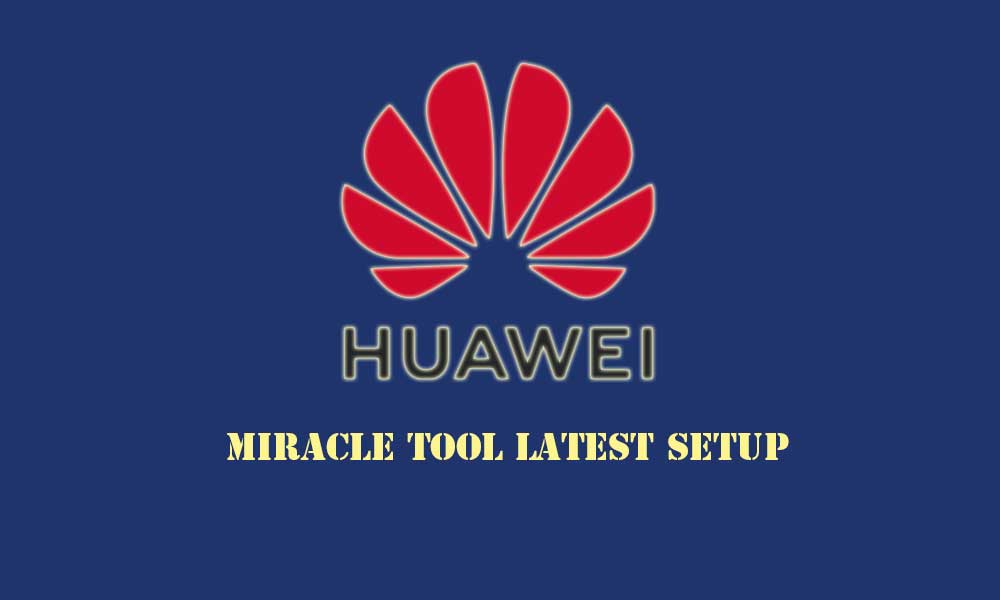 Miracle Huawei Tool V2.21 Changelog
Check out the full changelog of the latest update below.
Added New MediaTek SoC:
MediaTek MT6850
MediaTek MT6735
MediaTek MT6753
MediaTek MT6757
MediaTek MT6761
MediaTek MT6763
MediaTek MT6795
MediaTek MT6797
MediaTek MT6799
MediaTek MT8695
MediaTek MT6885
MediaTek MT6889
MediaTek MT6880
MediaTek MT6890
MediaTek Dimensity 720 5G (MT6853, MT6853V/ZA)
MediaTek Dimensity 700 5G (MT6833, MT6833V/NZA)
Added MediaTek SoC One-Click Action:
MediaTek Helio G90T (MT6785)
MediaTek Helio P90 (MT6779)
MediaTek Helio P70 (MT6771)
MediaTek Helio P65 (MT6768)
MediaTek Helio P35 (MT6765)
MediaTek Dimensity 1200 5G (MT6893)
MediaTek Dimensity 1100 5G (MT6891Z/CZA)
MediaTek Dimensity 900 5G (MT6877)
MediaTek Dimensity 800 5G (MT6873)
MediaTek (MT6739)
No need to Select Preloader/DA /Auth
No need to Select Preloader/DA /Auth.
Support Format/Read/Flash/Frp.
Restore/Backup OEM.
Remove Account.
Add Huawei Hisilicon Support for (USB 1.0 Mode).
Support FRP/Factory Reset/Fix Boot
Add Huawei ID Remove (Step 1,2)
Support HiSilicon CPU list:
Hisilicon 620
Hisilicon 650
Hisilicon 655
Hisilicon 658
Hisilicon 659
Hisilicon 685
Hisilicon 710
Hisilicon 910
Hisilicon 925
Hisilicon 930
Hisilicon 935
Hisilicon 950
Hisilicon 955
Hisilicon 960
Hisilicon 970
Hisilicon 980
Add Qualcomm Auto Detect Loader:
Add Brand and SWID Detect
Add HWID Change Detect
Auto Boot Qualcomm Device.
Improve Huawei Qualcomm Support:
Support Factory Reset/FRP/Repair FS.
Restore/Backup/Erase OEM.
Restore/Backup/Erase Security.
Account Remove.
Huawei Support 400+ Models Added
Fix Some Bugs & Improved Functions.
Download Link:
Steps to Install on the PC
Note: The tool runs perfectly on Windows XP, Vista, Win7, Win8, Win8.1, and Win10 (32-bit and 64-bit) operating systems. You should take a data backup (if possible) as improper flashing firmware or recovery may brick your handset.
Make sure to download the latest setup file from the link above.
Then you'll need to extract all the files to your PC inside a folder.
Now, open the extracted folder > Double-click on the installer file.
Click on Next > Next > Agree > Finish.
Then run the 'Miracle box.exe' file and follow the on-screen prompts.
A popup will open and click on the 'Start' button.
Once the tool is successfully installed, launch it. [It may take some time to open the tool]
Enjoy!
That's it, guys. We assume this article was useful to you. For further queries, you can comment below.