Miracle Power Tool is a powerful yet ultimate unlocking tool that you can use to bypass FRP locks on MediaTek, Qualcomm, and UNiSOC (SPD) chipset devices. Additionally, users can flash the firmware, perform a factory reset, unlock the pin or pattern password, format eMMC or UFS storage, etc. with this tool. Relocking the bootloader and unlocking MI Cloud can also be a useful option for free. Here in this article, you can easily download the latest Miracle Power Tool for your PC.
This tool supports almost all Android smartphone brands and models out of the box which works as a mobile repair tool. It'll be helpful to provide software-related troubleshooting or servicing such as Oppo, VIVO, Realme, Tecno, Infinix, Xiaomi, Redmi, OnePlus, Samsung, etc. that can come in handy to students and advanced users. This tool easily runs on Windows 7/8/8.1/10/11 OS versions (32-bit & 64-bit) without any issues. If you're also interested in using this multi-utility tool, check this full article.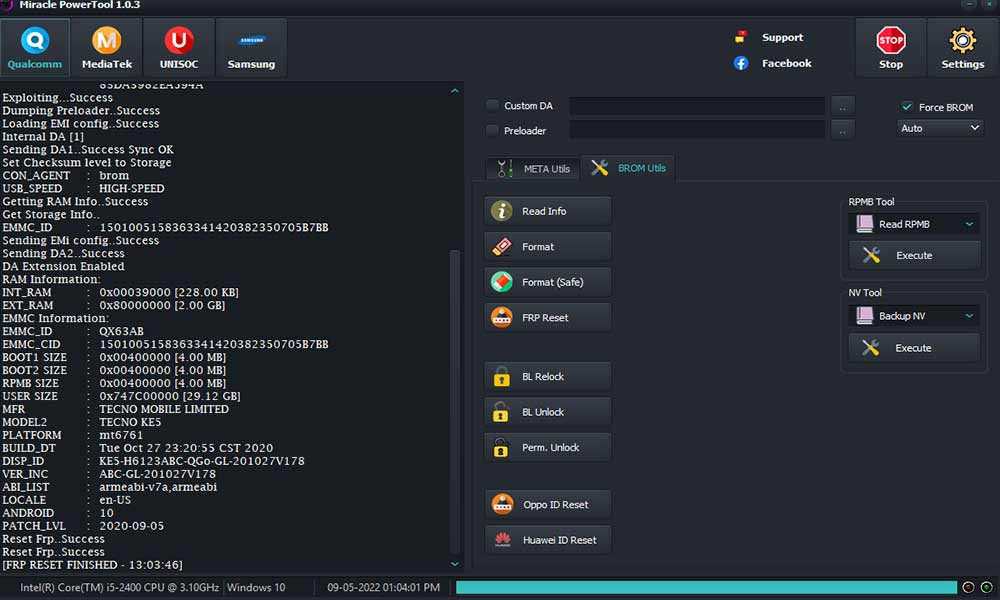 What is FRP?
FRP means Factory Reset Protection. It's a powerful security measure from Google to easily protect your Android device (Android 5.1 or above) from others or unauthorized access after performing the factory reset. Whenever a user turns on and starts using the Android device by signing into the Google Account for the first time, this security measure gets activated automatically.
It will ensure that your device and data will be secured even if you lost your handset or someone stole it. Then it will simply prevent the original user as well as other users from accessing the device and its data after the factory reset until the user puts in the previously used Google Account details. So, to remove that FRP Lock, you will need the Miracle tool (FRP).
What Is Miracle Power Tool and Why It's Powerful?
Miracle Power Tool is one of the best-in-class mobile repair tools that comes with new technology for flashing the firmware, unlocking FRP, relocking the bootloader, read/write/erase partitions, backup & restore, unlocking the screen lock, browsing user data, unlocking the bootloader, reset device ID, reading device information, and so on. This tool has been created by the Miracle Team which has been doing the job for 12 years. The latest v34.7 has so much improved and is stable.
It has major features and advantages that you can check below.
Miracle Power Tool Features:
Read / Write Firmware
Backup / Restore QCN
IMEI Repair in FTM/Diag + Flash Mode
Backup / Reset / Restore Security (EFS)
Reset FRP (Google Factory Reset Protection)
Format UserData
Reset Locks (PIN, Password, Pattern w/o Data Loss)
Enable Diag (Need OEM Unlock, May not work on Bootloader Locked Devices)
Reboot to EDL from Fastboot
Reset Mi Account for Xiaomi Devices
Disable Mi Account for Xiaomi Devices
Factory Reset (sideload Mode) for Xiaomi Devices
Disable / Restore Locks for Encrypted Userdata
Motorola Boot Repair
Xiaomi EDL Locked Device Service
Bootloader Unlock in EDL Mode for some Xiaomi Devices
One-Click Root in EDL Mode for Generic Qualcomm Devices
Forensic Functions (Read Contacts / Messages in EDL Mode)
One-Click Lock Reset for Vivo Phones (Encrypted Userdata)
Factory Method for Format FS
EDL Authentication using Xiaomi Auth App (Service Account Required)
Xiaomi Wipe EFS in Sideload Mode
MI IMEI Repair for RSA-Protected Phones
Xiaomi Boot Loader Unlock
Unique Method for Vivo Reset Locks for Protected Devices
Xiaomi EDL Auth Using Miracle Server
Xiaomi Flashing in Fastboot Mode
Download the Latest Miracle Power Tool
Please Note: If you want to go with the authentic and potentially vulnerability-free application then head over to the official Miracle Power Tool website and purchase the latest version.
Steps to Install Miracle Power Tool on the PC
After downloading the application from the above link, extract the setup installer.
Now, run the installer > Once installed, launch the Miracle Power Tool.exe application as an administrator.

Click on Next > Select Accept > Choose Next > Click on Install > Hit Finish.

Run the Miracle tool on the PC > Register if you're a first-time user via the browser. (If already purchased, just log in with the same account)
After registering the account, purchase the activation access from the Miracle Power Tool website.
Next, run the Miracle tool and the credit will be displayed depending on which option you chose.
Just open the tool and connect the device to the PC via a USB cable.
Once detected, you're good to go to perform tasks whatever you want.
Enjoy!
That's it, guys. We assume this guide was helpful to you. For additional queries, you can comment below.