NCK Pro Box is a multifunctional phone servicing tool that supports a wide range of smartphones to help you with flash, software repair, and unlocking procedures. It is more or less similar to the Infinity Chinese Miracle (CM) II, Miracle, GSM Aladdin, etc. In this post, we will look at how to download NCK Pro Box drivers and how to set up this box.
Moreover, the NCK Pro Box is specifically designed for remote unlocking of IMEI Code calculation. This box also supports a huge variety of smartphones. So, without further ado, let us get straight into the article;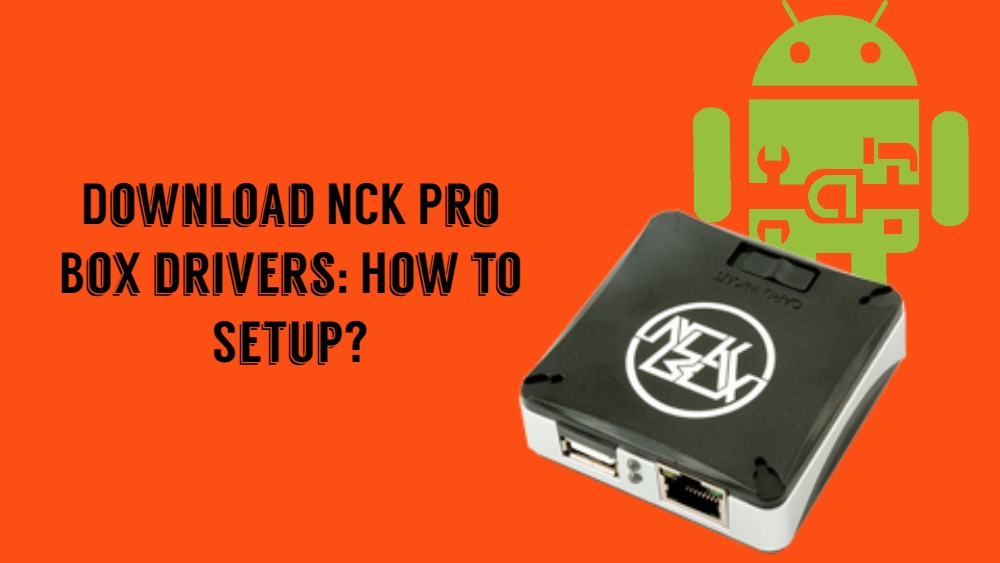 What is NCK Pro Box?
As mentioned above it is a multifunctional repair box that supports a wide range of smartphones from different manufacturers.
Features
Direct Unlock
Read Codes
Alcatel, Motorola WX-series: NCK (Network Control Key) code
NSCK (Network Subset Control Key) code
SPCK (Service Provider Control Key) code
CCK (Corporate Control Key) code
PCK (Personalization Control Key) code
Flash/Backup
Read phone's firmware version
COM port speed – up to 921600 bps
Read and restore a backup
Upgrade firmware
Upgrade and downgrade firmware version
Huge flash files archive: Latest firmware versions
Huge archive of operator's firmware
Vast selection of language packs
IMEI
Repair IMEI, including models with more than one SIM
Software IMEI repair
Repair "Blank" IMEI
Repair Security Area
Alcatel Security Area via flashing repair
Works with FFS through boot mode
Works with network calibrations (backup and restore)
Phone book backup
Format file system
Supported CPUs
Qualcomm CPU Supported
Broadcom CPU Supported
Infineon
Swift
Sysol3
MediaTek: MT6219, MT6223, MT6225, MT6226, MT6235, MT6236, MT6238, MT6239, MT6252, MT6253,
MT6268
Support for new CPUs and flash chips are being added immediately
Works via UART interface – any virtual or physical COM-port (up to 921600 bps)
Spreadtrum (SPD)
All Winner
Other Features
ADB Communication Function
NV Read / Write
Remove ESN, MEID, SPC, and IMEI from Full Firmware
Qualcomm Firmware Editor
One-click FTM Fix for the phones stuck in FTM Mode
Read / Write RUIM Configuration
Auto-Detection of CPU type, Flash and EFS size
Read Firmware in Normal and Download Mode
ESN to MEID Brute-force to find matching MEIDs for a given ESN
Full Diagnostic Terminal to send any Diag Command to a phone
Supported Operating System
Windows 2000
Windows XP 32/64-bit
Windows Vista 32/64-bit
Windows Server 2003 32/64-bit
Windows 7 32/64-bit
Windows 10
Download NCK Pro Box Drivers
Below you can find the download links to the drivers for the NCK Pro Box.
Download NCK Pro Box Drivers
Steps to Set-up NCK Pro Box
Follow the below steps to successfully set up the NCK Pro Box.
You need to get a cable that should look like in the image below. Use it to connect the box to the PC. (the one on the left goes into the NCK Pro box while the one on the right goes into the PC)
Then, from the above download link provided, you need to download the Support Access and Smart Card drivers.
Now, extract both the driver files, and install Smart Card drivers. Then run support_access.exe (You might get a virus warning, set your Antivirus to allow it)
The Support Access dashboard should pop up, click on Download Installers.
Now, the Download area should automatically get launched in your default Web browser.
Download NCK Box Main Module Setup (you can download any other modules you'll be needing after setup).
Now, you need to extract and install nckBox_MainModule_Setup.exe file. Then, launch NckBox Main once you are done with the installation.
In the Card Updater dashboard, click Update card.
You should get an initialization ok, ready to use message. Then, click on close, and then, relaunch NckBox Main.
Now, you should be in the Main NckBox Dashboard.
Voila! You have successfully installed and set-up the NCK Pro Box on your desktop/laptop.
Important notice
Unless you're using a loader version, you're going to need the hardware box for any of the NCK Box modules to work.
Its different modules for different purposes so ensure to install the required module.
When updating, its recommended you first uninstall older versions of the module before installing the update.
Source: Hovatek
Conclusion
So, there you have it from my side in this article. hope you liked this post. Please do let us know in the comments section below if you faced any difficulties or confusion while following the above-mentioned steps.