If you're using any Xiaomi device running MIUI custom skin, you will know that there are plenty of custom themes available in the theme store. Samsung this year has released brand new One UI skin for the Samsung devices running Android Pie or higher. The UI looks cool and minimal too with new icons and improved features. Now, you can use that One UI theme on your Xiaomi device as well. In this article, we will share with you the links to Download Samsung One UI MIUI Theme for Xiaomi Phones. We will also mention the installation steps.
Samsung One UI MIUI Theme for Xiaomi
The new One UI MIUI theme for Xiaomi MIUI running devices bring most of the visual changes along with lock screen and notification panel improvements as well. You really can't find any issue with this theme. Even the text and charging animation also changed fully with this custom theme.
All credit goes to the developer of this theme and MIUI forum member called HERP for developing such a cool looking theme. It's worth mentioning that most of the Samsung devices come with AMOLED display and 18:9 aspect ratio or higher screen. So, if you're also using a bigger display Xiaomi device, this theme will definitely blow your mind.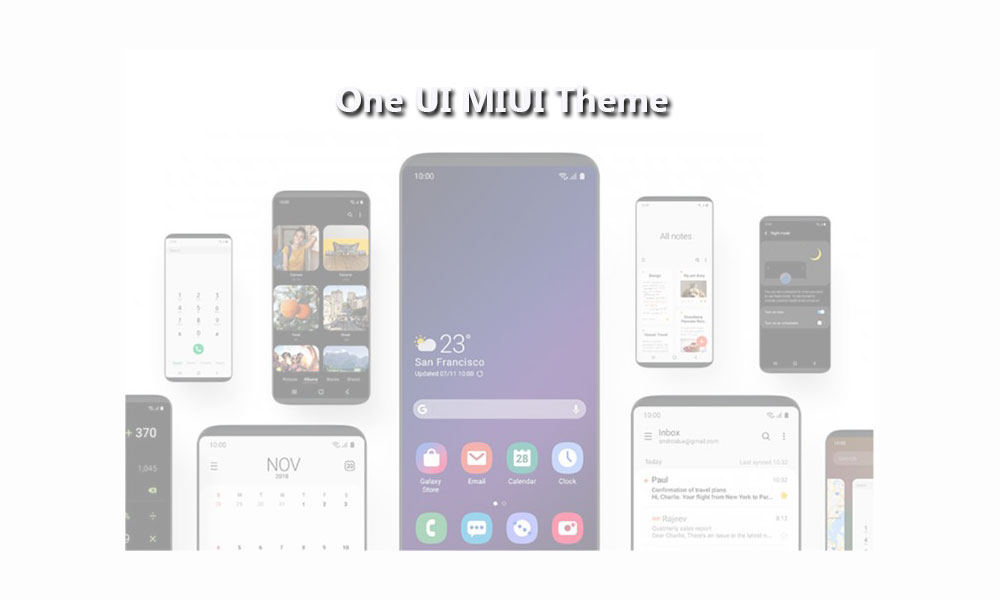 Let's check out the download section. After downloading the file, follow the full installation steps from below.
Download Link:
Download One UI MIUI Theme.mtz
Guide to Install:
After downloading the .mtz extension theme file, copy it into the device storage.
Now, open the Themes app from your Xiaomi device.
Next, you will find the downloaded themes tab.
Scroll down and tap on the import option.
Search for the downloaded .mtz theme file.
Select it and it will automatically install.
Finally, you will see the One UI theme in the list, open it and tap on Apply button.
That's it.
You may need to restart your device once to complete the system changes.
If in case, you can't install the theme or gets some error, you can try MIUI Theme Editor app from below.
[googleplay url="https://play.google.com/store/apps/details?id=com.mixapplications.miuithemeeditor&hl=en_IN"]
Hope this guide will be helpful to you. If in case, you're facing any issues, you can ask in the comments below.