With amusing clips and long videos accessible online, you can enjoy entertainment whenever you're bored. But what if you come across a video and want to save it on your phone in case it disappears suddenly? This is where VideoHunter for Android comes – a solution designed to help you deal with these issues. With VideoHunter for Android, you can easily download videos to your phone and watch them whenever you want.
VideoHunter for Android is a tool we picked from dozens of video downloaders. It is fast, efficient, and completely free when it comes to downloading videos. Today, we will give you a detailed review of VideoHunter for Android and show you how this free video downloader helps you access any videos from the internet.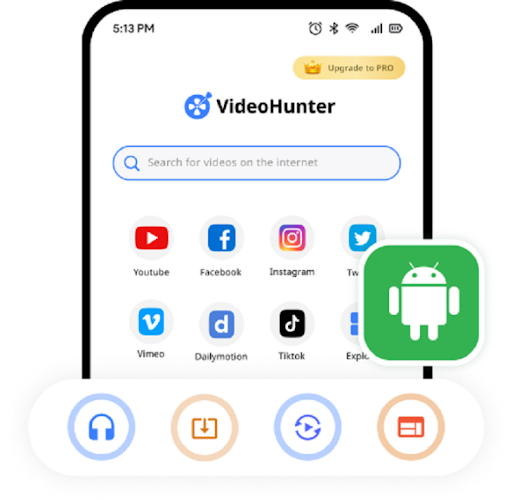 VideoHunter for Android – Best Video Downloader App For Your Every Need
Unlock VideoHunter for Android for Free
VideoHunter for Android is offered to you completely free of charge. It is your gateway to an expansive world of online videos, all at your fingertips. Whether captivating short clips or downloading YouTube Videos on Android, VideoHunter empowers you to access and enjoy full and high-definition videos all without any cost.
Access from Popular Websites
From TikTok to Facebook and beyond, VideoHunter grants access to all the common websites for video and audio downloads. Enjoy quality content offline with resolutions up to 8K, bringing your favorite moments to life.
Download Any Video Type with Ease
From saving clips on Facebook to full-length films on YouTube, VideoHunter helps you capture a wide range of video content. Whether it's a quick clip or a feature-length movie, as long as there's a URL, VideoHunter robust capabilities ensure seamless and free downloads.
Stunning 8K Resolution
Experience videos in their full glory. VideoHunter for Android supports various output resolutions, including 8K, 4K, and 1080P. Enjoy original quality downloads that match your device's capabilities.
Versatile Video/Audio Formats
Download videos in MP4 for compatibility with all your devices. Extract high-quality audio in formats like M4A and WEBM. Convert videos to music effortlessly and save your favorite tracks.
6X Rapid Batch Downloads
VideoHunter for Android's batch processing technology makes downloading efficient and convenient. Download multiple videos or audios simultaneously, enhancing your experience on the go.
Multilingual Subtitle Downloads
Need to download subtitles to watch foreign films? VideoHunter for Android effortlessly retrieves original multilingual subtitles. Enjoy movies with accurate subtitles, enhancing your viewing experience to a whole new level.
Flexible Storage Options
Choose your download location, even to your SD card. Efficiently organize and manage your downloads. Free up your internal memory and enjoy a clutter-free experience.
How to Use VideoHunter for Android to Download Any Online Videos
Unlocking the world of video downloads on your Android device has never been simpler. VideoHunter for Android is designed with user-friendliness in mind. You can enjoy completely free video downloads using just the video URL. The specific steps for this operation are as follows.
Step 1. Access the Video URL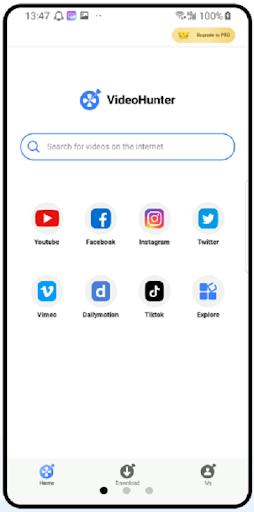 Copy and paste the video URL directly into VideoHunter for Android. Alternatively, visit the desired website and navigate to the video you want to download.
Step 2. Initiate the Download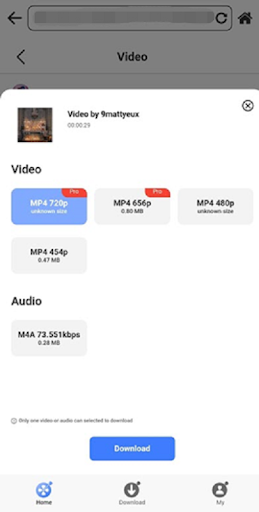 Add the chosen video to your download list. Select your preferred video/audio output format, and tap Download to start the process.
Step 3. Check Your Downloads
You can find a list of your ongoing and completed downloads on your phone. You always have the choice to stop all downloads or resume all downloads.
When all the files are downloaded, you can discover the ease and convenience of VideoHunter for Android – your pathway to hassle-free video downloads.
Specifications
System Requirements:
Android 7.0 or above

Compatibility extends to all Android devices, including popular brands like Samsung, Huawei, and OnePlus.
Downloader Output Formats:
Save videos in MP4, MP3, M4A, and WEBM formats.
Output Quality:
Video quality: 8K, 4K, 2K, 1080p, 720p, 480p, etc.
Audio quality: 160kbps, 128kbps, etc.
Conclusion
VideoHunter for Android emerges as the premier video downloader app in our testing. With a remarkable and free download feature, it can download unlimited videos from the Internet. What truly sets VideoHunter apart is a variety of formats for both video and audio and rapid batch downloads. In my experience, VideoHunter for Android has redefined the way I experience and savor digital content. With its ingenious fusion of features, it's a must-have for anyone seeking a powerful, user-friendly, and comprehensive video downloader.