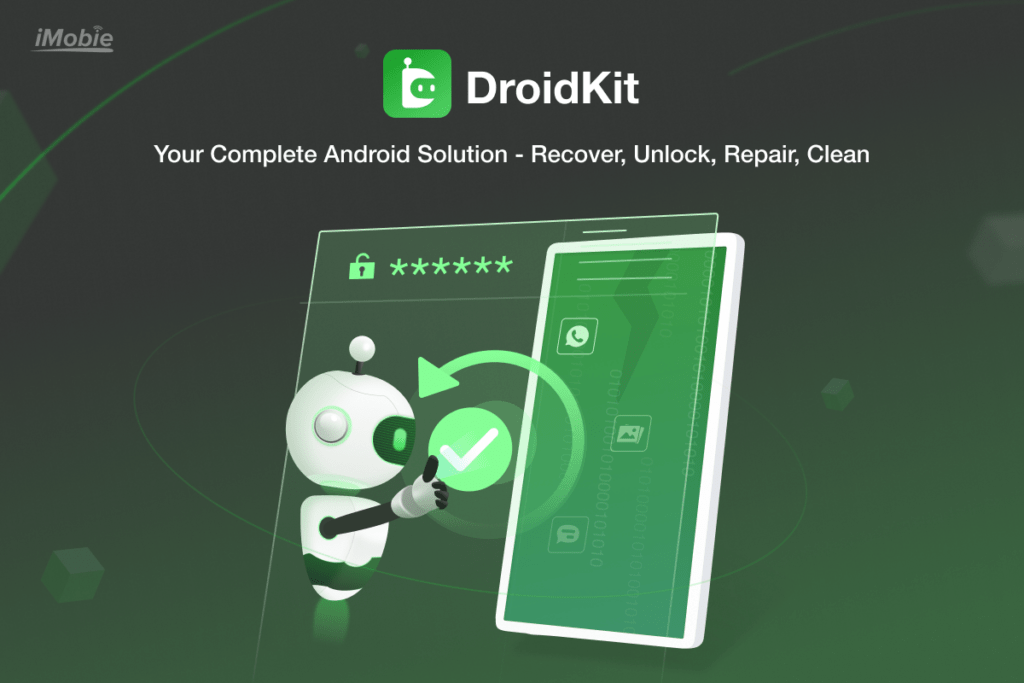 Day to day, we Android users have to suffer a lot of issues with our devices. And it is nothing new at all. Although Android is the most popular operating system for smartphones, it certainly has an endless list of technical issues. To state some of the regular ones, we can start with data loss in Android. It is one of the most common issues users have to deal with and what's more painful is, there is no particular cause behind it. In fact, data lost by mistake are sometimes impossible to retrieve, and other reasons such as jailbreaking devices, battery replacement, corrupted files, etc; lies at the top.
Apart from these, there also lies other problems such as the user forgetting their screen lock. Or your Android system simply getting crashed. Such situations may cause severe damage to the user's data and sometimes even worse. However, now that we have Droidkit in our toolbox, it merely makes no sense to be worried about these things. For starters, Droidkit is a powerful tool or, in other words, a whole Android toolkit.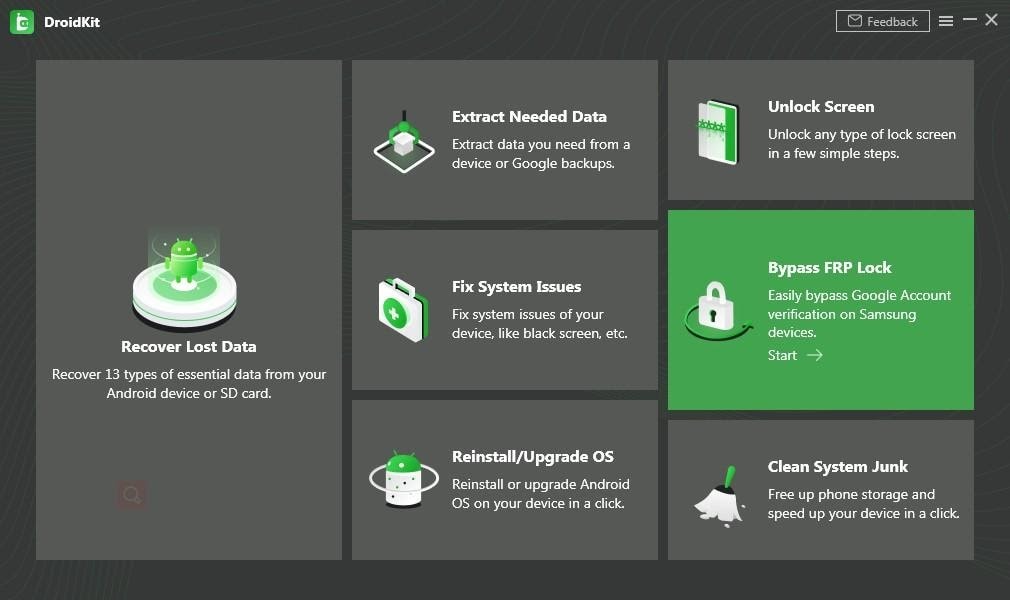 This software comes with various stunning features/ solutions for your Android device issues. The powerful Android data recovery tool, Android screen unlock, Samsung FRP bypass, Google Account data extract, Samsung Phone system repair, Android system reinstall, and the Android system clean. These robust features make Droidkit an all-in-one solution to your Android device problems. In this article, we will highlight all the features of the software and further talk in detail about them.
DroidKit – World's First Solution to Recover Data, Fix System Issues, and Solve Any Android Problem from One Place
Overall, Droidkit comes with 7 basic powerful features that look after your whole Android system. Below we will see each one of these features and what's so special about them.
1. Droidkit – Android data recovery tool
The Droidkit data recovery tool is one of the most highlighted features to look onto within this software. This is because, unlike other data recovery tools, this one doesn't need a rooted device and supports all Android devices. It provides two data recovery modes, the Quick Recovery Mode and the Deep Recovery Mode. The quick recovery mode performs a fast scan on your overall device and retrieves all deleted or lost photos, videos, contacts, messages, including a total of 13 data types.
On the other hand, the Deep recovery mode helps in deep scanning and retrieving of data previously stored on your device. Besides, it also recovers data from your SD card and has a separate Whatsapp data recovery feature too. More importantly, it allows you to select the files individually you want to recover, and you only retrieve the data that you need.
2. Android screen unlock
If you have forgotten your screen lock or if your face recognition or fingerprint fails to work, the Droidkit screen unlock can come in real handy. This screen unlock tool gives immediate access to your phone by removing the screen lock, whether it is a pattern lock, 4 – 6 digit PIN, a password, or so. Droidkit screen unlocker works flawlessly with all Android models except One Plus that too without any root access. Moreover, it will also include support for One Plus real soon too.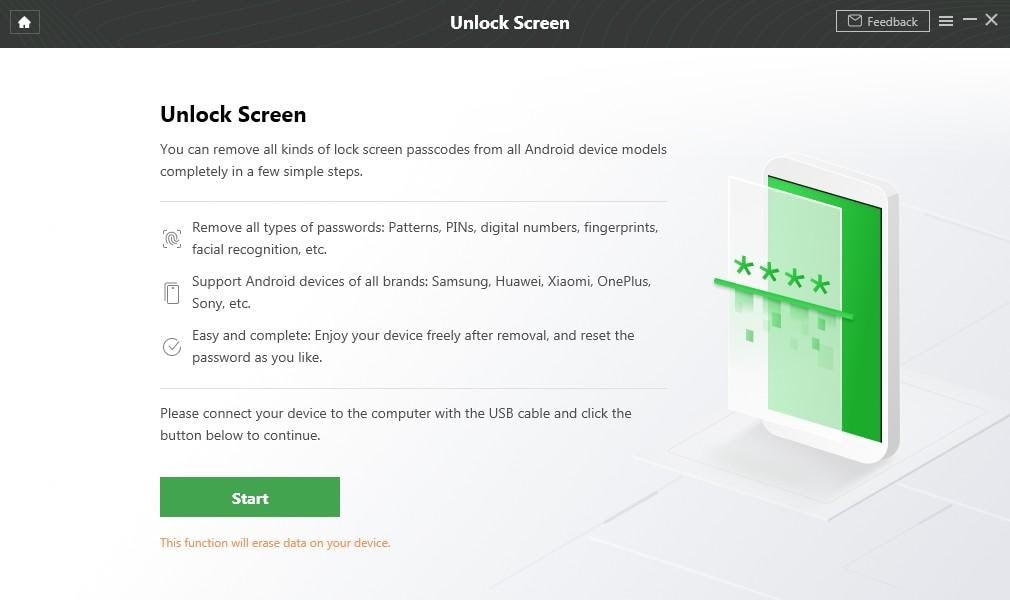 3. FRP Bypass Tool
The FRP bypass lock is a customized solution from DroidKit. Ever got stuck in an FRP lock after a factory reset? Or, if you just purchased a new phone with an FRP lock, this is the tool you need. The FRP bypass tool simply bypasses the FRP lock in your phone. In fact, it guarantees the highest success rate in bypassing FRP's in the entire industry. Currently, the DroidKit FRP Bypass tool supports Samsung devices only. The best part is it requires no technical knowledge at all, and so users find it the easiest way to bypass locks.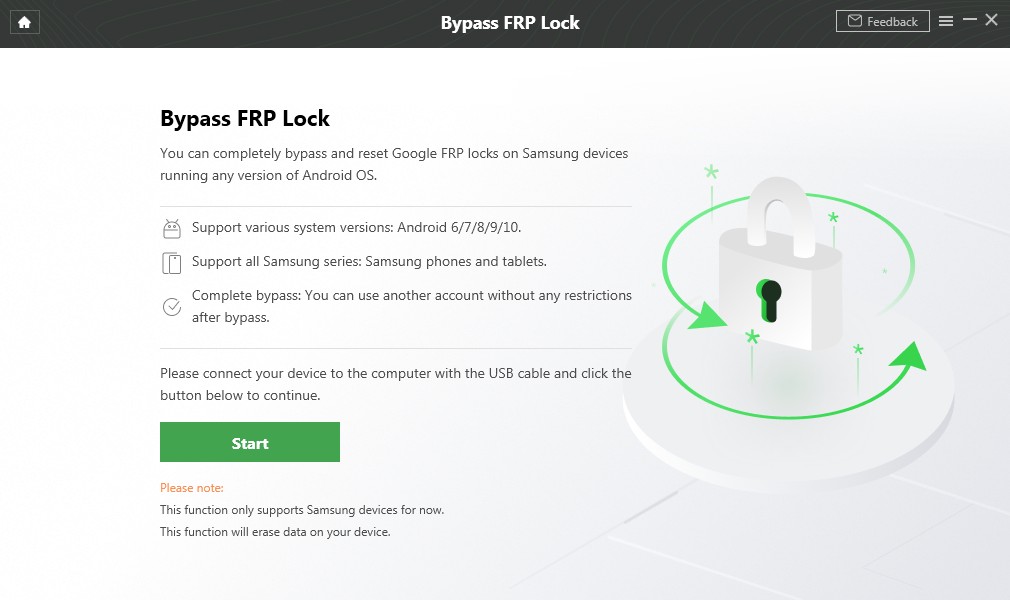 4. Complete Android System Repair
DroidKit can fix all your Android issues, including system problems, by taking every necessary measure required. Android system problems may contain a huge list of issues in addition to the continuous app crashing, phone camera failure, black screen issues, frozen display, or touch not working, and more. Fortunately, DroidKit offers the highest success rate in fixing such issues as it uses intelligent and customized solutions for each Android OS and device model.
However, the system repair solutions are only available for Samsung devices at the moment; we expect DroidKit to bring support for more devices soon. Once again, the best part about DroidKit is, it requires no root permission to perform any of the system repairs mentioned. Plus, you don't have to have any technical skills at all to run this application and resolve your issues.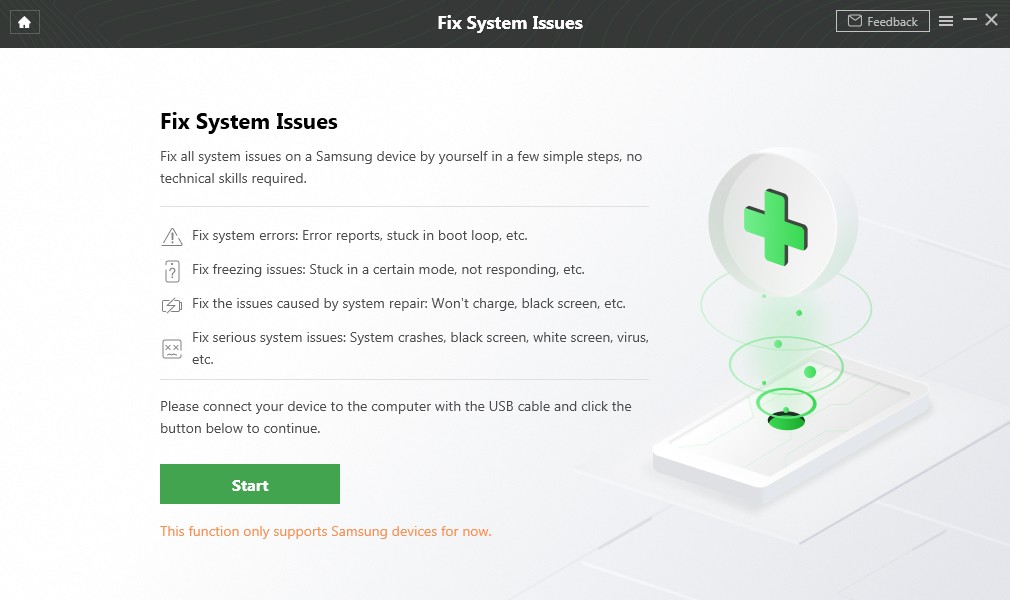 5. DroidKit Data Extract Solution
Another great feature of this software is the data retrieve solution. The DroidKit data extract solution can seamlessly scan and preview your Google backups, including Google Photos/ Calendars/ Contacts, WhatsApp backups, SIM card data, and more. So, it gives you the flexibility to randomly choose the data you need to retrieve without running a full restore.
It also extracts data from your SD card, no matter if you accidentally delete a particular file or end up formatting your SD card. You can always take a step back with the DroidKit data extract tool and select all the deleted files you want to retrieve. Besides, it even retrieves or extracts data from a broken Samsung device. But we can expect to see the same for other Android models as well pretty soon. And guess what, no root access is required, so you can extract whatever data you want and whenever you want it without having to worry about losing your warranty.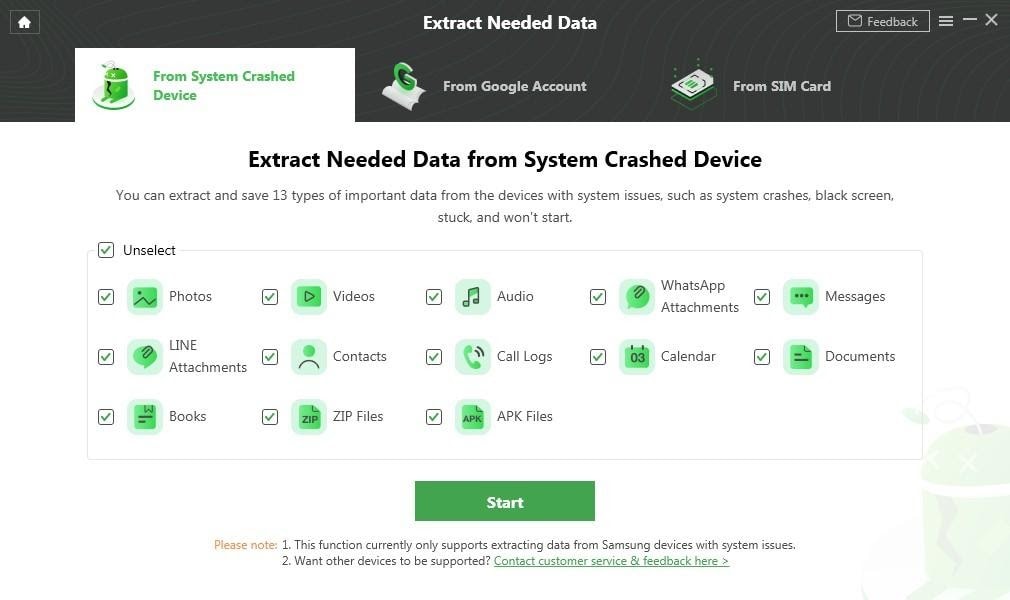 6. System Reinstall & Upgrade Android version
Normally, reinstalling your Android version or upgrading it to a specific one requires a lot of work. Among these, the worst part is it requires a good knowledge about ROM and using a flash tool to install an OS. Also, you will have to root your device to execute your task. And even after doing so much, if you end up making the slightest mistake, it may even crash your device.
However, with the DroidKit system reinstall and upgrade solution, everything becomes easier than ever. This solution automatically looks for an official ROM suitable for your device and lets you install or upgrade your Android OS with just a couple of clicks. It is so far the best-secured way of reinstalling or upgrading your smartphone's OS without any root access.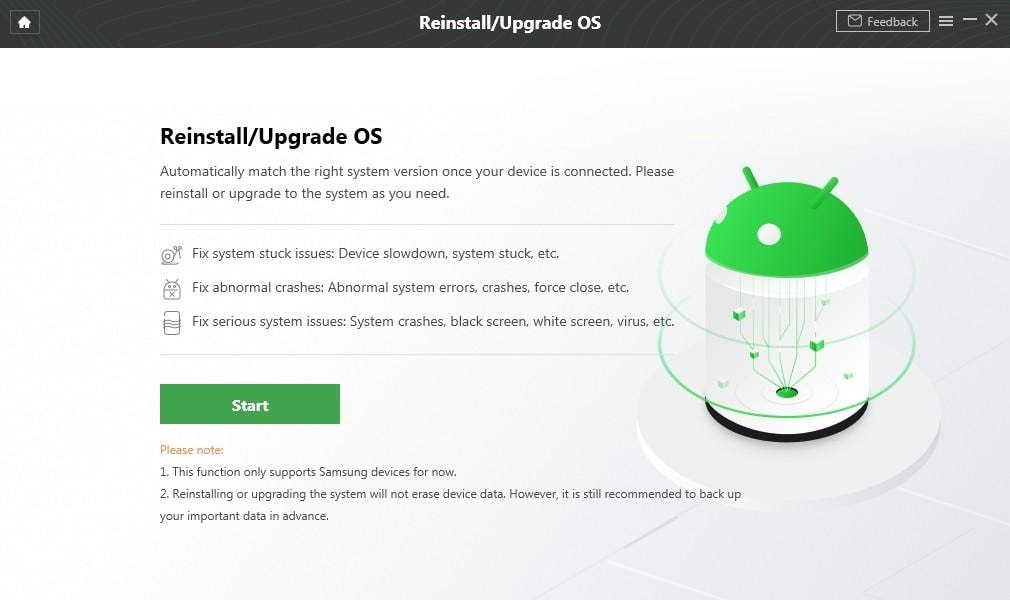 7. DroidKit System Clean
And finally, we have the last and yet another amazing solution from DroidKit that allows you to perform a system clean on your Android device. Why spend hours finding and organizing files when you can make a smarter move? The System Clean tool in DroidKit intelligently identifies and categorizes APK's, large files, background apps, and caches on your device. The only thing you need to do is select the ones you want to delete and clear all unwanted junk files. Interestingly, it supports all Android phones and tablets and offers a much simpler way to clean your device and enjoy a junk-free device.
Conclusion
In a nutshell, DroidKit is a complete software package that provides the best solutions to multiple Android problems. It can fix any of your Android issues, starting from System repair issues to retrieving and recovering data on your smartphone. Note that some of the features only have support for Android devices at this moment, but DroidKit will probably introduce support for more Android devices in the future as well.