When you are short on time but need to clean the home, but as you hold the power button you realize that the Dyson is not working; I know how frustrating it can be. If your Dyson V11 or V12 button is stuck or not working, it can be resolved. Just need to follow the solutions from this step-by-step guide and get your Dyson working again.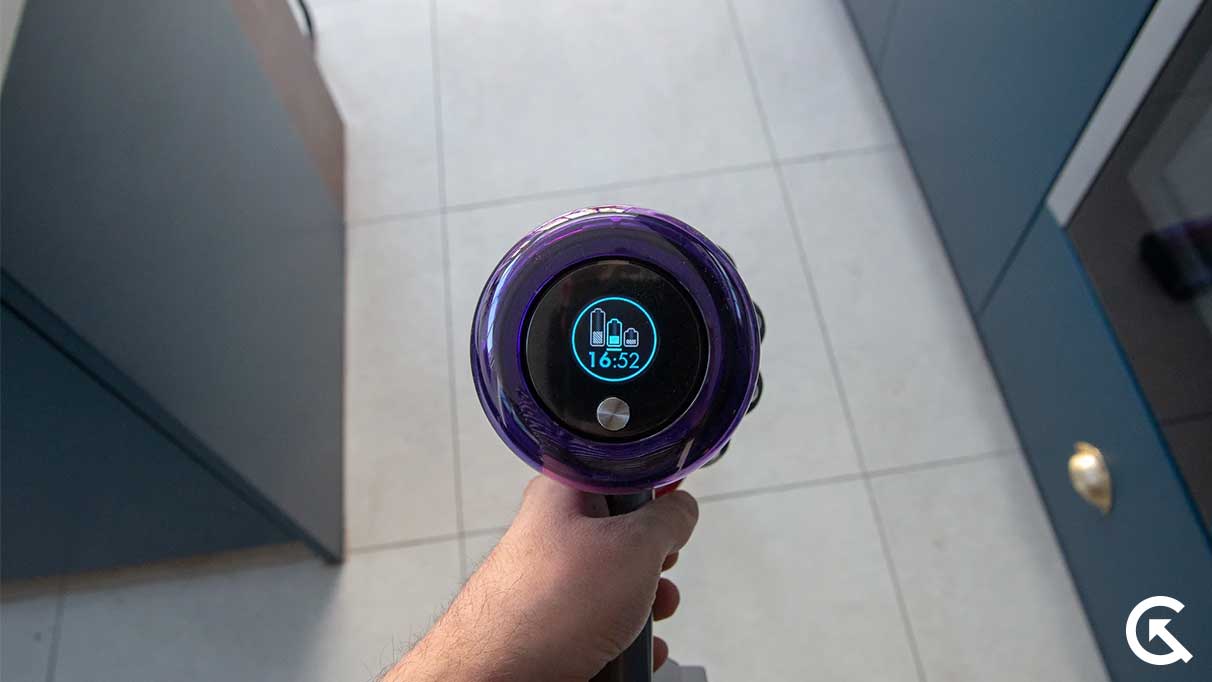 Dyson V11 and V12 are premium vacuum cleaners. They come with powerful hardware and nearly bug-free software. However, at times, they won't turn on. It's a common issue with cordless vacuum cleaners. Your Dyson may not have enough power. You need to charge it for a few hours. Even after plugging in the device for a few hours, if the Dyson won't turn on, probably the trigger is not working.
Many Dyson V11 and V12 owners are not happy as the button suddenly stops working or gets stuck. If the trigger is stuck, there is a fix which we'll tell you in the solutions below. However, if pressing the trigger does not turn on your Dyson, it may not have enough power, the filters may not be properly connected, or there could be a blockage. It could also happen if the button is damaged or malfunctioning.
How to Fix if Your Dyson Trigger is Stuck
There seems to be a problem with the Dyson trigger, V11 in particular. Dozens of users have already raised concerns on popular forums such as Reddit. While Dyson V11 seems to be mainly affected by this issue (seeing the number of complaints on forums), V12 is also not sitting far.
"I have a V11 Absolute. The trigger switch is stuck in. It can be pulled out to the normal out position, but when pressed it stays back in. I thought it could be a spring for the switch causing the issue.
I watched on Youtube how to disassemble the V11 and get to the switch. The switch was cracked and when depressed it would bend along the crack and not make contact with the power switch.", a user wrote on Reddit.
There does not seem to have a quick fix to the Dyson trigger getting stuck problem. I would highly recommend contacting Dyson support or a certified technician to replace the trigger.
You can also fix it on your own but it requires disassembling the vacuum cleaner. As reported by many users, they found the switch was cracked. If that's the same with your Dyson, it won't make contact with the power switch and your vacuum won't turn on. To fix it, simply glue the cracked part effectively. You can add modular glue to strengthen the cracked area.
In short, if your Dyson trigger is stuck, either call a technician/Dyson to replace it or disassemble it and glue the cracked area.
How to Fix if Dyson V11 and V12 Button Is Not Working
If holding the button does not turn on the vacuum cleaner, you should check a couple of things before assuming that the button is not working.
1. Your Dyson Has Insufficient Battery
First things first, you would want to check if your Dyson has enough battery to power it on. If the battery is low, connect it to the charger and leave it there for 4 hours.
After your Dyson is charged, disconnect the charger and try using it.
2. The Filter Needs More Time to Dry
If you have recently changed the filter, the Dyson won't work until the filter is completely dried up. With a wet filter, you should not turn on your Dyson otherwise other parts may get damaged.
You will find a lot of DIY tricks to quickly dry the filter using a hair dryer or heat gun. It's a big NO to these solutions as they are only going to ruin the filter quality. You should not even put the filter under direct sunlight or scorching heat as they can cause wear and tear to the filter.
Dyson recommends leaving the filter for 24 hours to let it fully dry up after cleaning the filter thoroughly. Put it in a place with optimal airflow and let it dry completely.
3. The Filter Is Not Installed Properly
Another reason why your Dyson won't work is the incorrect installation of the filter. Skip this step if you haven't changed your Dyson filter recently.
Installing the filter is pretty easy. All you have to do is twist the cap in the clockwise direction until you hear a click sound.
4. Check the Light
Press and hold the power button on your Dyson. If you see a blue light, there's a blockage. Either the vacuum or any of its parts has dirt or dust. You must clean your Dyson and then try turning it on again.
A red light on your Dyson indicates problems with the battery. The battery is probably worn out and you need to replace it.
5. Motorhead Has Failed
If pressing the trigger still won't turn on your vacuum cleaner, probably the motorhead has failed. You need a technician to get your Dyson inspected to verify if the motorhead has failed. If so, you need to buy a new one.
6. Trigger Is Damaged
A damaged trigger won't let you use your Dyson vacuum cleaner. Either contact Dyson to get it replaced or buy a new trigger from the online stores and replace it yourself.
You will be required to disassemble your Dyson to replace the trigger. If you are not comfortable disassembling your vacuum, I would highly recommend taking help from a certified technician.
Wrapping It Up
Although Dyson V11 and V12 are pretty solid vacuum cleaners, they can also run into various kinds of problems. If the button has stuck, there's a way to fix it without having to take your Dyson to the service center. In case, the trigger is not working, you should check if the trigger is causing the problem or something else and then act accordingly. We have mentioned all the details in this guide to get your Dyson working again.