There seems to be no way AAA video games can launch without problems in 2023. With the latest major release from EA, EA FC 24, users may feel a bit of lag caused by a nasty immersion-breaking bug. Yes, you heard it right. There are many users worldwide who reported the EA FC 24 lag issue. Don't worry; we are here to help you with an amazing tool named LagoFast Game booster, along with some other basic fixes. So, let's get started with our guide.
Why is EA FC 24 So Lag?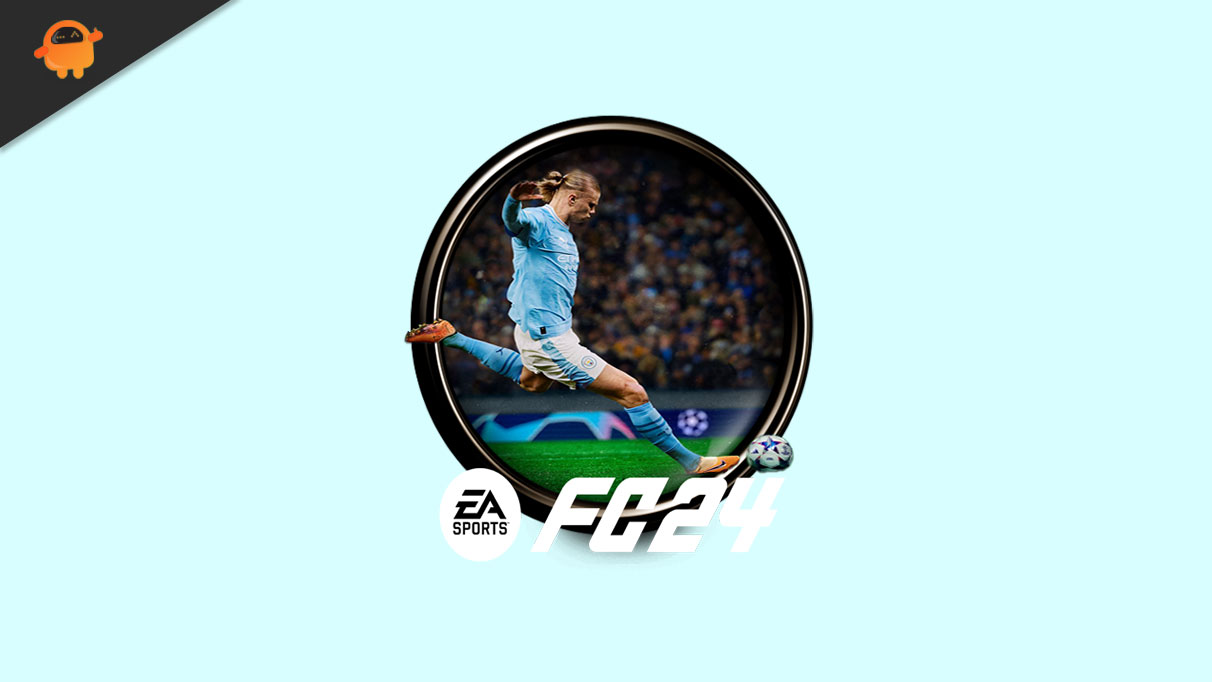 You are most likely experiencing lag FC 24 because your network connection is unstable. Therefore, you must improve your Internet connection if you wish to eliminate FC 24 lag spikes. Here are some methods to resolve FC 24 lagging issues.
How to Fix the EA FC 24 lag
So, here are some fixes to fix the EA FC 24 lagging issue. Therefore, in case you are facing this, make sure to apply all the fixes mentioned below:
Fix 1: Update Graphics Drivers
For games and graphics-intensive programs to work effectively, you should update your graphics drivers on your PC. In order to do so:
To access the Quick Access Menu, right-click the Start Menu.

From the list, select Device Manager.

To expand the list of Display adapters, double-click on it.

Once you have selected the dedicated graphic card, right-click it.

Choose Update driver > Search automatically for drivers.

If there is a new version available, an update will automatically download and install it.

To see if FC 24 lagging goes away, reboot your computer to change the effects and see if it works.
Fix 2: Run the game as an administrator
EA Sports FC 24 game executable should also be run as an administrator to avoid privilege issues associated with user account control. To do this:
On your computer, right-click the EA Sports FC 24 shortcut file.

Choose Properties > Compatibility.

Make sure the Run this program as an administrator checkbox is selected.

Thereafter, to save the changes, click Apply and then OK.

Now, launch the EA FC 24 and see if the FC 24 lag spikes issue gets fixed or not.
Fix 3: Use LagoFast
Well, if you are a PC player, then you must use the LagoFast booster. On the other hand, if you are a console player, then opt for the LagoFast box. I have mentioned the needy steps for both. So, depending upon your need you must check them out: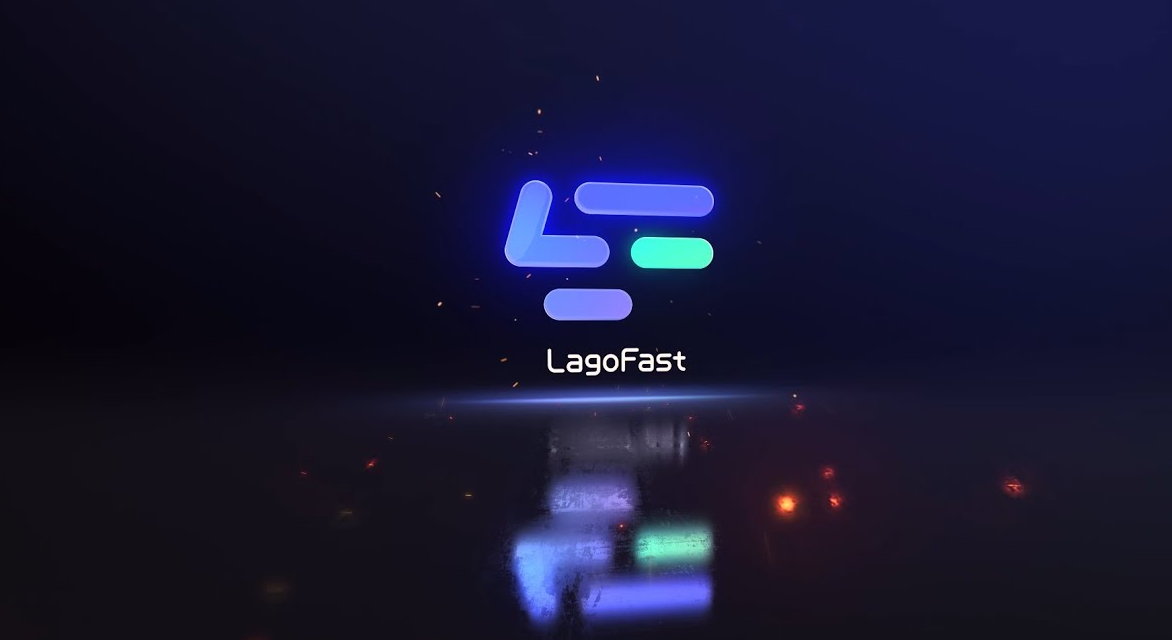 #1. For PC Users (LagoFast Game Booster):
The solution to any Internet issues with the games can be found with LagoFast. Basically, LagoFast is an FC 24 lag fixer and an FC 24 lag reducer. However, it will only take you a few steps to fix the FC 24 lagging issue using PC software (LagoFast):
Download LagoFast.

Search for FC 24 at the top of the interface.
3.Choose server and node.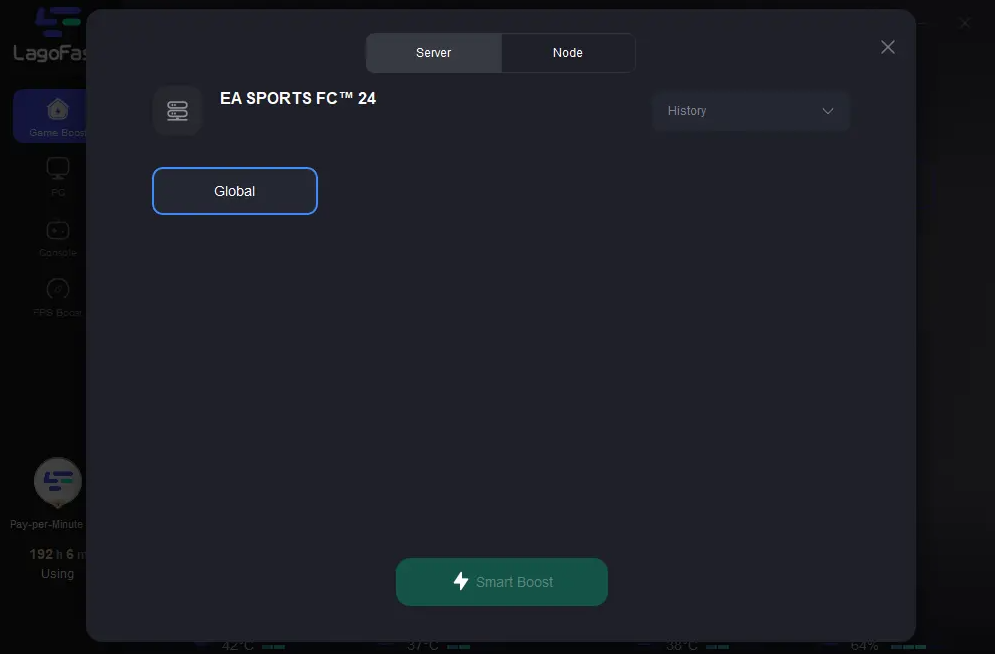 4.Enjoy your games with no lag spikes.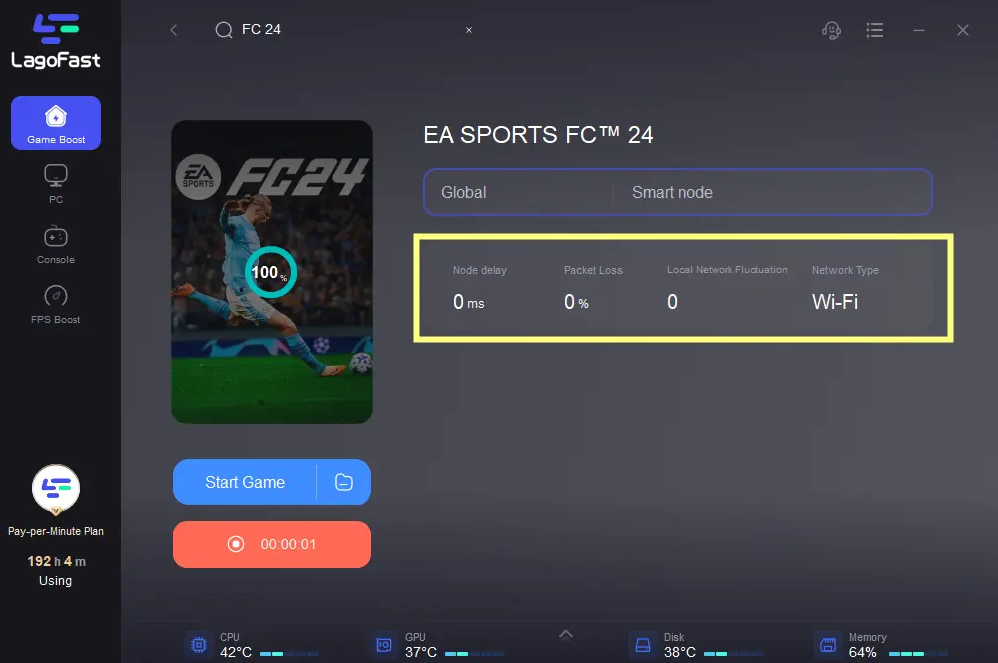 #2. For Console Users (LagoFast Box):
You can, however, fix FC 24 lag PS5/PS4 with the hardware solutions (LagoFast Box) for the console version. As far as I know, this is the first hardware to boost Console games worldwide. All 4 generations of consoles since 2016 will receive a significant reduction in latency. So, let's check out the steps to use the LagoFast Box FC 24 lag reducer:
Initially, buy the hardware solutions (LagoFast Box) in case you don't have one.

However, inside the box, you will get an adapter, gigabit cable, and LagoFast box.

Simply take the LagoFast Box and connect it to the power source.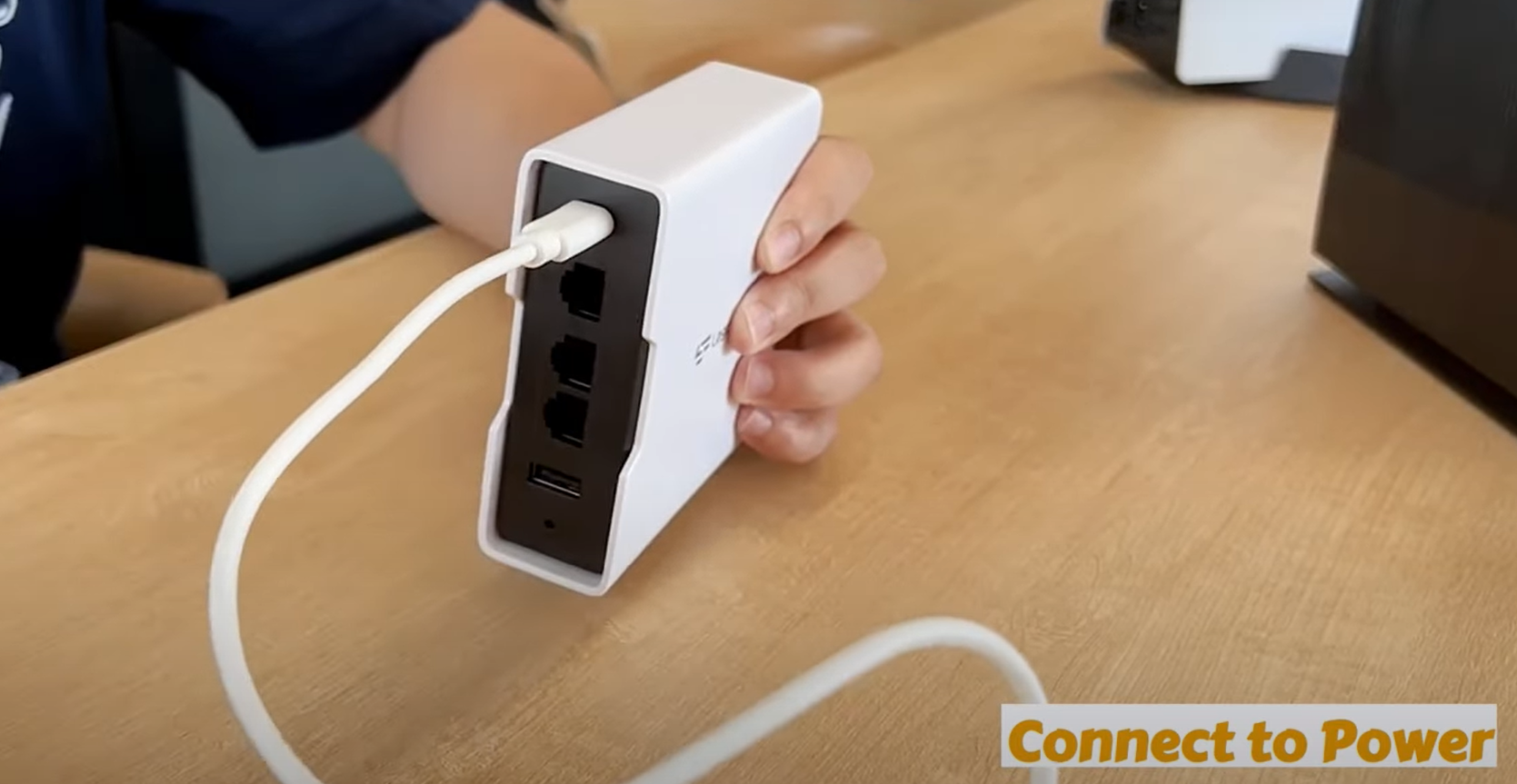 4.Then, take an ethernet cable and plug the LagoFast Box into your WiFi router.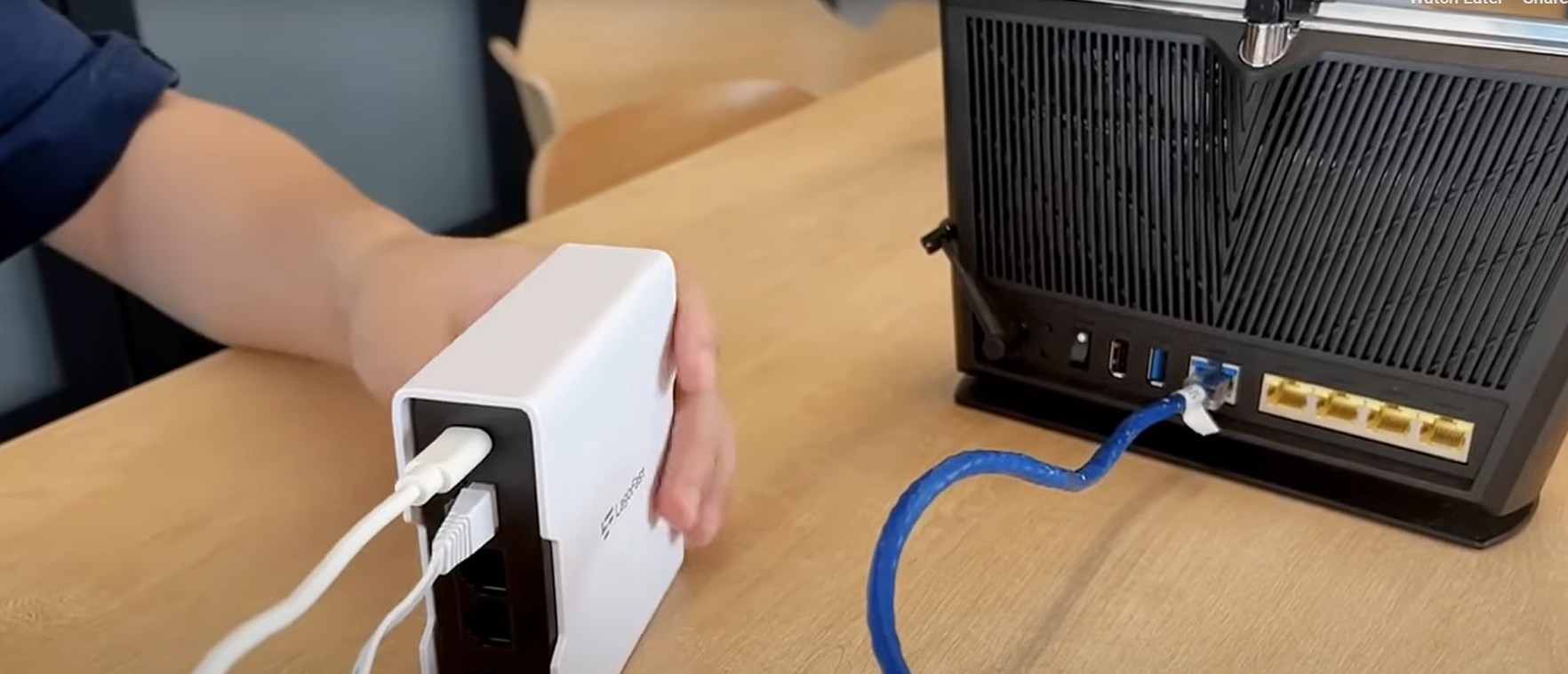 5.Now, connect the Game port of the LagoFast box to the console using the right cable. Alternatively, you can also opt for the WiFi option.

Fix 4: Disable Fullscreen Optimizations
To ensure nothing interferes with the launch or gameplay of the game, disable the fullscreen optimizations on your PC.
Open the Steam client and go to the Library.

Then right-click EA Sports FC 24 and select Manage.

In File Explorer, click Browse local files > The game installation folder will appear.

In this section, you will find the F122.exe application file by scrolling down the page a bit.

Right-click on this file and select Properties.

Then click the Compatibility tab > Disable Fullscreen Optimizations.

To save changes, click Apply, then OK.
Fix 5: Close Background Running Tasks
A high level of processing power or memory can also be consumed by unneeded background tasks or programs, causing system crashes, lags, stutters, FPS drops, etc. In order to do so:
First of all, open the Task Manager by pressing Ctrl + Shift + Esc.

On the Processes tab, click to select any background tasks that are consuming too many system resources and running unnecessarily.

To close an unnecessary task, click on End Task and follow the same steps for each one.

To apply the changes, restart your computer.
Fix 6: Set High Performance in Power Options
Whenever your Windows system is set to Balanced mode within Power Options, it won't get the best performance out of your system and hardware. In high-performance mode, you can achieve better performance during intense gameplay. On the other hand, the high-performance mode will use more battery power if you're using a laptop. Here's how to do it:
Then click on the Start Menu > Type Control Panel and click on it.

Click on Hardware and Sound > Power Options.

Select High Performance.

Then, shut down it and turn it on after a few minutes.

After that, check if the FC 24 lagging issue gets resolved or not.
Fix 7: Run EA FC 24 in the Compatibility Mode
It is also possible to experience FC 24 lagging issues when your game file's compatibility mode is incorrect. Whenever you run the game on a Windows OS version that is much higher than the game's, make sure you run it in compatibility mode. To do that:
Right-click the EA Sports FC 24 shortcut file.

Choose Properties > Compatibility.

If you want to enable compatibility mode, check the Run this program in compatibility mode checkbox under Compatibility mode.

From the drop-down menu, select Windows 7/8 and click Apply.

To save your changes, click OK. Then, verify if the FC 24 lagging issue gets resolved or not.
Fix 8: Adjust In-Game Graphics Settings
It is possible to fix glitches, stutters, and frame drops by adjusting the in-game graphics settings. In order to do so:
Open the EA Sports FC 24 game using the Steam or Epic Games Launcher on your PC.

To return to the main menu, press the Escape key once you're in the gameplay.

To adjust the display mode, click Options > Video > Basic tab > Switch to Windowed or Fullscreen.

Whatever the resolution of your monitor or display device is, set it to the recommended one.

In order to test the performance, turn off the Vertical Sync (V-Sync) option.

On the Advanced tab, select Medium, High, or Ultra High, depending on the specifications of your PC.
Fix 9: Update EA FC 24
It is a common mistake for many of us not to check for the latest game patch updates and install them on a regular basis. You might be one of them; in that case, ensure that you install the latest updates available or pending to get better performance and stability. In order to do so:
For Steam:
First of all, go to the Library in the Steam client.

From the left pane, select EA Sports FC 24.

In the future, the client will automatically search for updates.

If an update is available, click on the Update option.

You will need to wait a couple of minutes for the update to complete.

Once done, close Steam.

Lastly, reboot your computer, relaunch the game, and see if the FC 24 lagging issue gets resolved or not.
For Epic Games Launcher:
Go to the Library in the Epic Games Launcher.

To begin, click the three-dot icon for EA Sports FC 24.

Ensure that Auto Update is turned on.
For EA App:
Open the EA App on your computer.

Right-click on EA Sports FC 24 in the Library.

Thereafter, click on Check for Updates > If an update is available, follow the same instructions.

Depending on the speed of the internet, it may take a while for the update to complete.

To apply changes, restart the PC once you're done.
So, that's all we have for you on how to fix the FC 24 lagging issue. It's our hope that you find this comprehensive troubleshooting article helpful. For more info, comment below and let us know.