Whether you are working from home or from a local coffee shop, headphones are an essential investment. If you have a lot of distractions at home, headphones allow you to tune out the noise and focus on what needs to be completed. It is important to have noise-canceling headsets for working from home, but they should also include a microphone for use in meetings and for business communications as well. So, now the question is whether or not there is any headset available that has these qualities. Well, of course, there's a headset named EKSAtelecom H16 Bluetooth Wireless ENC Headset. And guess what? Today we will explain everything about this headset to you in this article. Therefore, let's get started with the guide.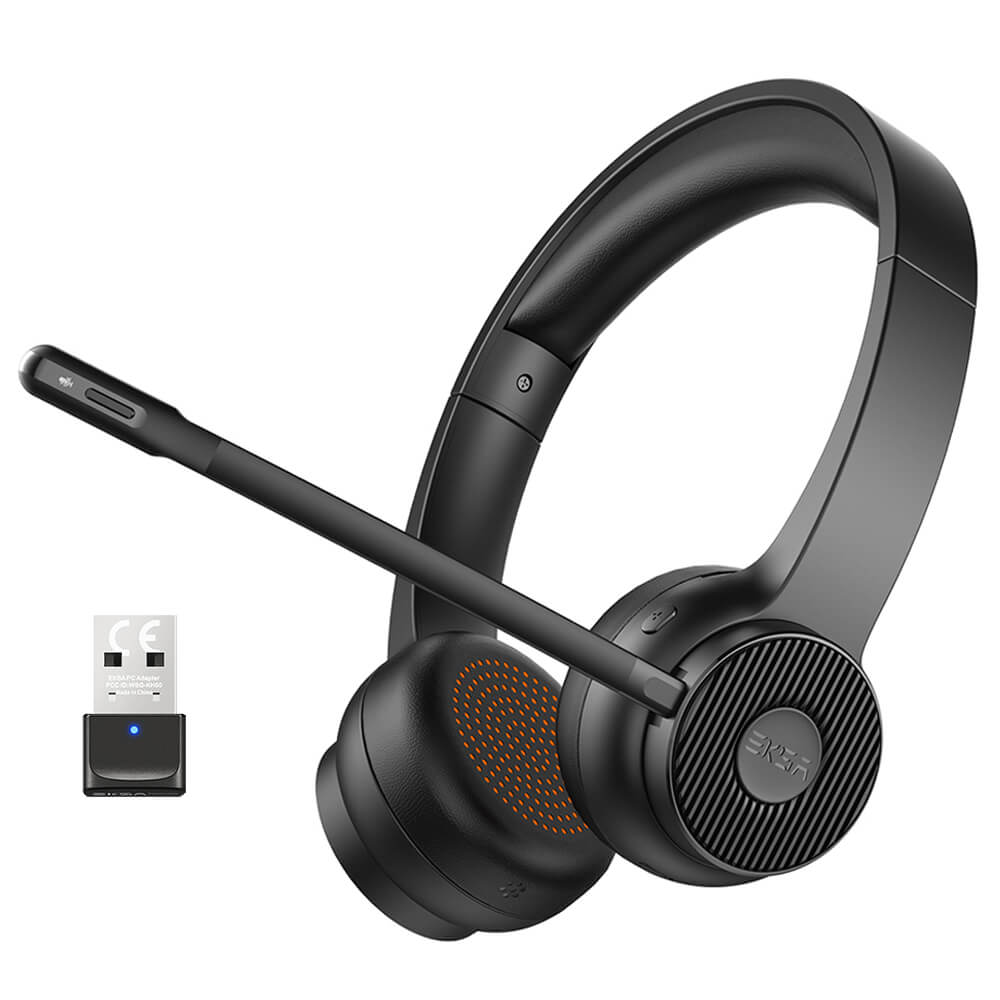 What is EKSATelecom?
In the 2020 epidemic, skilled truckers were in shortage because of a global labor shortage. As a result of harsh weather conditions and demanding schedules, these hardworking individuals spent countless hours on the road away from their families.
It was fate that intervened as a truck driver learned of the early due date of his wife. Panic set in when he couldn't make it home in time. With VoicePure ENC technology from EKSAtelecom, he was able to communicate clearly, easing his wife's concerns.
Through this powerful connection, the driver was able to hear his child's first cry no matter how far he was from him. With EKSAtelecom, you can make meaningful connections no matter what your circumstances are. With their technology in ENC noise reduction and AI chip technology, they are able to create devices with unparalleled audio quality while also prioritizing comfort.
Individuals who embrace EKSAtelecom can be present for life's important moments, strengthen relationships, and form heartfelt connections, despite physical separation. You can now hear everyone's voice, anywhere and anytime, via EKSAtelecom.
What Are The Features of the EKSAtelecom H16 Bluetooth Wireless ENC Headset?
So, here are some features and selling points of the EKSAtelecom H16 Bluetooth Wireless ENC Headset:
#1. Eliminating 99.8% of Background Noise: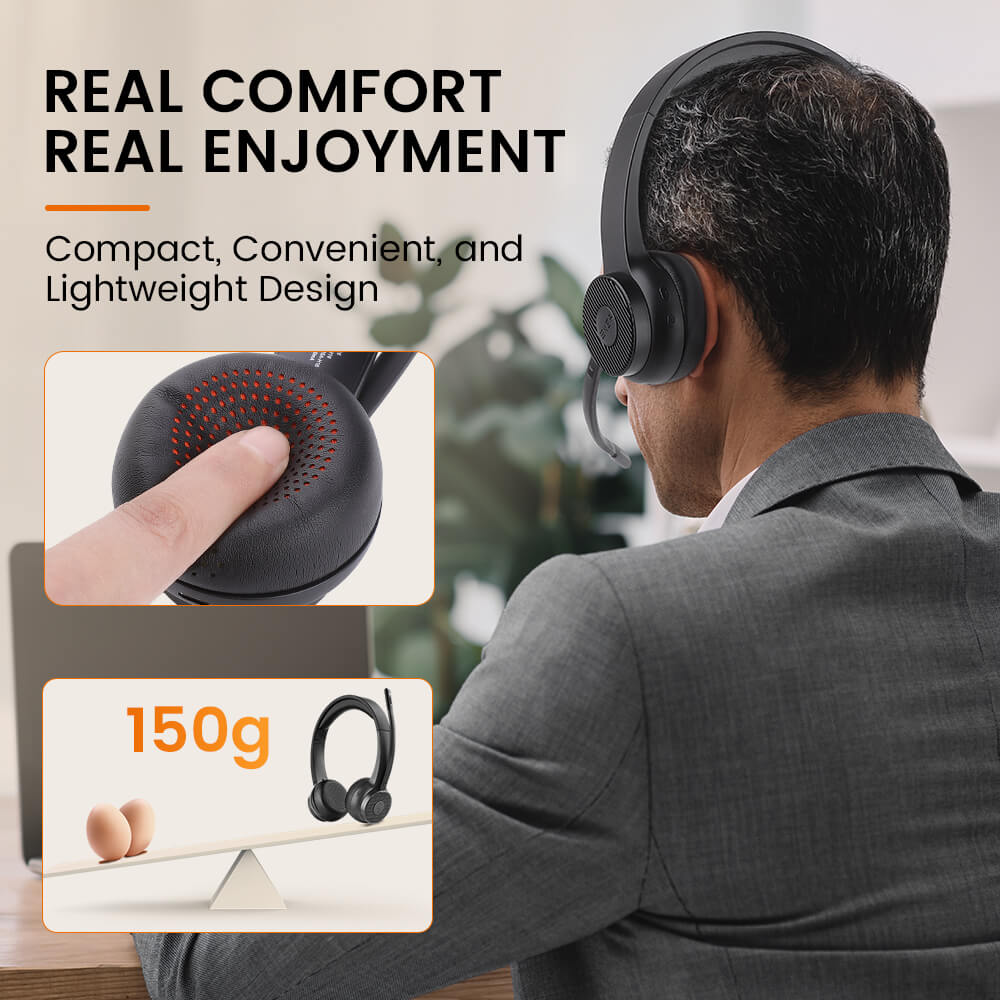 This AI-powered noise cancellation technology optimizes audio with a noise reduction depth of over 42dB while maximizing noise cancellation and noise reduction depth. Using the integrated EKSA VoicePure ENC Technology, the device detects and eliminates 99.8% of ambient noise across a wide range of frequencies.
#2. Easy to Pair
This device has Bluetooth 5.2, so you'll be able to pair it with any modern smartphone or device. It will offer you somewhere between 15 and 20 meters or 50 and 75 feet of range; however, if you have an unobstructed line of sight, you'll get even further. Nevertheless, if you're walking around your RV or truck, that's enough range to stay connected and have the sound good even as you go. Furthermore, there is a USB A dongle in a hidden compartment, so even if you don't have Bluetooth, you can still use this right on your PC and be connected right away.
#3. Immersive Audio Quality for Users
With High-quality 40mm speakers, this wireless headset has rich bass, natural mids, and crisp highs. In terms of sound quality, it is ideal for use with games, music, and conversations on a daily basis. So, even when there's noise outside, this headset give you a impressive audio quality.
#4. 55 Hours Working Time & Mute Button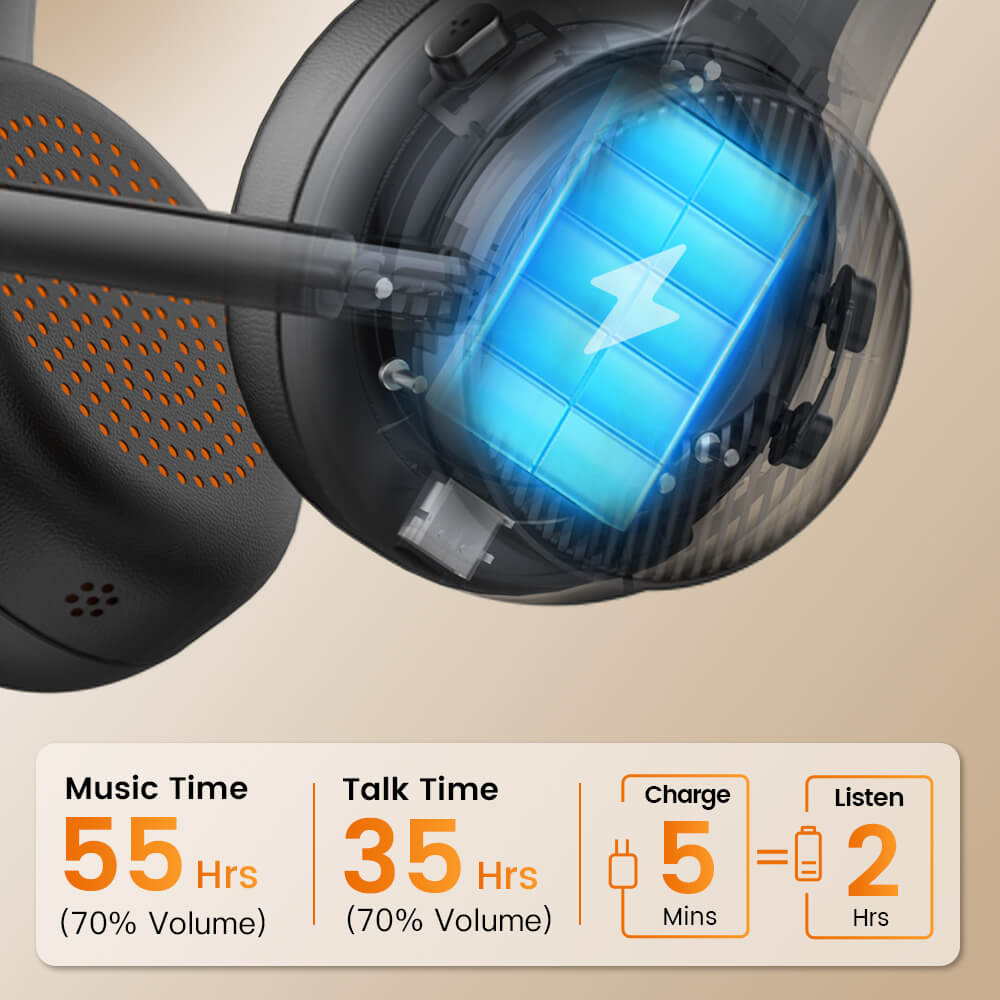 With a Type-C charger, this wireless headset with a microphone for PC can be charged for two hours and deliver an extended battery life of up to 55 hours. Just press the mute button on the microphone to muffle your voice during calls. So, basically, a fully charged battery here can play music for 55 hours and talk for 35 hours on a charge, and if you're running out of battery, five minutes of charging will give you two more hours of music.
#5. Very Breathable

There is elasticity in the Bluetooth computer headset, along with a soft, inert sponge. With skin-friendly and soft protein leather earmuffs, you won't feel uncomfortable or stressed for extended hours. I really like the ear pads themselves because they are breathable and comfortable, and the whole unit is really lightweight. There are approximately 5.3 ounces or 150 grams of weight when you wear it. Due to its lightweight and comfort, it is basically forgettable since you can wear it for many hours without any issues.
What is The New EKSAtelecom VoicePure ENC Technology?
EKSAtelecom VoicePure ENC has cutting-edge AI-powered noise cancellation technology that maximizes noise cancellation and optimizes audio for the ultimate voice communication experience. With the microphone, EKSAtelecom VoicePure ENC Technology captures environmental noise and the human voice and then removes 99.8% of that noise from your ears before it reaches your ears. As a result, your communication is crystal clear.
Where to Buy EKSAtelecom VoicePure ENC Technology?
You can buy it in two ways: Amazon and their official website. However, the link is given below:
Amazon:

Buying Link

EKSATelecom Website:

Buying Link
Moreover, if you buy this from Amazon, then you can Save a $25 Coupon + 15% off code: YRTTRQA6). Meanwhile, if you use EKSAtelecom Global (18% off discount code: EKSAPR).
Pros
The material is lightweight and comfortable

Microphone with noise-canceling technology

A long-lasting battery
Cons
The audio quality is average
Conclusion
So, that's all on EKSAtelecom H16 Bluetooth Wireless ENC Headset. We hope that after reading this article, you have now decided whether or not you need these headsets. However, for more info, comment below and let us know.