In this tutorial, we will help you find the best WiFi Hotspots that exists nearby to your location. Nowadays, it is really hard to imagine even an hour without being connected to the online world. Be it for getting in touch with your near and dear ones, or carry out your professional works, having the internet is the top-most prerequisite. However, one might not always be close to their home WiFi network or having a data pack on their mobile devices.
So if you are outside and then there's a sudden need for the internet, what could one do? Well turns out there are always some shared networks available nearby that you could connect to using your smartphone or laptop. And in this guide, we will help you in finding the best WiFi hotspots near your place. But before that, we would like to draw your attention to an important point.
The thing with these hotspots is they may or may not be fully secure. Hence you shouldn't use them to carry out any transactions or log in to an account using your credentials. While it's not that all the public WiFi networks are unsafe, but it is still better to stay on the safer side than to take the risk. So keeping that in mind, let's get on with the guide.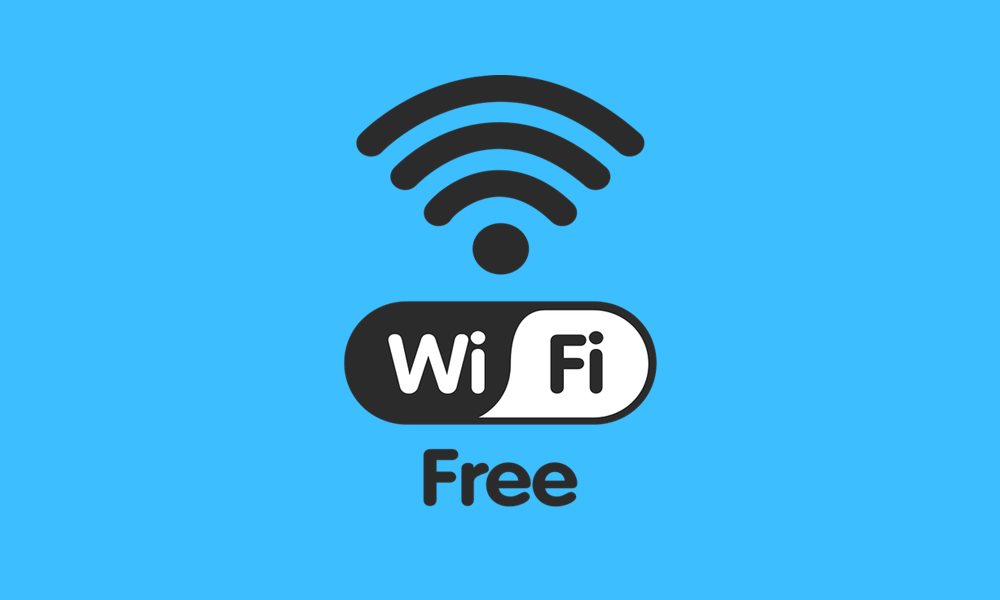 How To Find the Best WiFi Hotspots Near Me
Given here are some third-party apps and sites that will help you to find the best WiFi hotspots nearby. However, if you don't wish to try out any of these services, then we have also shared some handy tweaks that would come in handy. Follow along.
Wi-Fi Map
The app boasts of over 150 million saved WiFi hotspots, all clearly laid down on the map. Just navigate to the desired location on the map and tap on the available hotspot. Just to re-iterate the facts, these maps load offline as well. Furthermore, the app has both open and password-protected networks.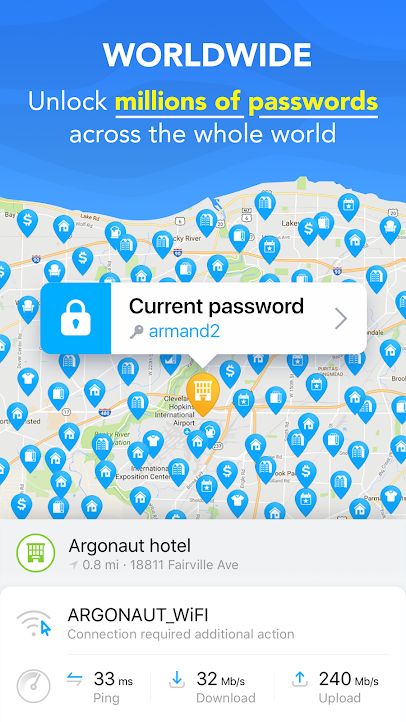 As far as the latter is concerned, it is the community members who voluntarily provide the password of their networks. Likewise, there's also a VPN that allows you to browse securely when connected to open networks. There is also a built-in speed test tool that allows you to check the ping, upload, and download speed of the network that you are currently connected to.
WiFi Master
Next up in this list of apps that will help you find the best WiFi hotspots nearby stands the WiFi master. Similar to the above app, it also provides both open and password-protected WiFi networks. The latter one, as before is taken care of by the community. However, all these shared passwords are encrypted by default. So while you could still connect to these networks, it wouldn't display the password to you.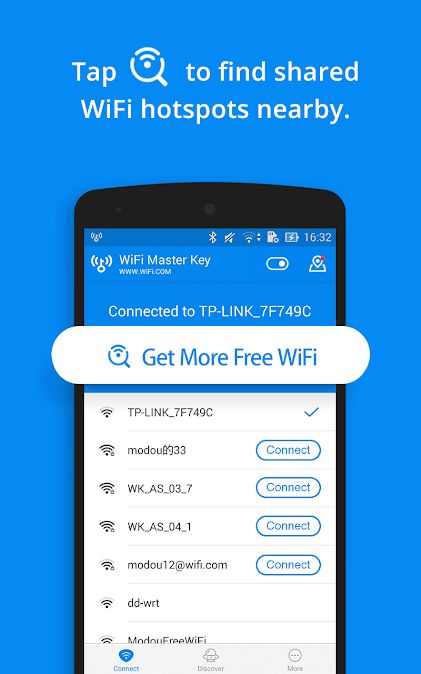 This is done to protect both the network as well as the owner's privacy. Then the entire UI is quite easy to operate and you could connect to the desired network in just a single tap. Furthermore, the app is available in around 19 languages, so this regional touch is surely going to help a lot of users.
Wefi
Incorporating both the Wi-Fi Finder Map and the Find WiFi Locator, searching for the best WiFi hotspots nearby is a cakewalk. It has clearly laid down all the free Wi-Fi hotspots on the map along with the distance of each of them from your actual location.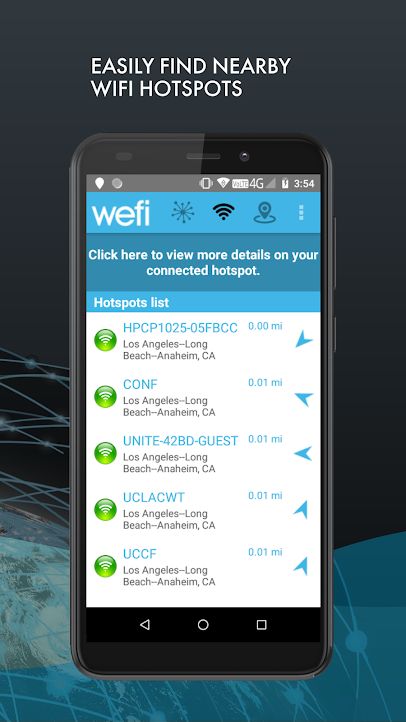 It goes along the obvious lines that you should try connecting to the nearest one for the optimal speed and user experience. Furthermore, the app also has a blacklisted network section that contains a list of all the networks that you should avoid.
WiFi Space
While all the others in this list were apps, this one is a website. So if you are on your laptop, then it's better to directly use this site, rather than downloading any of the aforementioned apps on your device and then making use of the same on your laptop. Talking about which, the site takes a similar route of showing all the nearby WiFi networks on the map. But it comes with an added advantage.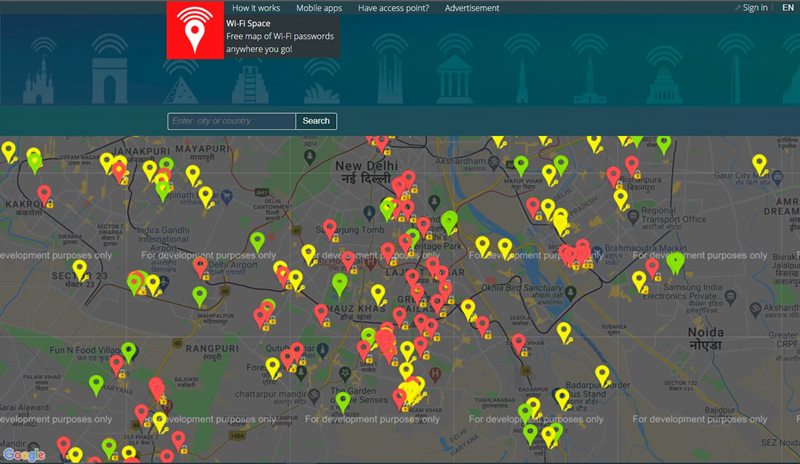 It has coded the networks into three distinct colors: green, yellow, and red. All the green networks are free and open to use. Yellow ones are the private networks whose passwords are known. Whereas, the Red ones are those whose passwords are not yet known. So if you are looking for a site that does the job of finding the best WiFi hotspots nearby, then your search stops right here.
Without using Third-Party Apps or Websites
Nowadays many cafeterias, clubs, libraries, stations, and airports also have a free WiFi hotspot. Talking about cafes, they are likely to advertise it as well. You could find it on their entry points as well as on their websites in some cases. However, if none of these options are feasible, then creating a hotspot via another device is the sole way out.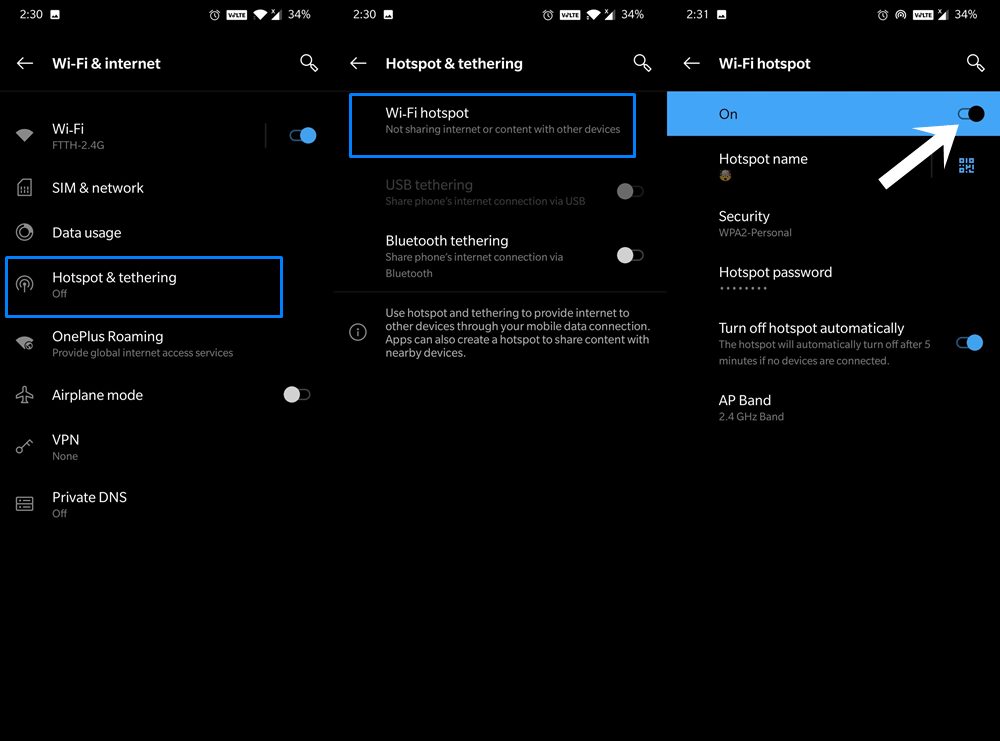 While this wouldn't be counted as a free hotspot as it consumes the data that you probably would recharge at the end of the month, but still might prove to be useful in dire circumstances. So if you are using an Android device, head over to Settings > Network and internet > Hotspot and Tethering. On the other hand, iPhone users should go to Settings and create a Personal Hotspot.
So with this, we conclude the guide to find the best WiFi Hotspots near to your location. We have shared apps, website as well as some handy tips. Do let us know in the comments which one stands as your preferred one. Rounding off, here are some iPhone Tips and Tricks, PC tips and tricks, and Android Tips and Tricks that you should check out as well.