Smartphones have taken over the world, and that's undoubtedly true. Be it calling your close friends or chatting with your loved ones or probably capturing that perfect moment of your life, smartphones have changed the world for the better. Everything today is available on an App, and most apps these days require internet connections. Today we will show you how to find Wi-fi Passwords in Android and iOS.
Your cellular service provider may charge loads of money to give you access to mobile data services, and hence the other alternative is a wireless network or Wi-Fi as we call it. A typical wireless internet setup involves a network router that allows users to connect to it given you have the required credentials for it. As mentioned earlier, smartphones have made lives much easier and somewhat dependable. Most of the users don't remember the passwords to their Wi-Fi networks (why should they anyway, that's what smartphones are for), and you know, that could turn bad.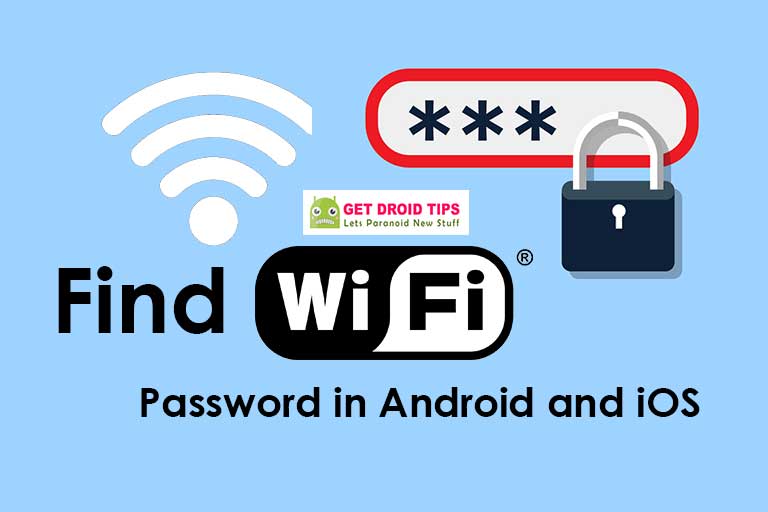 Find Wi Fi Password in Android & iOS
Consider sharing your Wi-Fi network's password with someone or changing your cell phone, if you haven't written down your Wi-Fi password, chances are slim that you will be able to recall it. We are sure we all have been in that situation and have cursed our poor memory. But wait, there's way your smart phone could tell you the password provided you make a run for it.
We will be sharing step by step guide about how you can find Wi-Fi password in Android & iOS (i.e. two most commonly used operating systems for cell phones these days). But first, please remember that due to security reasons neither of these operating systems allows showing Wi-Fi credentials by default (given the regular security attacks on regular users, who can blame them). Now if you are in absolute need of that password, here's what you need to do:
Android devices:
Finding a Wi-Fi network's password isn't easy in Android as this password is stored in the root folder of the operating system. And as any regular operating system would do, it doesn't allow you to access the root folder as any malfunction there would cause entire OS to crash. But, as we say, there's always a way and all you need is determination. Access to the root folder is limited to administrators and you have to have administrative privileges to get that password. By default, Android OS doesn't consider an end user (basically all of us) an administrator and hence to get admin access you need to root your phone.
Rooting your Android device simply means using a third party application to grant yourself privileges of an administrator so that you can access all system file on your phone. Once you have completed the rooting of your phone, you can download a file explorer to locate the password manually or you can download an app that is dedicated to fetching the Wi-Fi passwords. There are hundreds of such apps available on Play Store and you can take a pick.
iOS Devices:
Apple has always been famous for its stringent security measures and hence as expected doesn't allow you to access the passwords by default. The simple approach just like Android devices here is to root your phone (Jailbreak is the term for overriding access rights on iOS devices) and then use any third party app to retrieve the Wi-Fi password. However, if you don't wish to risk tampering the preloaded OS on your Apple phone, you can simply use any Mac computer to serve your need. All you need to do is enable iCloud Key chain, an option offered by Apple to sync data between an iOS phone and Mac computer. Once you have enabled this option, all your passwords could be accessed on a Mac computer without any hassle as soon as you log in using the same iCloud ID.
I hope this could be a helpful guide to find the Wi-Fi password in Android and iOS.