Can't use Fitbit Versa 4 because it is refusing to turn on? If yes, it may be stressful as you won't be able to track your fitness. First, you are not alone in facing issues with a Fitbit fitness smartwatch. Many Fitbit users are struggling to turn on their Fitbit Versa 4. Thankfully, several workarounds have helped many users fix the Fitbit Versa 4 not turning on issue. Keep reading this article to know the solutions.
Fitbit Versa 4 is a smartwatch that combines fitness tracking with smart features, making it ideal for those looking to improve their wellness. The device comes with a range of sensors, including an accelerometer, heart rate monitor, and altimeter, which allow it to track various health metrics such as sleep, oxygen saturation, and menstrual cycles. It also supports GPS, allowing users to track outdoor activities without bringing their phones.
Fitbit Versa 4 allows users to store and play music and podcasts directly from the watch, making it convenient for media consumption on the go. Additionally, the device supports voice assistants such as Amazon Alexa and Google Assistant, enabling users to control other smart devices, receive notifications, and access information. With a water-resistant design and long battery life of up to 6 days, Fitbit Versa 4 is a great choice for those looking to enhance their health and wellness.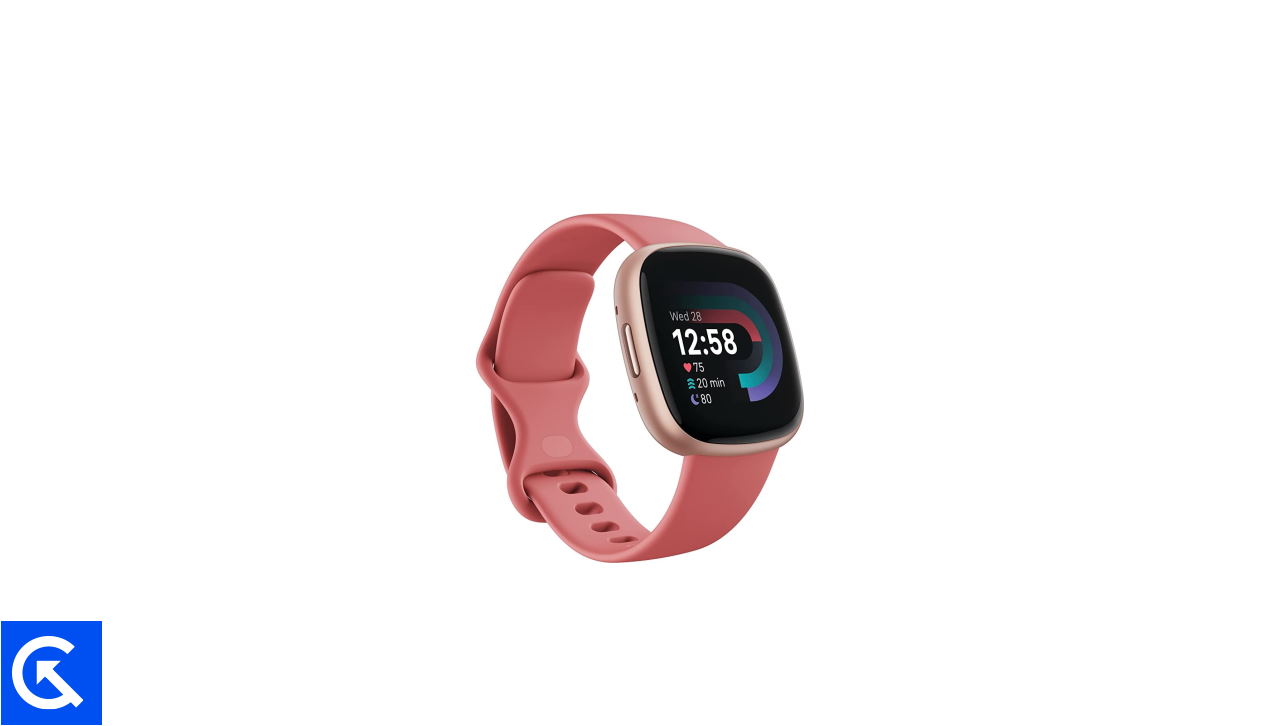 Here's How to Fix Fitbit Versa 4 Not Turning On Problem
If your Fitbit Versa 4 refusing to turn on, try the solutions we've mentioned below to get it up and running again.
1. Restart Your Fitbit Versa 4
If your Fitbit Versa 4 is not turning on, the screen may be unresponsive or it could be running into system glitches. Restarting the device is good enough to fix common issues on the device. This method often fixes issues. Try this fix and let us know if it works for you.
[Note: Restating the Fitbit Versa 4 or any Fitbit device does not cause data loss. So you can follow the steps below without any risk]
To restart your Fitbit Versa 4, press and hold the physical button (side button) for 10-15 seconds until you see the Fitbit logo on the screen. Release the side button and wait for the device to boot up.
2. Charge Your Smartwatch
If your Fitbit Versa 4 has not been used for a while, the battery may have fully drained. You should charge the device for a minimum of 30 minutes. To charge your Fitbit smartwatch, connect it to a charge. Ensure that the charging pins are sitting properly on your Fitbit Versa 4.
If the screen does not light up after connecting the charger, wait for 30 minutes and then try turning it on using the physical button.
[Note: If you are trying to charge your Fitbit Versa 4 by connecting it to your computer via a USB cable, please don't do this while we troubleshoot the problem. Use the adapter to charge your Fitbit smartwatch and check if the problem is fixed.]
3. Check the Adapter and the USB Cable
If you don't see the Fitbit logo or feel a vibration after connecting the Fitbit Versa 4 to the charger, you need to carefully inspect the charger for any issues. Before you do this, make sure that you're aligning the golden dots located underneath the Fitbit watch with the gold pins on the charging dock. If you do not place the watch in the correct position, the device won't charge.
Still, if you do not see a charging sign on your Fitbit, check the charger for any hardware damage. Alternatively, plug in the charger to a USB port on your computer to see if it works.
4. Change the Clock Face
Many users have complained that the Fitbit smartwatch communicates with the Fitbit app, but the screen remains dark. It's likely because you are using a dark clock face. Set a brighter clock face to check if it can fix the issue. The required steps are mentioned below:
Open the Fitbit app on your phone.
Click the profile icon at the top-left corner.
Tap on Versa 4 and click Clock Faces.
Select a different clock face and click the Install button.
Once the new clock face downloads, it will automatically get applied to your Fitbit Versa 4.
5. Factory Reset Your Fitbit Smartwatch
If the above solutions do not resolve the issue, try resetting the Fitbit Versa 4 to its factory settings. This will erase all data from the device and restore it to its original settings. This step should only be taken as a last resort, as it will erase all data, including saved workouts, health data, and settings. A factory reset can help resolve more persistent software issues that may not have been resolved by a simple restart.
To factory reset your Fitbit Versa 4, follow these steps:
Press and hold down the power button for 10 seconds.
When you see the Fitbit logo on the screen, scroll down and select Settings.
Select About Versa 4.
Scroll down to Factory Reset and tap on it.
The factory resetting process can take a few minutes. After it is done, set up your smartwatch and continue tacking your fitness.
6. Contact Fitbit Support
If your Fitbit Versa 4 is still not turning on, it could be due to hardware issues. In this case, the above solutions won't work. You should contact Fitbit support to raise a replacement request.
Although Fitbit watches are generally high-quality and have good software, they can run into problems, like any other smartwatch. In this article, we covered many ways to fix Fitbit Versa 4 not turning on issue. We hope one of the solutions worked for you. If you have questions, do write them in the comments below.