It is common for people to become excited when their devices receive an update. The launch of Android 14 is limited to a select group of Google Pixel devices. Pixel 4, Pixel 5a (5G), Pixel 5, 6, and 7 variations, Pixel Fold, and Pixel Tablet are among them. Later this year, other handsets will be supported. But, it still needs to be polished as there are many users who face issues since they updated their devices to the new Android 14. They complained that the Android 14 Keeps Restarting Randomly After the Update. Well, that's the reason why we are here. In this article, we will explain to you some fixes that will surely help you resolve this issue.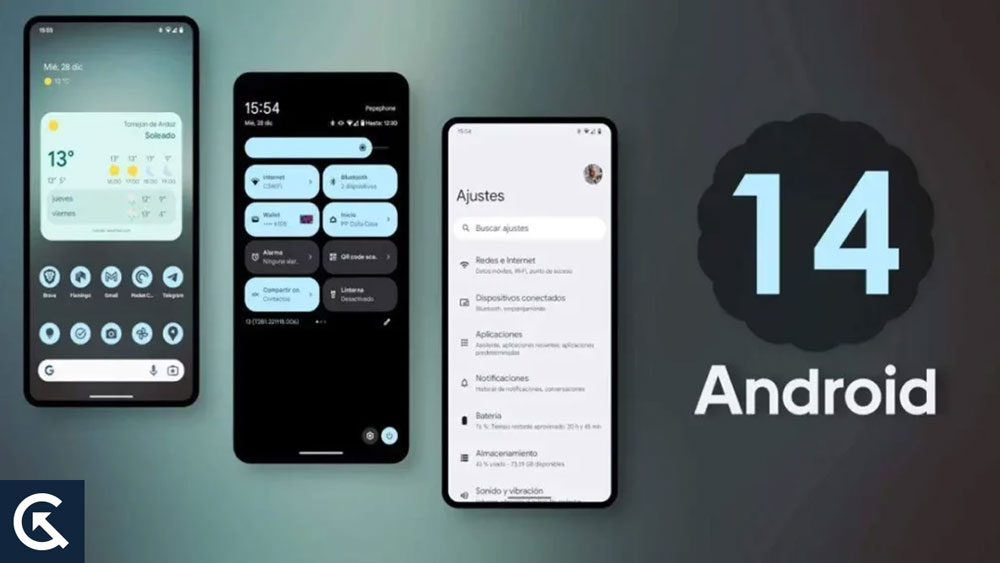 Fix: Android 14 Keeps Restarting Randomly After Update
So, here are some fixes that you can try in order to resolve the Android 14 keeps restarting randomly after the update issue:
Fix 1: Check the battery
It is possible that the beta build of Android 14 fried your battery. Due to the beta version of the OS, it has been exhausted or damaged. In this case, the first thing to do is to charge the phone up to resolve the continuous reboot problem.
Ensure you have the original charging adapter and cable handy to connect it to a power outlet immediately. Make sure the issue of repeated reboots has been resolved. If your smartphone powers up generally while plugged into the charger, it could be the battery. Replace the battery immediately by taking the smartphone to the nearest service center.
Fix 2: Use the phone in safe mode:
Safe mode will let you know if any third-party applications or firmware issues are causing the continuous reboots. Press and hold the power and volume down buttons for a few seconds to activate safe mode. You should tap and hold the power off option until it displays Safe mode when the power options appear on the screen. Once the device has been rebooted, tap Safe Mode.
The continuous reboot issue is definitely caused by an application on your smartphone if the device boots up normally in safe mode. If the device will not boot into safe mode or keeps rebooting even in safe mode, the firmware is definitely the problem. You may find the following solution helpful if the issue is related to an application.
Fix 3: Check Device Storage
It is essential that your Android phone has enough storage to function properly. Ideally, you should keep your phone at least 2GB-3GB free of data. To check the internal storage, follow the steps below.
Go to Settings on your Android device.
Navigate to the Storage menu.
On your phone, you can see a detailed breakdown of your storage and the amount of free space.
To open the Files app, select 'free up space' if you are running low on storage. Using the Files app, remove unnecessary media from your phone.
Fix 4: Remove Problematic Apps
You might experience frequent app crashes, and System reboots when you use an old and buggy Android app. In safe mode, you can identify these active apps and uninstall them.
From the home screen, swipe up to open the app drawer.
Long-tap an app icon to open its info menu.
Then click 'Uninstall'. For all such apps, repeat the process.
Fix 5: Clear Cache Data
In the background, Android apps collect app cache. This is a common practice that benefits the end user. In some cases, however, they collect too much corrupted cache in the background. To find and clear the cache from such apps, follow the steps below.
On your Android phone, go to Settings.
From the menu, select Storage.
Click on Apps.
See what apps you have installed and how much storage you have.
There is usually a limit of 1GB for app storage. If you notice an app's size is unusually large, it means it has collected a high amount of cache.
Afterward, click on the Clear cache button at the top of such apps, confirm the large cache size, and then confirm the large cache size.
Fix 6: Update The Apps
Your phone might crash if you use outdated Android apps. Frequently, app developers release updates that add new features and fix bugs. On your Android phone, it's a good idea to keep your apps up-to-date.
Open your Android phone's Google Play Store.
Thereafter, in the top right corner, tap on your circular profile picture (or initials).
Go to Manage apps & devices.
Click on Update All.
For automatic updates over Wi-Fi or mobile data, go to the Google Play Store settings.
Go to the Google Play Store profile menu and select Settings.
Click on 'Network preferences.'
Choose Auto-update apps and check the box next to 'Over Wi-Fi only.'
Fix 7: Install the Android Security Patch
Android OEMs frequently release security patches and bug fixes (once a month for flagship models) while they are slow to release major OS updates. It may have been fixed by a security patch that the company released. It must be installed from the Settings menu.
Go to Settings on your Android device.
Click on System.
Select System Update. Ensure that the Android security patch is up to date. Download and install it.
Fix 8: Reset All Settings
It is possible to reboot your System if you make the wrong setting tweak. You may not be able to tweak every setting on your phone, but you can reset its software to the default settings as if it were as new.
Go to your phone's Settings.
Select Reset options under System.
Select Reset Wi-Fi, mobile & Bluetooth from the menu and confirm your decision.
Fix 9: Factory Reset
You can also try erasing all the data on your phone and starting over from scratch if none of the tricks work.
Go to Settings on your phone.
Select Reset options under System.
Choose 'Erase all data'.
You will need to enter your device PIN and confirm your decision.
So, that's all we have for you on how to fix the Android 14 Keeps Restarting Randomly After Update issue. It's our hope that this guide has helped you. Please comment below if you would like more information.