In this tutorial, we will list out all the common HDR Display problems on Windows 10 and the steps to fix them. HDR or High Dynamic Range is a step up from the SDR. The former offers a more vibrant view and supports a much wider range of colors and all this leads to a better viewing angle. On Windows 10, you could either play these high dynamic range contents if your setup supports it or you could attach an external HDR screen. But the thing is even if your PC or laptop supports it, setting it up isn't that easy.
In smart TVs and other such devices, you don't have to do anything but with Windows, things are slightly difficult. From turning on the HDR display to tweaking it to the required level, there are quite a few points to make note of. Even in the official Windows forum. we are seeing quite a few complaints regarding Windows 10 HDR problems in full screen or HDR and WCG color settings in Windows 10. In this guide, we are going to answer all this and more. So without further ado, let's begin.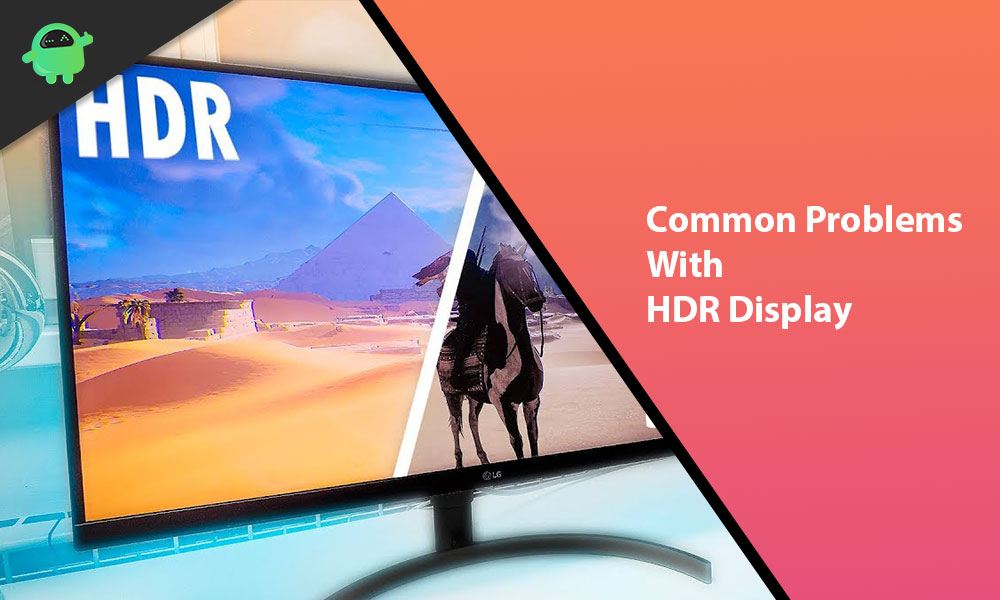 Fix common problems with HDR Display on Windows 10
In this tutorial, we will discuss some of the common problems related to the HDR Display. These include the HDR display not working, HDR option greyed out, HDR color not showing, HDR color problems with night light, HDR brightness issues, and the SDR brightness issues on HDR display. Here's all the required information about all the above-mentioned issues.
Fix HDR Display Not Working
To fix it, the first and obvious step involves checking whether your display is HDR-compatible or not. Follow the below steps for the same:
Checking HDR-Compatibility
Open the Start menu and search for dxdiag.
When that opens, head over to the System tab.
next up, click on Save All Information.

Now select the save location and hit the Save button.
Open the file with Notepad and use the Ctrl+F to find the Advanced Color keyword.
Within that section, if you see the Advanced Color Supported or Advanced Color Enabled, then it means your display is HDR-compatible.

Furthermore, also have a look at the Monitor Capabilities section. it should also have the HDR Supported. If that's there, then you are good to proceed ahead.
Minimum PC Requirements for HDR
The display monitor should support HDR10, HDMI 2.0, or Display Port 1.4 r higher.
The Graphics card should be PlayReady 3.0 support. These include AMD Radeon RX 400 series or higher, NVIDIA GeForce 1000 series or higher, or Intel UHD Graphics 600 series or higher.
You should also have the latest graphics card installed.
As far as the laptop is concerned, the display should have a minimum resolution of 1080p and a max brightness of 300 nits.
Enable HDR on Windows 10
Now, if your device is HDR supported and meets the above requirements, here is how to enable the same on your Windows 10 PC.
Head over to the Start Menu and search for Settings.
Within that, head over to System and click on Display.
Then go to the Rearrange your displays section and select the external monitor.
Now from the Windows HDR Color section, enable the Play HDR games and apps toggle. That's it.
Fix HDR option greyed out in Windows 10
If the HDR isn't available or greyed out, then you could try the below-mentioned tweaks:
Change the Multi-Monitor Setup HDR
If you have connected ane external screen and the option to enable HDR isn't there, then it might be because Windows is duplicating the desktop on both screens. When this happens, you wouldn't be able to play HDR contents on an external monitor. To correct this issue, follow these steps:
Open Settings from the Start Menu and click on System.
Then head over System and click on Display.
Go to the Rearrange your display section and select your external monitor.
From the Multiple displays section, click on Extend these displays > Windows HD Color Settings.
Enable the Play HDR Games and apps and also the Stream HDR video option.
Windows HDR Color Settings
On the other hand, if the HDR option is greyed out on your primary display itself, then here is what you could do:
Launch the Setting from Start menu and click on System.
Go to Display and click on Windows HD color Settings.
Within the Battery options, untick Don't allow HDR games and apps on battery.
Fix HDR Color Not Showing
In case there are some color-related issues with HDR, then you could either update your graphics driver or use a Display Port connection instead of an HDMI. Well, in some cases, users have no choice but to use the JDMI connection. If those cases, you could try lowering the frame rate to 30HX. For that, follow the below steps:
Open settings from the Start menu and click on System.
Head over to the Display section and click on Advanced display settings.
Then click on Display adapter properties and go to the Monitor tab.
Now from the Screen refresh rate list, select the 30 Hertz and hit Apply > OK.
FIx HDR color problems with Night Light
If you have enabled the Night Light feature on your PC, then it might conflict with HDR. So you should consider disabling the night light feature or reducing its intensity when HDR is enabled. Follow the below steps for that:
Head over to Settings on your Windows 10 PC and click on System.
Then go to the Display section and click on the Night Light settings.
From there, you could either reduce the intensity of Night Light or turn it off altogether.
Fix HDR Brightness on Windows 1o
If there are any HDR brightness issues, then there are a quite few things to try out, speeding on whether your laptop is in power-saver mode, charging, or not on-charging. Let's have a look at all these three scenarios:
When Battery Saver is on
Open Settings and click on System.
Go to this Display section and from the brightness and color option, adjust the brightness accordingly.
You could also try switching to the option "Turn battery saver on automatically if my battery falls below".
Fixing SDR brightness problem on HDR display
If you try to access SDR contents on an HDR display, then you might face some brightness issues. This happens when the display has some issues in identifying SDR and HDR signals. Here is how it could be done:
Open Settings and head over to System.
Click on Display and select the Windows HD color Settings.
Then from the Windows HD Color option, use the SDR content appearance slider and adjust the brightness accordingly.
Once that is done, you should now see SDR contents appear much better.
Conclusion
So this was all from this guide on how to fix the common HDR Display problems on Windows 10. We have shared all the possible errors that you could face and the steps to rectify the same. If you still have any issues, do drop in your queries in the comments section below. Rounding off, here are some iPhone Tips and Tricks, PC tips and tricks, and Android Tips and Trick that you should check out as well.