The Surface Pro has been the default choice for many users who prefer the Windows environment for productivity purposes. This portable Windows machine has its pros, but it comes with a fair share of issues too. One particular problem that has been reported a lot recently is the turning on issue. For some reason, the device won't turn on even when a user tries to turn it on using the power button.
The cause behind this error could be the charger or the keyboard that is attached to the machine. If any one of them is at fault, you will have trouble turning the device on. There are other possibilities for this issue too, and in this article, we will look at all the possible solutions. Surely one of these solutions will help your cause. So without any further ado, let's get into it.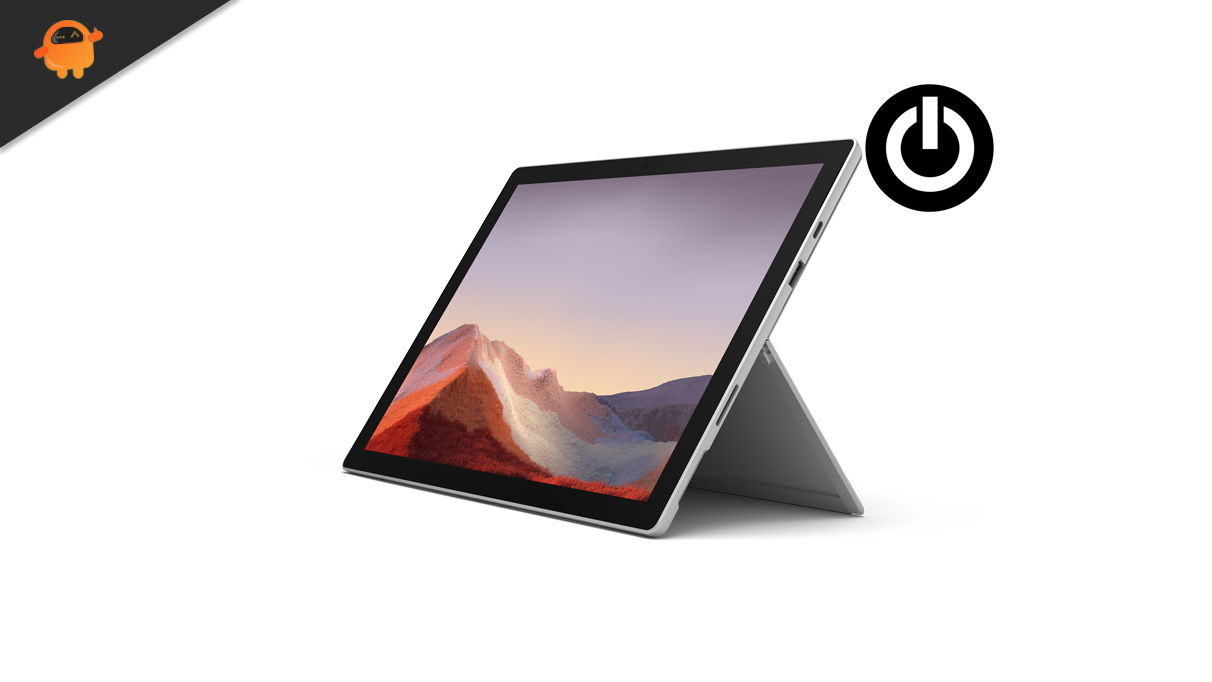 How to fix Surface Pro not turning on?
Fully charge your device:
If you have exhausted the battery on your surface pro, it will take a while to charge it again. If you suspect low battery to be the case for your surface pro not turning on, you should charge the surface pro for an extended period of time. Do not try to turn on the device while it is charging, and keep it steadily charging with the recommended wattage for a long time. Depending on the time it takes to charge your surface pro under usual circumstances fully, wait till the device fully charges up.
Once you have ensured that you have fully charged your Surface Pro, try turning it on again. If it still does not turn on, try the next solution.
Check the Charging cable:
If your charging cable is damaged, it does not matter how much you charge your surface pro; it won't work. The best way to check for this is to check the white LED light on the end of the cable that connects to the side of the Surface. If it turns on while the charging cable is connected, it means that the charging cable is working fine, and your device should eventually charge up slowly. If the LED light does not light up, the problem is with the cable.
You can try changing the power socket. If that does not work, get a new charging cable. If the new cable does not do you any good, take your surface pro to the nearest repairing center. The problem might be with the charging socket, and to fix that, you will need some professional help. But before heading over to the repairing center, try the rest of the solutions mentioned below.
Use the keyboard shortcut to turn on:
There is a keyboard shortcut that actually forces your surface pro to turn on. Try pressing Windows key+Ctrl+Shift+B, and that should turn on your Surface Pro. If that does not work, try the next solution.
Perform a force restart:
A force restart should help with your case if any program is causing your Surface Pro not to turn on properly.
Unplug the charger from the power socket and the surface pro.
Press the power button in the Surface Pro and hold it for 15 seconds.
Release the button and then wait for another 15 seconds. After that, try turning the Surface Pro on like you usually do.
If you are still stuck with a dead Surface Pro, connect your charger and press the Power button for 20 seconds.
Let go of the power button and wait for another 20 seconds.
Now press the power button again and check whether the device turns on or not.
If this does not work, try the next solution.
Perform a hard reset:
A hard reset will reset the surface pro back to its default settings. If a forced restart did not work, give this solution a try.
Connect your Surface Pro to your charger and wait for 30 seconds.
Press and hold the power button for 30 seconds and then release it.
Wait for 10 seconds and press and hold the Volume up button and power button simultaneously.
Keep both the buttons pressed for 15 seconds. Do not let go even if the screen turns on during the process.
You should see a screen with firmware options. From there, choose the option to power on the surface pro normally.
If this does not work and you do not see the screen turning on, repeat the steps mentioned above, but instead of pressing the volume up button, try pressing the volume down button.
If you still see no changes, connect the keyboard and press and hold power, Ctrl, and F8 buttons simultaneously.
If you are still not able to turn on your Surface Pro, try the next solution.
Remove all accessories:
If you have several accessories connected to your surface pro, try disconnecting all of them. If one of the connected devices is faulty, the surface pro will have trouble turning on. Once you have disconnected all accessories, press the power button like you usually do to turn on the device.
If you are still not able to turn on your Surface Pro, try the final solution mentioned below.
Contact support:
The only solution you have now is to contact the customer support helpline of Microsoft. Operators are working almost 24×7 to help you with any query. Give them a call and inform them about their issue. They should be able to help you out with a valid solution.
Do not go to any unauthorized service center to get your Surface Pro fixed. It might lead to further problems, and you might end up regretting that decision.
So that is all about what you can do to fix Surface Pro not turning on. If you have any questions or queries about this article, comment below, and we will get back to you. Also, be sure to check out our other articles on iPhone tips and tricks, Android tips and tricks, PC tips and tricks, and much more for more useful information.