One of the expected reasons to fix iPhone 11 that won't turn on after the new iOS version update can be the battery is defected or dead, unfortunately. Some times, your iPhone battery life cycle or health may get decreased hugely for some unknown reasons. But if we tell you that your iPhone is having an issue with the latest software upgrade or new iOS version, will you believe that? Well, the older iPhone users may not believe that. But for the newer series of iPhones like the iPhone 11 series, the answer will be yes!
As usual, most of the smartphones may have some battery or software-related issues and most of the users always reboot their devices to run the device normally again. But what you will do if your iPhone won't boot after upgrading to the new iOS version. So, there are some of the steps are available that you can use on your iPhone to fix the issue.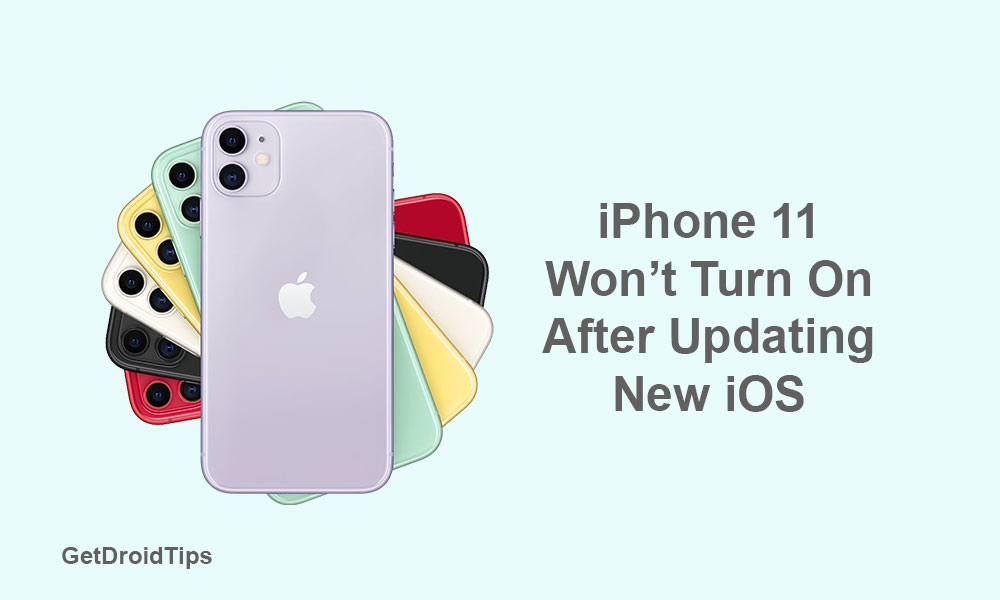 Steps to Fix iPhone 11 that won't turn on after new iOS version update
Now, talking about this issue, we can hope that there is a software-related issue and nothing else. However, it's highly recommended to check by force restarting your device or checking the charging port & lightning cable.
Step 1: Force Reboot iPhone
If your iPhone shuts down and won't turn on again even the device has enough battery level, you will need to forcefully restart your device.
Press and release the Volume Up button quickly.
Press and release the Volume Down button quickly.
Then press and hold the Power/Side button for around 10-15 seconds and the Apple logo will appear. Now, you can release the button to boot your iPhone into the system again.
Step 2: Force Restart While Charging
Some times it's quite possible that your iPhone is already turned on but stuck on the black screen and you're thinking that the device isn't booting. This can be happened due to low battery or any third-party app. To fix this issue, you can follow the force restart while charging method.
Connect your iPhone with a charger and keep charging up to 10-15 minutes.
Then simply force restart your iPhone just like as we've mentioned in step 1.
By performing this trick, your iPhone can close all the background running apps that are causing this issue.
Step 3: Restore iOS in iTunes
If none of the above methods working for your iPhone, you can restore the iOS of your device by using iTunes on your computer. But keep in mind that you've backed up a previous version of iOS. Only then you can restore your device from that previous backup.
Connect your iPhone to the PC via a lightning cable.
Launch iTunes on your PC or launch Finder on your Mac.
Now, quickly press and release the Volume Up button when your device will be connected.
Then quickly press and release the Volume Down button.
Press and hold the Power/Side button until you can see Recovery mode or Connect to iTunes screen.

Now, DO NOT release the Power button if you can see the Apple logo as you've to boot your iPhone in the Recovery mode.

You will get a prompt to Update or Restore your iPhone in iTunes. Select Restore option to delete the device data and restore the backed up data from iTunes on your PC.
Finally, follow the on-screen instructions to finish the iPhone restoration process.
That's it, guys. We hope you've found this guide helpful. Feel free to ask in the comments below for any queries.