Nothing Ear is one of the latest earbuds in the market massive tech fans following. These earphones were specially designed for audio geeks & professionals which is the main selling point of these earbuds. But since its launch, many users have been encountering charging-related issues with them. Many say that the Nothing Ear Case not charging or the Nothing Ear Case is not giving a charging indicator light.
Issues like such are quite common in all types of Bluetooth earbuds, and in this particular guide, we will address them to find some working methods as well. Charging issues can be annoying sometimes as it makes your earbuds go meaningless. So to fix the issues related to your Nothing Ear Case, follow this guide to the end.
Fix: Nothing Ear Case Not Charging
In the official Nothing Ear consumer forums and online discussion portals such as Reddit, users have expressed their concern over the not charging issues multiple times. If you're facing similar issues, then follow the below troubleshooting methods.
Method 1: Clean Connector Pins
Each wireless Bluetooth buds have a charging mechanism which comes with metal connector pins. These pins easily allow the case to charge your buds whenever you're not using them. Ideally, it sounds, but in some cases, these connector pins may get corrosion or other dust particles stick to them.

In such a case, you have to clean these connector pins first. You can clean them using a microfiber cloth or a cotton bud dissolved in a cleaning solution.
Method 2: Clean Case Charging Port
Just like connector pins, it's quite possible that the charging port of the case is itself not clean. When the case charging port is not clean, the case will not change or will charge very slowly.
So take a microfiber cloth or a cotton bud dissolved in a cleaning solution and clean the charging port.
Method 3: Try Other Charging Cables & Adapter
Nothing Ear comes with a special failsafe mechanism in the charging case so it does not get overcharged. This means that if you connect the case with a charging cable with high Ampere, then it will not charge.
So make sure you use the original USB-C cable that came with the box. And also use a charging adapter rated 5.0 volts & 1.0 Amp. Anything more than 1.5Amp might damage the charging case and may perforate the battery as well.
Method 4: Update Firmware
Since the initial launch of Nothing earbuds, the company has been taking feedback from users and improving accordingly. They have been rolling out firmware updates for the earbuds to include new features and fix issues as well. So make sure you update your earbuds to the latest version to fix the charging case issue.
First, open the Nothing Ear app and navigate to the firmware section.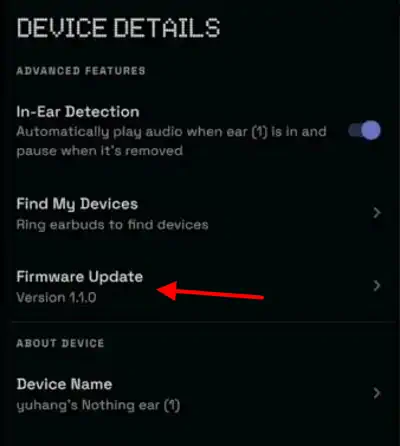 Here check if you have any pending updates available.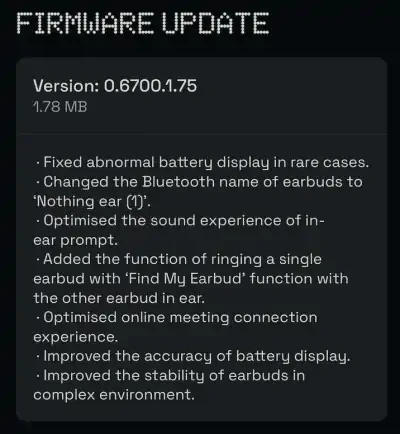 Click on the update firmware options and follow the onscreen instructions.
Method 5: Discharge Earbuds
If you're still facing the charging issue, then it might be due to the charging cycle. Sometimes the case might not charge until it is fully discharged first. So make sure you use your earbuds to the fullest until they are fully discharged. Do the same with your charging case as well.
Once both the buds and charging case are fully discharged, try to charge the case and it shall charge again. This is more likely a trick instead of a troubleshooting method, but it has worked for many users.
Method 6: Reset Nothing Ear Case
In some cases, the issue of Noting Ear case not charging can be purely a technical glitch. In such cases, you can fix the problem with a simple reset. Here's how you can do that:
First, remove the charging cable from the case (if any).
Place both earbuds in the case and close the lid.
Now press and hold the case button for 30 seconds.
Open Bluetooth settings on your smartphone and forget these earbuds.
Now you can pair the Nothing earbuds again, and the reset process will be complete.
Method 7: Hardware Damage
If none of the above methods help you, the issue will likely be hardware damage. The damage can either be in the charging chipset or the charging battery which is supposed to charge your Earbuds. In both scenarios, you have to connect with the Nothing Ear service center.
Conclusion
This brings us to the end of this guide for fixing the Nothing Ear Case not charging issue. Please note that such issues can be temporary in nature or due to a technical glitch. The above methods shall help you to fix the issues on your end. But if not, then it might be due to hardware fault of either the charging chipset or the battery hardware. So please connect with the nearest Nothing Ear Service center to get it repaired.