The online multiplayer Game DotA 2 is one of the most popular, bringing together millions of players each day. Although DotA 2 is challenging, fun, and addictive, some users report errors concerning PAK01.vpk. There have been several errors reported in Dota 2 following the release of the new update, including a corrupted PAK01.vpk. But don't fret. In this guide, we will explain to you some fixes that have the potential to resolve the PAK01.vpk error. So, let's get started with the guide.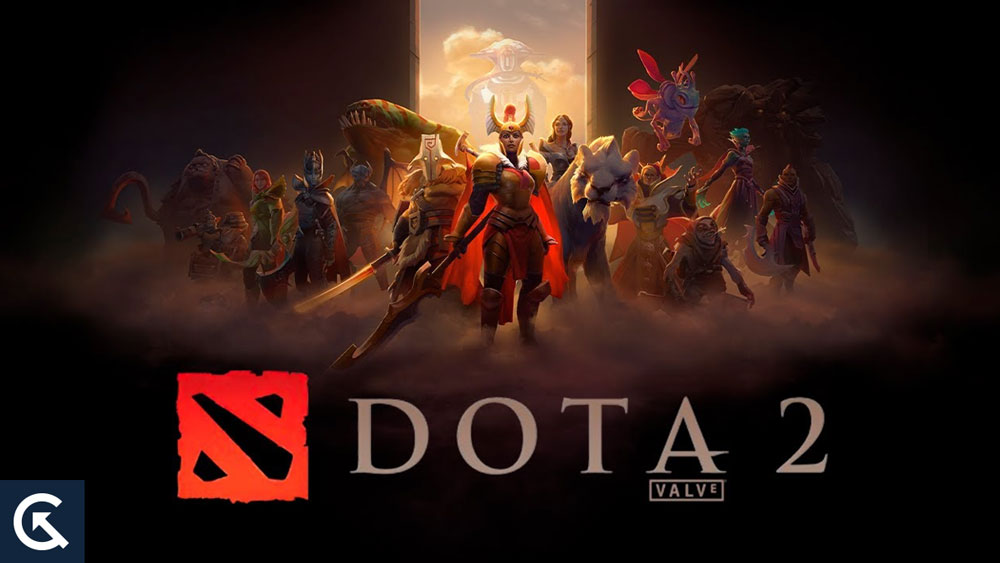 How to Fix Dota 2 PAK01.vpk Corrupted Error
So, here are some fixes that will help you resolve the Dota 2 PAK01.vpk corrupted error:
Fix 1: Check Memory Slot
To begin with, check your memory slot because the problem may be with the memory on your computer. If you have a memory module that is not working, you can try rearranging it in different slots or reseating it. Furthermore, you may want to experiment with different RAM slots in order to address any possible Memory Bar issues. You might be able to find the solution to this problem and have Dota 2 running smoothly again if you follow these steps.
Fix 2: Run the Game Through .exe
It might be better to run the Game through the .exe file rather than Steam Launcher. You can find the Game in "Steam/steamapps/common/dota 2 beta/game/bin/win64/dota2.exe" if you haven't changed the folder location. However, this method will not allow you to track your playtime, achievements, or friends' progress via Steam's overlay, so please be aware.
Fix 3: Changing the Disk
It may be necessary to change the disk itself if the error persists. To do that, you'll need to uninstall the Game and reinstall it. Afterward, you can try reinstalling the Game on a new driver and making sure your SSD is up-to-date.
Fix 4: Update Your BIOS
Well, you can also try updating your BIOS if that doesn't work. If the error persists, it could be due to outdated or faulty BIOS settings. Your BIOS can also be reset to factory defaults. Nevertheless, getting professional assistance is recommended since you will need to reinstall all your software and Windows OS.
Fix 5: Update DirectX
Updating the DirectX may help you resolve the Dota 2 PAK01.vpk corrupted issue. So, let's check out the steps for that:
Navigate to C:/Program Files (x86)/Steam/steamapps/common/Steamworks Shared/_CommonRedist/DirectX.

To reinstall or update DirectX, run DXSETUP.exe.
To apply the changes, restart your computer.
Fix 6: Run the Game as an Administrator
It's possible that your video game won't launch or startup if you're not running it with administrator privileges. The best way to check if the problem has been fixed is to run the game exe file on your Windows computer as an administrator. To do so:
On your PC, right-click Dota 2's executable shortcut file.
Select Properties > Compatibility.
Afterward, check the Run this program as an administrator checkbox.
To save changes, click Apply and select OK.
Fix 7: Verify the Integrity of Game Files
You can verify and repair the game files using the game launcher if they become corrupted for some reason or are missing for some reason. In order to do this:
Click on Library in Steam.
In the list of games, right-click Dota 2.
Click on Properties > Local Files.
Select Verify Integrity of Game Files.
It will take a while for the process to complete.
Then restart your computer.
Fix 8: Update Microsoft Visual C++ Redistributable
On your PC, go to this path: C:\Program Files (x86)\Steam\steamapps\common\Steamworks Shared\_CommonRedist\vcredist
These folders should appear:
2012\vc_redist.x64.exe
2013\vc_redist.x64.exe
2019\vc_redist.x64.exe
You just need to run all of the executable files.
To resolve the issue, restart your PC.
Fix 9: Perform a Clean Boot
Initially, to open the Run dialog box, press Windows + R.
Thereafter, to open the System Configuration window, type msconfig and hit Enter.
Afterward, on the Services tab, check Hide all Microsoft services.
Select Disable All.
In order to save the changes, click Apply and then OK.
Afterwards, click on the Startup tab > Open Task Manager.
From the Task Manager interface, click the Startup tab > Disable the tasks that are enabled for startup boot.
Disable the high-impact startup programs one by one.
To apply the changes, restart your PC.
Last but not least, check to see whether the Dota 2 PAK01.vpk corrupted error on the PC issue has been resolved.
Fix 10: Update GPU Drivers
There appear to be multiple affected players who have reported outdated graphics drivers. Moreover, you can check for updates by following the steps below if you're also using an outdated graphics driver:
Open the Quick Link Menu by pressing Windows + X.
Afterwards, from the list, click Device Manager > Double-click Display adapters.
Right-click the active, dedicated graphics card.
Select Update driver > Search automatically for drivers.
Thereafter, updates are automatically downloaded and installed by the system if they are available.
To apply the changes, restart the computer.
Fix 11: Launch the Game in Windowed Mode (Steam)
If you are having problems launching the Game, check if it helps to launch it in Windowed mode. In some cases, running the Game in fullscreen display mode can cause several issues on a computer with average hardware specs.
First of all, go to the Library in the Steam client.
Right-click Dota 2 and choose Properties.
Afterwards, on the General tab, click Set Launch Options.
Then, copy and paste the following command-line argument:
-windowed -noborder
To see if Dota 2 is launching properly, save the changes and try again.
Fix 12: Install All Pending Windows Updates
There is a possibility that some Windows bugs or system files might conflict with the Game. When you haven't updated the software for some time, you may experience an incompatibility issue. It is, therefore, important to install all pending Windows updates and keep the OS up-to-date at all times. Here's how to do it:
To open Windows Settings, press the Windows + I keys together.
Afterward, next, click on Check for updates under the Windows Update section.
You can install a feature update if one is available.
You will need to wait a while for the update to be completed.
In order to make the changes effective immediately, you will need to reboot your computer.
Fix 13: Reinstall Dota 2
In case none of the above solutions worked for you, reinstall your Dota 2 game to see if that fixes the problem. In order to do this:
On your computer, launch Steam.
Right-click on Dota 2 in the Library.
Go to Manage > Uninstall.
To complete the uninstallation, click Uninstall again and follow the instructions on the screen.
If you want the changes to take effect immediately, you must reboot your computer after you have completed the process.
You can now install the Game using your existing Steam account by opening Steam again.
It's all done. It can be resolved the Dota 2 Dota 2 PAK01.vpk corrupted on PC.
Sum Up
So, that's all we have for you on how to fix the Dota 2 PAK01.vpk corrupted error. It's our hope that this guide has helped you. We'd be happy to provide you with more information if you comment below.