A BSOD (Blue screen of death) with an error code generally freaks out the users. A Stop error "0x0000009f" ultimately lead you to the Blue Screen of Death and sometimes even crash your system. Few of the users have faced it while performing a specific action, and few others have said they randomly see the "Stop error 0x0000009f", and their screen crashed after that.
Although it is one of the pressing issues, so here we have got all the fixes in tacked to dismiss your worries. But before using those fixes, it is recommended you may learn their cause of occurrence as well.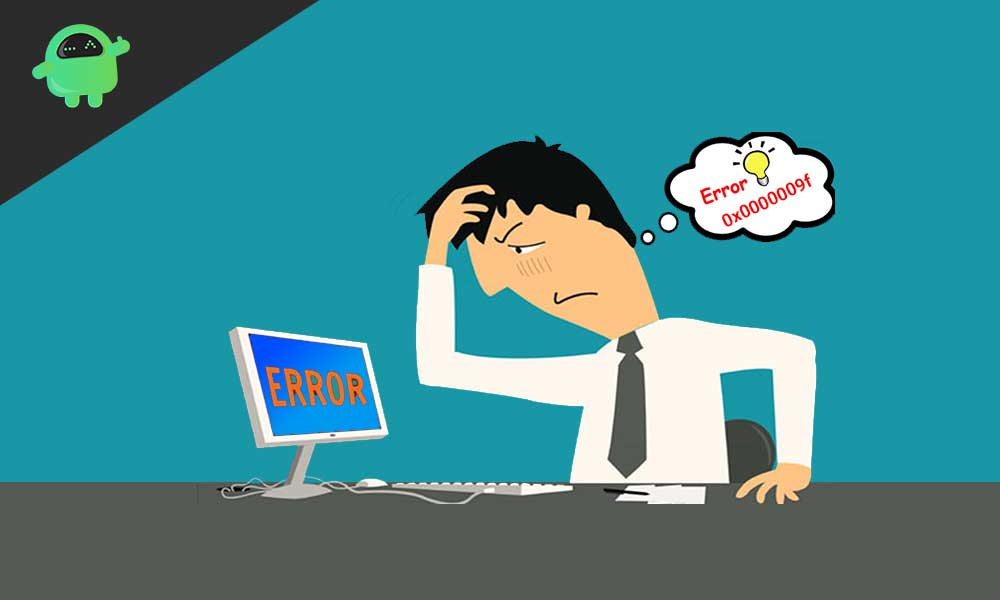 What is "Stop error 0x0000009f"?
Stop Error 0x0000009f or also known as DRIVER_POWER_STATE_FAILURE, is a BSOD. It indicates either the driver is an incoherent or in an invalid state of tension. This error issue is more common in Windows 7 but has also been found in Windows 8.1 and 10, respectively.
Reasons for "Stop error 0x0000009f" Blue Screen of Death
When you put your system in Sleep mode and then wake it up again, it might not wake up correctly or even doesn't respond at all. Some other scenarios like "Your PC is shutting down or booting up Windows" or "When it is about to enter the hibernate mode." And when it happens, your system crash down and shows DRIVER_POWER_STATE_FAILURE. Commonly the "Stop error 0x0000009f" occurs in the scenarios mentioned above, but there are few other reasons as well.
Third-party Avast and Comodo interference.
Corrupted Intel driver
System file corruption
Low-level BIOS glitch
Error while using some third-party application.
Also, BSOD may show the name of the file that is causing the error. For example, ntoskrnl.exe. (most common file in many cases).
Fixes for "Stop error 0x0000009f" Blue Screen of Death
Before we begin with the fixes, a lot of them would require you to enter the safe mode.
Follow the steps given below for entering the Safe mode in Windows 10:
Firstly, open the Run dialogue box and type "msconfig.exe" and click on OK.
Now in the System Configuration window, select the "Boot" menu.
Below that, tick the checkboxes located before the "Safe boot" option and then select "Minimal." Click on
You may now see a dialogue box asking you to restart your system now or later. Select Restart, and it will open your computer in the "Safe mode."
You can now start performing the fixes.
Solution 1- Update all your installed drivers using Windows update
As discussed above, the "stop error 0x0000009f" also means DRIVER_POWER_STATE_FAILURE. If a driver in your system is not behaving as required, this may also lead to this error occurrence. So, in such a case, the first fix you must start on is updating all your installed drivers. For doing so,
From the Windows search bar, locate, and select "Settings."
On the Settings window, click on "Update & Security" followed by selecting "Windows update."
Now select the "Check for updates" tab.
Once you follow these steps, if any of your installed drivers require any update, it will automatically perform so. You can also do so from the device manager. Go to the Device Manager, select "Search automatically for updated driver software" and then click on "Update driver."
Solution 2- Use the Driver verifier
Using the driver verifier will help you find the exact cause for this BSOD. Also, if the driver verifier finds a problem, it may again lead you to BSOD. Here we recommend you create a system restore point and then access using this solution.
Open the Command prompt window and Run as administrator.
Type "Verifier" to open the "Driver verifier manager."
Now select "Create standard settings" and click Next.
From "Select what drivers to verify" list, choose "Select drivers name from a list."
Click on Next and then proceed by selecting "Finish" tab.
Solution 3- Uninstall third-party security suit.
While using a third-party security suite, if you find an overprotective AV suit is somehow crashing the system, you can uninstall this security suit. If you are suspicious about this scenario, you can either confirm it by uninstalling it or disabling the real-time protection of your AV suit. The procedure might be different depending on the third-party anti-virus suit you are using.
Some users can directly do so from their taskbar or anti-virus software. However, if not this way, then follow the steps given below:
Open the Run dialogue box, type "appwiz.cpl" and then press Enter. A list of installed programs in your system will appear on your screen.
Now locate the third-part security program that you want to install and right-click to select "Uninstall."
Lastly, navigate through the uninstalling process to complete the process.
Once done, you may restart your system to make it useful. Run the action causing the "Stop error 0x0000009f" Blue Screen of Death and check if it persists.
Note: Make sure you have a backup or an in-built security program like Windows defender or something similar. It is recommended not to keep your system vulnerable as it should have protection in some of the other forms.
Solution 4- Update BIOS version
An outdated BIOS or one with low-level chipset driver can also lead to general instability that may cause the "Stop error 0x0000009f" Blue Screen of Death. Updating the BIOS version in your system can finally let you get rid of this error occurrence.
BIOS is though generally updated by your manufacturer as an improper installation procedure, can land you with some other issues. Still, some of the motherboard manufacturers allow you to update BIOS by directly accessing it.
Note: Remember, the process may differ in the configuration you are using. Also, make sure there are no other files available on the USB drive before you move the update to it.
You can always check your motherboard's manual to find the key you would require to press for finding access to your BIOS. In some typical cases, the DELETE or F key might work.
You can also follow the steps given below:
While Windows start, click on the Start menu and then hit the Power button.
Now while holding the Shift key choose the option Restart.
From the displayed options, choose "Troubleshooter."
Select "Advanced options" and then select "UEFI firmware settings."
Click the restart button, and your system will now boot to BIOS.
As you reach the BIOS, look for any available updates and follow them.
Now choose the BIOS update file from the USB driver and wait until the updating process goes on.
Blue Screen of Death is not very eventful affairs, and it's better to fix them quickly. Regardless of the fixes you use, it's essential to follow the procedure as mentioned above. Skipping and avoiding the important notes and recommendations may end you up in creating trouble for your system.
Once you find out the root cause for the "Stop error 0x0000009f" Blue Screen of Death in your system, you can use the proper fix. We hope some of the other fixes mentioned in the article above will prove helpful for you. If in case you are not able to fix these error issues, it advisable to take some professional help. If you have any queries or feedback, please wrote down the comment in the below comment box.