Garmin Vivoactive combines the tech smarts of ultramarathon-running watches with a more accessible form factor. It may not be as professional-style advice as a Forerunner, but it is still just as good. The reason is simple: many technical issues are occurring with this device.
Yes, for example, recently, there have been many users who reported that their Garmin Vivoactive is not turning on. Well, that's the reason why we are here. In this troubleshooting guide, you are going to learn how to fix the Garmin Vivoactive not turning on issue. Therefore, let's get started with the guide.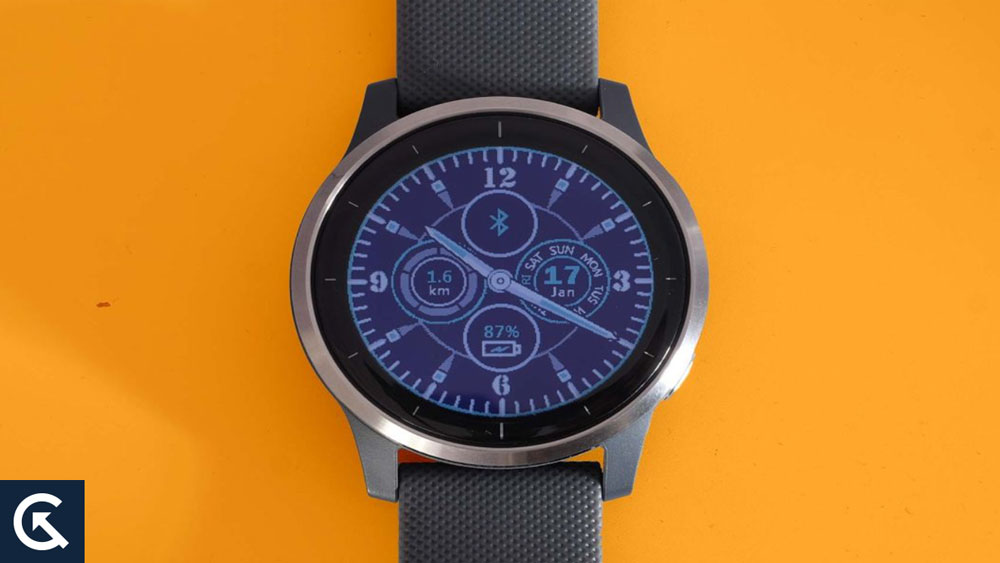 How to Fix Garmin Vivoactive Not Turning On
So, here are some fixes that can potentially resolve the Garmin Vivoactive not turning on issue. Therefore, if you are facing this problem with your Garmin watch, you can try these fixes:
Fix 1: Hard reset
It is possible for Garmin devices do not turn on due to a battery issue. You can resolve this issue by performing a hard reset. You can hard reset your watch by holding down both the power button and the down button simultaneously for one minute. It will surely help you fix the not turning on issue. However, if you still get the same error, check out the other fixes.
Fix 2: Charge for a While
If your Garmin watch isn't turning on, it's best to charge it for up to an hour, regardless of whether it has a blank display. It is sometimes necessary to boost the battery because it is so low. It could be defective if the battery still does not charge after an hour of plugging it in.
Fix 3: Restart Vivoactive
It is also important that you fix your Vivoactive software issues. If you have software issues, you may experience a charging glitch on your Garmin watch.
You should first restart your Garmin watch before charging it. Here is how to restart Garmin Vivoactive if you don't know how, but if you don't know, follow these steps:
Initially, hold down the power button for a few seconds.

Wait until a menu option appears.

Afterward, tap the power off icon from the top of the screen

.

To confirm, tap

yes

.

Finally, to turn it back on, press the power button again.
Fix 4: Clean Out Debris
It is common for debris and dirt to accumulate on the charging port and pins of your Garmin Vivoactive. It doesn't matter whether your watch is old or new, dirt accumulates on both. When you notice dirt on your watch's charging ports, you should ensure they are cleaned. It is advisable to clean the charging ports as soon as possible before you try to charge your Vivoactive. To clean the charging ports, follow these steps:
To remove loose dirt, use a clean toothbrush.

Also, you can use rubbing alcohol and a cotton swab.

With a cotton swab and pure alcohol, clean the pins on the charging cable.

Ensure that all dirt has been removed from them and that they have been properly cleaned.

Use a soft clean cloth or tissue to clean the charging port.
Fix 5: Change the Power Source
Check your power source and make sure it also supplies electricity to your Garmin watch. It is recommended that you use another power source if it is malfunctioning.
Power sources can have issues from time to time. Because they don't provide or supply power, charging the watch will not be enough. If you'd like to charge your Vivoactive, you can do so with a computer, power bank, and a USB socket.
Fix 6: Use Another AC Adapter
Garmin's AC adapter can also be changed. Your Garmin device can stop charging if the adapter is damaged. If the original AC adapter does not work, try another one with the same number. You may be able to fix the Garmin Vivoactive not charging issue with this.
Fix 7: Check Or Replace the Charging Cable
It is also important to ensure that your charging cable provides current due to the possibility of burning out or ceasing to provide electricity for an unknown reason. Ensure that the charging cable is working properly; if it does not, you should use another cable that is compatible with Vivoactive.
If you do not have a new USB cable, you can also replace it with one. If you have any questions about Garmin's warranty or replacement process, please get in touch with Garmin customer support.
Fix 8: Update Software
You should immediately update your Garmin Vivoactive if it runs on outdated software. You may also have to update your Garmin watch because of an outdated version. Furthermore, software updates help you to take advantage of the latest features and improve security on your device. To do this, follow these steps:
To open the menu, press and hold the right button.

Afterward, to access the

Settings

menu, scroll down and tap on it.

Tap

System

at the bottom of the screen.

Once again, scroll down and select

Software Update

.

To install an update, tap

Yes

.
Fix 9: Factory Reset
It may also be a good idea to perform a factory reset on your Garmin Vivoactive if it is still not charging. You should do a factory reset to get rid of glitches and caches from your device. The factory reset is also beneficial if your device isn't responding, is slow, or isn't functioning properly.
Hold the back button to access the menu for a few seconds.

Scroll down and tap

Settings

.

From the settings, scroll down and tap on the

System

.

Once again, scroll down and select

Reset

.

There will be a couple of options. You should tap on

Delete data and Reset settings.
Fix 10: Contact Garmin Support
When none of your attempts work, you should contact Garmin support directly. If you experience a Garmin Vivoactive Not Turning On problem, they can assist you with troubleshooting and providing further assistance.
So, that's all we have for you on how to fix the Garmin Vivoactive not turning on issue. We hope that this guide has helped you. For more info, comment below and let us know.