Google's flagship Pixel 7 and 7 Pro models aren't free from technical and hardware glitches, even though both devices launched just a few months back. Moreover, the previous generations of pixel models had some shortcomings, and the so-called legacy still persists. Currently, affected users are asking if there is a solution to the screen flickering and green tint problems on the Pixel 7 and 7 Pro. So, if you are also affected by the Google Pixel 7 and 7 Pro screen flickering and green tint issue, then you come to the right place. Here, we have mentioned a few fixes that have the potential to resolve this problem. So, let's take a look at them.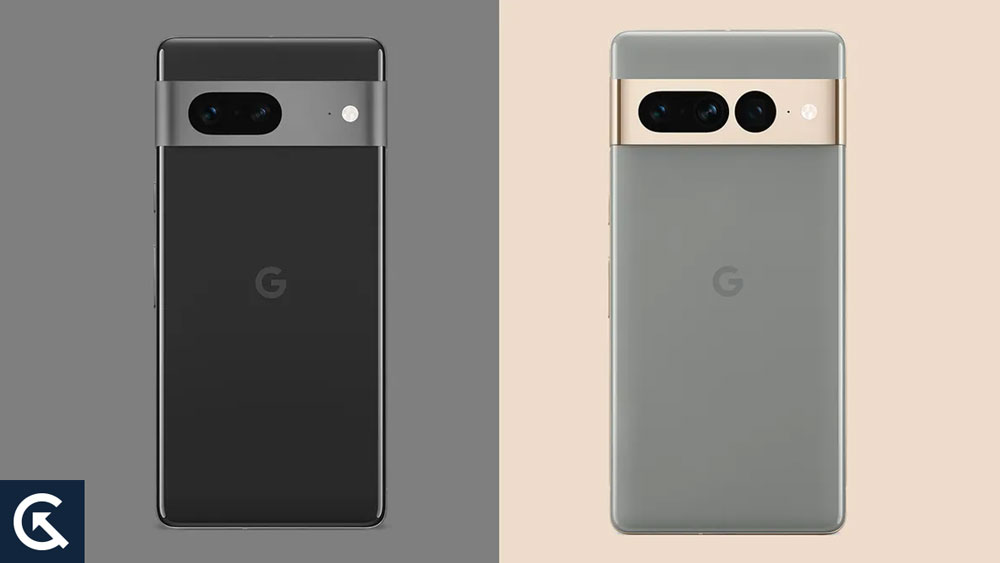 Why is the Google Pixel 7 Series Screen Turning Green?
When your Android device displays a green screen, the colors are distorted and the device is difficult to use due to the green tint. There is a difference between this and using a green screen deliberately in photography or filmmaking. When it comes to smartphones and tablets, green screen issues are commonly associated with software or display issues.
When Android devices experience a green screen, there can be several reasons for this. In this case, the problem may be caused by faulty hardware, such as a damaged screen or a malfunctioning graphics chip. It is also possible for incorrect settings to cause this issue, due to outdated or corrupted software. Sometimes, the green screen indicates a more severe and permanent hardware issue that needs professional attention or even replacement.
How to Fix Google Pixel 7 and 7 Pro Screen Flickering and Green Tint Issue
So, here are some of the fixes that will help you resolve the Google Pixel 7 and 7 Pro screen flickering and green tint issue:
Fix 1: Reboot The Device
You can resolve various software-related problems, including the green screen problem, by rebooting or restarting your Android device. Here's how to reboot your Android device in more detail:
On your Android device, locate the power button. On most devices, it is located on the side or top. In order to access the power menu, press and hold the power button.
You should find options like Power off, Restart, and Reboot on the power menu. Tap on the Reboot option.
As soon as you select Reboot, your device will begin shutting down. It is possible that you will see a confirmation message asking if you would like to reboot. You will be prompted to confirm your choice after you choose to turn off the device.
In a few seconds, the device will start booting up after being powered off. Depending on your internet connection, this may take some time. On the screen, a manufacturer or Android logo should appear, indicating that the device is rebooting.
Once the device has been restarted, check to see if the screen flickering and green tint issue still exists. You should be able to view the normal colors on your screen after rebooting if a temporary software glitch causes the issue.
Fix 2: Clear Cache and Data on the Faulty App
What should I do if I have a white screen of death on my Android device? You might be able to fix the problem if you can remove the problematic app's data from your phone's settings if you know which app is causing the problem. You will be logged out of your app account when you delete the data and cache, but the actual app will not be deleted.
Go to the Settings app and tap Apps & notifications.
Select the app that you think is causing the problem and tap it.
Then tap Clear Cache followed by Clear Storage under Storage & Cache.
Fix 3: Remove Problematic Apps
If you are still unable to fix the issue after deleting the cache and data, you can also remove the app from your device. By doing this, all the personal preferences you have saved within the app will be deleted. Whenever you really need to reinstall an app, you can always download its APK file or get it from the Play Store.
Go to the Settings app and select Apps & Notifications.
Locate the app you want to remove.
To remove the app, tap Uninstall.
Fix 4: Hard Reset an Android device
It is possible to resolve persistent software issues, such as the screen flickering and green tint issue by performing a hard reset, also called a factory reset. Nevertheless, it is crucial to back up your important information before doing a hard reset since it will erase all your data and settings.
To begin, tap on the gear or cogwheel icon in the Settings menu on your Google Pixel 7 and 7 Pro device.
Tap on the About phone option in the Settings menu. Go to General Management settings (you can also do this from there.)
Go to the About phone menu and scroll down to the Reset option.
It should be possible for you to select different reset options. Erase all data or Factory reset are the options you should look for. Your device will be reset to its original factory settings when you select this option. To initiate a hard reset, tap on it.
When you perform a hard reset, you will see what data and apps will be deleted. Click Reset at the bottom of the page.
Enter your phone password when prompted.
Choose Delete All.
The last step is to enter your Google account information. Once your data has been entered, click OK.
It may take several minutes for the device to complete the factory reset process. It will take some time for your device to restore its original settings, apps, and data during this process.
Your device will restart once the factory reset is complete. In the same way as when you first bought the device, you will be presented with the initial setup screen.
You'll need to sign in with your Google account and restore any data you've backed up if necessary to set up your device.
Fix 5: Turn on the Always On display feature
Some Android users have reported success by enabling the Always On Display feature on their devices to resolve the screen flickering and green tint issue. An active portion of the screen can display selected information like the time, date, notifications, or a custom image even when the device is locked or in sleep mode. Here's how to turn on Always On Display in more detail:
In the app drawer or on the home screen of your Android device, look for the gear or cogwheel icon. To access the Settings menu, tap on it.
Look for Display or a similar option, such as Display & Brightness, using the options or the search function. To access the Display settings, tap on it.
You can change the display settings to show Always On Display or Lock Screen Display. Using it will give you access to the feature's settings.
On the Always On Display settings screen, you should see a toggle switch. Activate Always On Display by tapping it.
From Author's Desk
It is very common for Android devices to experience a green screen problem due to hardware issues. Screens may be affected by damaged or malfunctioning components, including graphics processors and other internal hardware. So, that's all we have for you on how to fix the Google Pixel 7 and 7 Pro screen flickering and green tint issue. It's our hope that you find this article helpful. For more, comment below.