Power button is an essential piece of hardware component on a smartphone as it has been blessed with a variety of functions such as it is used to lock or unlock the phone or it can be used to take a screenshot, switch on/off a phone, boot into the safe mode, recovery mode, etc and thus, it could be a problem if it is broken. There is a number of users who are facing Gigaset power button not working problem and we decided to provide a how-to blog to fix the Gigaset power button not working problem using various hacks, tips, and alternatives along with both software and hardware-related fixes.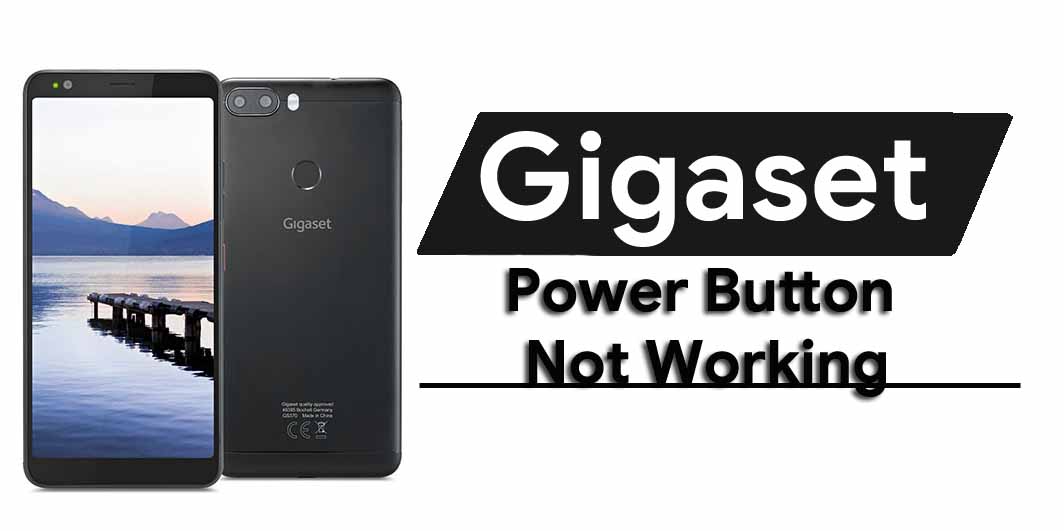 What if it is a software issue?
To verify if it is a software-related issue or not, you can reboot the phone as doing so must help get rid of the temporary error causing the problem. But since the power button isn't working, you can't actually reboot the phone. You can employ and a fastboot tool to perform the function or you can use PC suite that comes with smartphones to connect it with the computer and reboot the same. If not, there are other ways to assess software-related issues.
Check for app conflicts
Firstly, check if a recently downloaded app is the culprit. It is simple to gauge though. Remember if the power button, not working problem commenced after downloading a third party app from Google Play Store or other sources. If that is so, uninstall the app and that's when you can verify if the problem is sorted or not.
Clear cache files
Cache files are temporary files created and stored by the system carrying details about the last session of a website or app that helps the system to open the same quickly than before as it helps in medieval time. But since these cache files are highly susceptible to getting corrupted, it is advisable to get rid of the cache files as soon as possible. There are basically three ways to get rid of cache files which are explained below.
Firstly, you need to navigate to the Settings >> Apps >> Downloaded where you will get information on the apps that you had downloaded. You can tab on individual apps and delete the cache files of the same. Then, the cache files are stored in the internal storage which you can wipe off by directing towards Settings >> Storage >> Cache Memory. Finally, the next method is to wipe cache partition for which, the option is available in the recovery mode which you can access using a specific combination of buttons for which, the procedure is listed in the next method.
Restore factory
The recovery mode is an essential bootable partition on a smartphone which enables users to perform certain powerful tasks such as restore factory, wipe cache partition, etc.
To enter into the recovery mode, you need to start with a closed phone to turn off the phone.
The next step is to press both power key and volume up and/or down key together. Note that this particular step depends on devices and the Android version in use.
You need to hold the buttons until you feel the vibration and the screen displays an Android logo.
From amidst the options, you can toggle to select the right option using volume up or down key or otherwise mentioned on the top of the screen. For selection, you need to use the power button which is common is a majority of smartphones.
Here, you need to tap on 'wipe data/factory reset' to perform a factory reset.
How to keep the screen alive? (phone is unlocked)
Keeping the screen alive is crucial if you are looking forward to using your phone without a working power button. There are multiple ways you can keep the screen alive which are mentioned below.
Use Ambient Lights
If your phone has ambient lights, you can use it to keep the screen alive for a longer duration. Although this feature is not generic, it would make it easier for you to use a smartphone with the broken power button if it has ambient lights enabled.
Extend the screen timeout duration
Call it screen timeout or keep alive or other monikers used by different smartphone manufacturers, this feature is accessible under Settings >> Display where you can extend the time of screen going out. You can select the maximum duration after which, you just have to provide a stimulus or a tap on the screen to extend the duration further.
How to light up the screen when the screen is off and the phone is locked?
The real problem starts when the phone screen is off and that's where it becomes difficult to light it up again without a working power button. But still, there are certain hacks that you can employ as an alternative to it.
Set up alarms
You can set alarms on your phone when the screen is on. When the alarm goes off, the screen will turn on. You can set up alarms at definite intervals and turn them off when it rings or keep it on a low volume.
Ask a friend for a message/call
The screen is off, what to do? Ask a friend to give you a call or message you or you can do it yourself if you have an alternative phone with you.
Plug the phone into a computer
Plugging the phone into a computer will command the phone either the transfer files or charge but anyhow, the screen will light up and that's what you want. But it is not a handy solution.
Plug it into a charger
Similar to how plugging the phone into a computer via USB cable lights up the screen, charging the phone will do the same job.
Use power bank instead
This is an alternative to the previous two methods and a portable method if you wish to wake up the screen. Simply plug in the power bank via USB cable and the screen is on.
What to do if it's an hardware-issue?
There is nothing much you can do if you are having a hardware issue. You can either replace the broken button yourself which is not too difficult but not someone everything can do. Or you can ask for help from professionals who will be able to resolve the issue by repairing or replacing the button and thus, resolving the power button not working problem.
Apps that can fix the problem
There are a plethora of apps that you can use as an alternative to the broken power button such as:
Gravity Screen
Gravity Screen and it's pro variant are one of the best alternatives to the broken power button. It works with the help of sensors mounted on your phone such as gravity sensor, accelerometer, etc. You can define the orientations for various settings like table sensor, pocket sensor, etc so that the phone will stay locked when in the pocket and can turn on when needed.
Proximity Actions
The Proximity Actions app work in conjecture with the proximity sensor located alongside the front camera that detects the user. There is a number of functionalities that it can perform such as open an app on a set wave or duration, turn off or turn on the screen, etc.
Shake to Unlock – Screen ON
Simply shake to unlock the phone, shake it again to lock the phone and that's simple.
Power Button to Volume Button
This app shifts the functionalities of a power button such as unlocking, locking the phone, turning it On and off, etc, to one of the volume buttons so that when you tap on volume up button (for instance), it will actually work as a power button. Another similar app is Button Mapper which is available freely on the Play Store.