Nowadays, there's nothing more important than a smartphone to someone and you wouldn't leave your house without it but what if you are facing weak signal or lost network issue on your device? The crucial question here is to find out what went wrong and what is the plausible solution to the said problem. Well, you are on the right place as we at GetDroidTips are discussing the basics and advanced troubleshooting tips and tricks to fix the problem on your Koolnee device so read along to know more.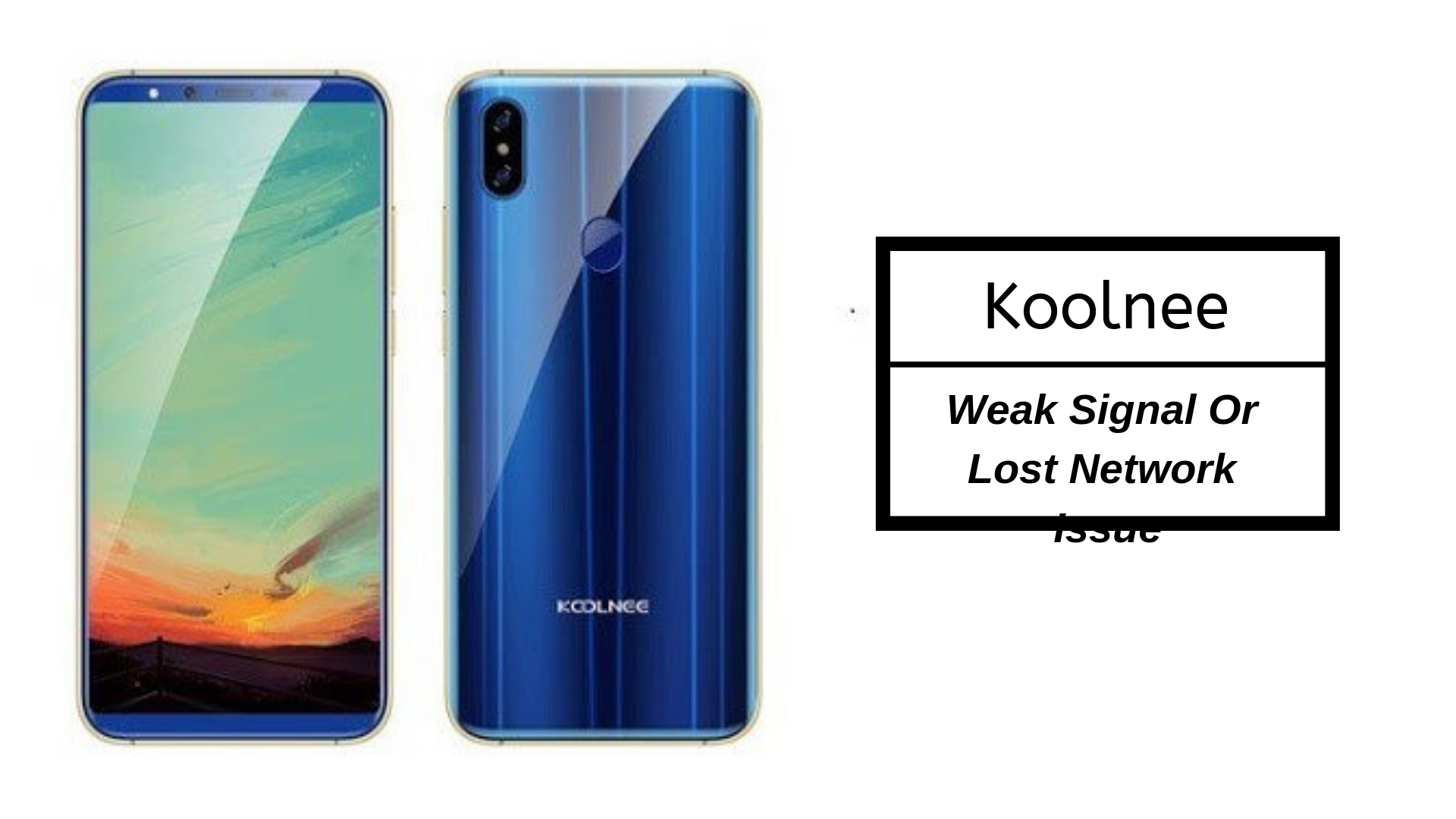 How to fix Koolnee weak signal or lost network issue?
Toggle the almighty 'airplane mode'
Airplane or flight mode is often hailed as a powerful tool to get out of any trouble related to the network and it counts cellular too. So, to practice it, you need to drag down the notification panel and simply tap on the airplane mode icon to enable it. Now, wait for a few seconds before disabling it and that's all. Repeat the same several times and check if the weak signal or lost network issue is restored or not.
Switch between SIM cards
Many a time, it happens that if you have a dual SIM support and one of the SIM doesn't have network at all or it is very weak, you can simply tap on the dedicated SIM switch button if any or press its equivalent button on the UI basically by dragging down the notification panel to reveal it. This toggling between the SIMs forces the system to search for an available network on the affected SIM card.
Reboot the smartphone
If you can't do a flight mode toggle, you can at least reboot the phone. It will take less than a minute but it will ensure that any temporary software glitch occurred whilst you were using the phone is resolved which includes a potential weak signal or lost network issue as well. Thus, give a quick reboot to the device and verify if it works or not.
Verify for any physical/liquid damage to SIM or tray
Next step is to examine the SIM card(s) and the tray on which, the SIM is located. This is because physical or liquid damage can render either of the components useless which is why it is crucial to restoring it. In case if the SIM card is damage which is something you can verify simply by glancing at it for wear and tear and then, inserting it in a different phone to verify. Next, the SIM tray can be examined simply by pulling it out and it is far easy to buy a new SIM tray from Amazon or other e-commerce and retailers.
Call your telecom carrier
Suffering weak signal or there's no network at all or if it is poor enough to not allow calls or messages, it's time to call your network operator aka telecom carrier depending upon which service you use i.e. from Verizon, Vodafone, Idea, T-Mobile, Sprint, etc. Since you cannot call them with your phone with a poor network, take help from someone using the same services as you to call the customer care representative and notify them about the issue. They will scrutinize the same from their end and provide resolution if any.
The automatic to manual & vice versa switcheroo
Your phone is equipped with all sorts of settings and features related to its networking functionality. If you think the network is poor or goes unavailable when traveling, etc, you can switch between the automatic and manual mode. To simplify it, the automatic mode is the default and instructs the system to automatically search for available network and register while the manual mode needs manual search and registration. The automatic mode is helpful when in cities, towns with strength-y networks but when you are talking about traveling or going to villages or far-off places, you need a manual mode for better network reception.
Tweak 'Preferred Networks'
Another set of features that your phone supports is the 'Preferred Networks' section which essentially allows users to switch between 2G, 3G, and 4G. By default, the phone will search for networks in the highest band support such as 4G (in 4G-enabled devices). If the 4G network is not available at the moment, you can freely instruct the phone to search for 3G or even 2G network which enables calling and texting if not fastest internet access. You can set it via "Settings >> Networks (SIM) >> Preferred Networks >> 4G/3G/2G (auto)".
Update all the apps and the firmware
Well, you need to understand that outdated apps are often vulnerable to a smartphone as it attracts bugs, viruses, malware, ransomware, hacking attempts, data breaches or what not. This is why you need to update all the apps on the system including both third-party and pre-installed apps and then, do the same with the firmware such as Android Oreo 7.x, etc. If there's no firmware update available, you can seek custom ROMs as well which are easy to find and install and often gets faster updates.
Clear cache files
Next thing to take care when tackling the Koolnee weak signal or lost network issue is the cache files. Although it is not directly related to the issue it is often considered as the reason behind a plethora of issues which is why we tend to include this in every troubleshooting guide on Koolnee and other smartphones. There are three ways to curb cache files. First is to visit Settings >> Apps >> Downloaded >> Click on an app >> Clear Cache and then, repeat the procedure.
Next is to proceed to Settings >> Storage >> Cache Memory and finally, the third one is to proceed to the recovery mode using the method prescribed in the 'hard reset' section and select 'wipe cache partition' to clear the same.
Perform a hard reset
This is the final step that you can take to resolve any software-related issue since hardware issues aren't in its jurisdiction. Bugs, viruses, software glitches can cause the cellular network on your device to suffer. Since we are tackling all types of ways to fix network issues, we have included this mother-of-all-fixes trick that must get you out of the problem and here's how to do it.
First up, turn off the phone and let it rest for a second.
Now, press power + volume up buttons on right and left sides of the device of if both these buttons are located on the same side.
You need to hold the buttons until an Android logo is not visible on the screen which is when you need to release it.
Proceed to the menu item that says 'clear data/factory reset' from the menu listed in the recovery mode using volume rockers to scroll and power button to select.
Finally, tap on 'yes — delete all user data' and that's it.
Lastly, reboot the phone and check if the issue still persists or not.
The final destination
No, it is not quite literally the final destination as you would imagine if you are a movie buff but actually, it is the extreme step you can take towards fixing the Koolnee weak signal or lost network issue. For this, you would need to Google the nearest Koolnee service center or its partnered and preferred service centers and report the issue to get professional help but with a premium that it might attract bearing repair and/or replacement charges.