The most basic functions of a smartphone are to make or receive calls and send or receive text messages. Not being able to use your device even for its basic purpose because of a poor mobile phone signal can be frustrating. This can cause a lot of trouble unless you have a Wi-Fi network enabled. With a lack of signal, you won't be able to connect to the internet or browse social media unless you are connected to a Wi-Fi network. But a stable Wi-Fi connection is not available everywhere you go. Weak signal or Lost network issue depends on the availability of the network, signal strength, device, and various other conditions. So, don't get frustrated. This article will help you learn how you can tackle the Kyocera weak signal or lost network issue.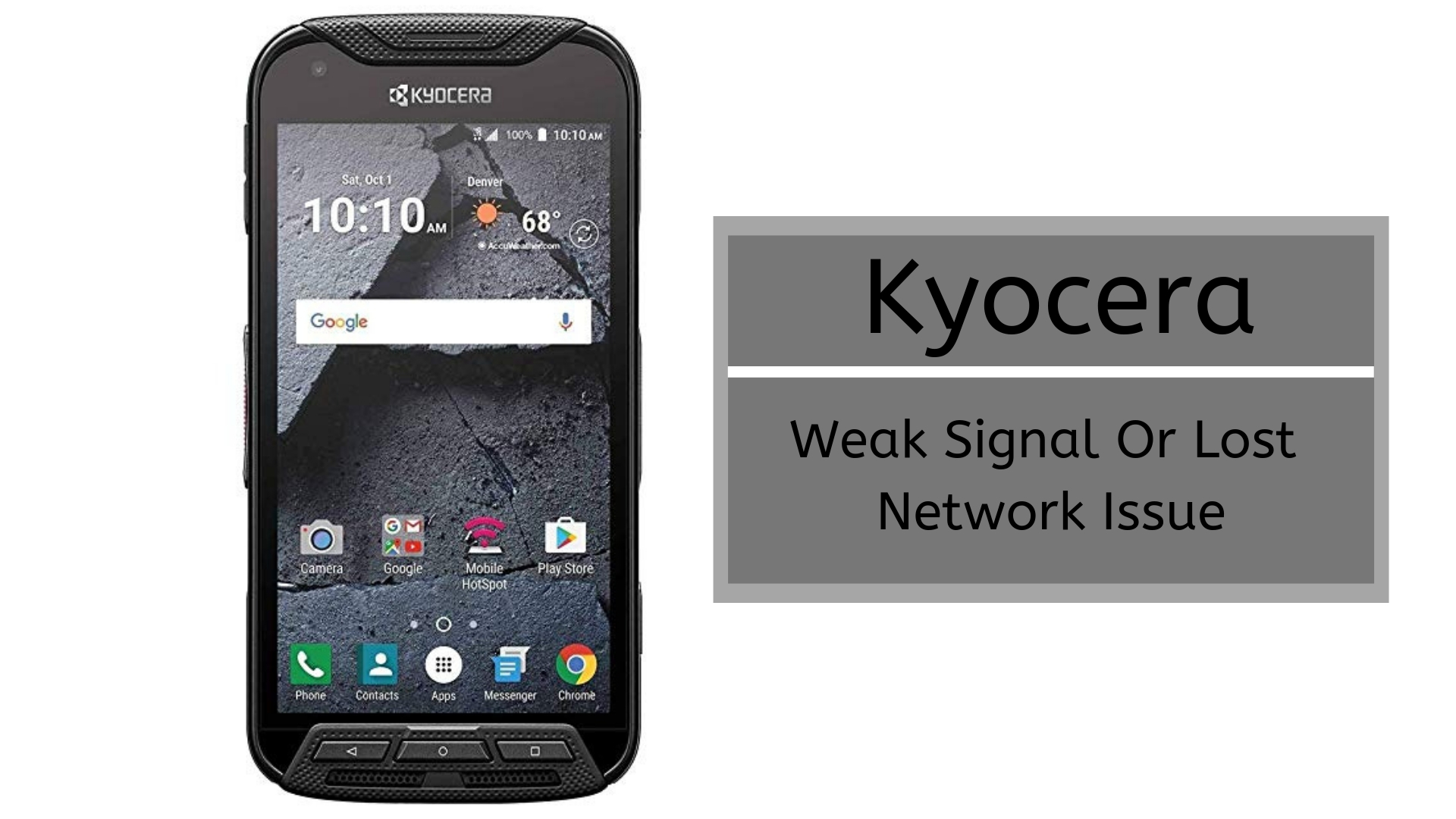 Guide To Fix Kyocera Weak Signal Or Lost Network Issue
Method 1: Look for intermittent issues
There could be a possibility that your service provider is undergoing some maintenance or any upgrades. This can be locally in your area or maybe in your city. This leads to a weak network or no network at all. Service providers mostly inform their users about any such maintenance issues beforehand. Contact your service provider for the resolution. You may need to wait until they resolve the root issues.
Method 2: Toggle Airplane/Flight mode
Airplane mode has been related to fixing a series of network issues such as when the phone is unable to find a network or lost signals due to poor coverage. It basically inhibits the phones to stay connected to any incoming or outgoing cellular network. Turn it ON, the device might recognize the networks and hence reconnect.
Method 3: Allow manual selection of networks
There are two network selection modes i.e. automatic and manual. By default, Kyocera smartphones are set to automatic selection. A terrible network reception could be the result of an issue with the carrier or service provider. In rural areas where there are fewer phone masts, you may always find particular networks better than others. If you are unable to find a network automatically, you can manually select the network that works better in your area. For this, navigate to Settings>> Mobile Networks>> Network Operators. Tap your preferred SIM and then tap on 'Select manually'.
Method 3: Toggle your SIM
This option might work if you are using a single SIM device. Instead of switching the carrier, you can also reconnect the SIM by Navigating to 'Settings >> SIM Management (SIM & network) > Click on the affected SIM >> Turn it Off. Wait for a few seconds before turning it on.
Method 4: Turn off the phone
Rebooting fixes, a lot of issues. It refreshes the memory as well as reload apps and services. This might solve problems which keep your phone from charging when the system crashes. Power OFF your device. Keep it OFF for a minute. Restart your device and check if it worked.
Method 5: Check for network inhibitors
Many times, smartphone covers cause poor signal experience by covering antennas at the back of your smartphone. Remove any covers or skins applied on your smartphones. Also, avoid covering your phone's antenna when gripping the smartphone. Similar to a phone case or your hand, mobile signals are also blocked by construction material, such as concrete, steel, as well as earth. This can also result in poor network reception. Try to come outside from deep inside buildings, basements etc. Remove network inhibitors such as a damaged antenna, the walls, windows, glass, etc.
Method 6: Check for damages in SIM card or the SIM card tray
SIM cards are prone to wear and tear. Many times these components are damaged themselves. The same problem can be with the SIM tray which holds the SIM. The tray can be purchased from third-party centers or retailers or from authorized service centers. A damaged SIM card can be replaced from the carrier.
Method 7: Swap SIM cards
Swap between SIM slots for dual SIM devices. Remove the SIM card and re-insert your SIM in another slot if you are using a single SIM. Check for signal availability by inserting the SIM in another device.
Method 8: Update the device
An update can fix bugs related to weak signal or lost network issue. Check for any software/firmware update available for your smartphone. Update pending apps can also result in bugs causing network issues. They can cause hindrance in the working of a particular app or service. Navigate to Google Play Store and update all the apps manually or by ticking 'auto-update'.
Method 9: Switch bands/frequency
One method to fix a weak signal or lost network issue in smartphones is to toggle network bands. If you have a 4G-enabled Kyocera smartphone, it supports 2G, 3G, 4G and if you have a 3G-enabled phone, it supports both 2G and 3G. Navigate to Settings >> SIM & network >> Preferred network type. Slide the band from 4G to 3G to 2G that'll give you a decent network coverage. This will obviously be not as fast as 4G but would solve your issue.
Method 10: Hard Reset
Factory reset is summoned as the mother-of-all-fixes. This fixes some issues that affected from viruses and other threats. It removes all unwanted threat causing applications and files and lets you start from the beginning. Be sure to back important user data before a hard reset as it would wipe your phone. Follow the steps below:
Turn off the phone.
Press and hold the Power key and Volume Up key simultaneously.
Hold the combination until an Android system recovery screen appears.
Use volume keys as navigator to highlight the "wipe data/factory reset" option and then use the Power button to make the selection.
Method 11: Invest in a signal booster
Signal booster is a device or software that uses your Wi-Fi connection to strengthen your mobile phone's reception and ability to make calls. If you find yourself often in areas with weak or little mobile coverage, invest in a network booster. This would cost you some money but it will surely fix signal issues and improve network reception.
All the above methods are for software related issues. If you still encounter weak signal or lost network issues, this could possibly due to hardware related issues in your smartphone. We recommend you to approach our service center and get assisted.
Report the issue professionally
If you are still googling the ways to fix Kyocera weak signal or lost network issue, this probably means that you aren't able to fix it using the troubleshooting guide we have prescribed here. You need to get the problem professionally fixed simply by visiting a nearby service center that you can Google. We hope that this troubleshooting guide would help fix the problem. Stay tuned on GetDroidTips.