Even though we have a cheap calling feature embedded within plenty of apps connected via wifi, cellular networks are still reliable and mostly use. This can throw you off the table if you want to make an urgent call and notice a weak signal or lost network issue on your device. Since there are a plethora of components involved in this networking process, we decided to tackle each of them in this Teclast weak signal or lost network issue using which, you must be able to fix the issue once and for all so read along to know more.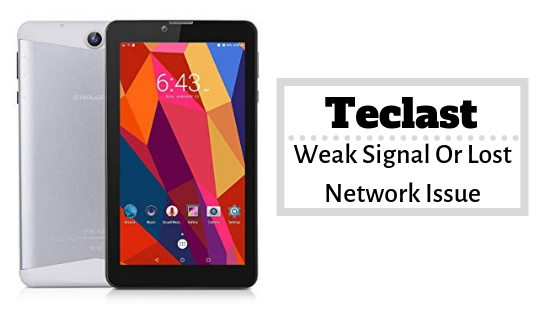 Guide To Fix Teclast Weak Signal Or Lost Network Issue
Verify if there's an intermediary issue
The very first thing that must come in your mind is whether everyone (in your vicinity) is observing the same weak signal or lost network issue. You can do so simply by calling or trying to contact your friends or relatives or acquaintance using the same telecom carrier so that you can gauge if the problem is limited to your phone or not. You can reach out to the telecom carrier via customer care or online live chat support or email, social network handles, etc to get the problem fixed.
Reboot the device
Remember that if there's any problem on your device, you can verify if it occurred due to software failure or crash or not simply by rebooting the device. As it is worthy and effective, you'll find it across all troubleshooting guides here on GetDroidTips and other websites too.
Turn on flight mode
Assuming that you are learning the methods to tackle weak signal or lost network issue, flight mode is to the rescue. Flight mode will disable any and every cellular incoming and outgoing network which is the flip side of what you want, however, this method works in many cases by forcing the systems to work properly when it is disabled. Next time when you see that one of the SIM cards doesn't have a network, care to unleash the flight mode and see if it works here or not. I tried this method and yes, it works in many situations although it is not foolproof.
Reinsert SIM card
SIM cards nothing but a plastic piece measuring two or three centimeters and have a chip built-in that works by providing network support and more. However, SIM cards are pretty delicate and constant wear and tear caused by constantly removing and inserting the card can create a problem in the network itself. It can either cause the SIM card to damage itself or the SIM slot to damage as well while it can also cause a weak signal or lost network issue. To analyze if this is the case with you, simply remove the SIM card, insert in a different SIM slot if available or use a different phone as a reference to check if there's network or not. If not, visit telecom carrier's outlet and order a new SIM card.
Remove phone case/cover
Phone case and cover are essential for smartphones nowadays as these devices are pretty delicate and a drop could cause it to get damaged if not totally stop working. However, in case if you are observing a weak signal, try removing the phone case for a minute. This is where you'll get to know the difference in the network bar in both phone case ON and OFF situation which is evidently conclusive if the phone case is acting as interference or not. On the other hand, interference caused by walls, doors, etc can be resolved simply by installing an external network booster or changing the service provider.
Change 'Preferred Network Mode'
Your smartphone has several settings that you could program to get satisfying results. One such setting is preferred network mode wherein you select if you want the system to detect only 4G networks or allow it to scan and register for lower bands too i.e. 3G and 2G. The idea behind this is that 4G is comparatively newer than 3G and 2G which means, the older networks are far more penetrative in every nook and corner of the region, city, country, etc. If 4G network for your phone is not available, the phone could search for lower bands which means you can at least call and message and browse although slightly slow. You can visit Settings >> SIM & Networks >> Preferred Network.
Alter 'Network Selection Mode'
Next settings are available of network selection mode which is either automatic or manual. By default, it will be set at automatic where the system will automatically search and register for a compatible network while a manual mode would require manually searching and registering to a selected network. This is handy if there's a weak network in your home network or you are traveling.
Purge all types of cache
Unless you are living under a rock, you would know that accumulation of cache files is not healthy for a system as it will make it sluggish and a pertinent character attracting bugs and viruses and whatnot. There are a number of reasons why we shouldn't keep cache files in our devices and this weak signal or lost network issue is one of them so you need to clear it right away.
Note that there are a number of different cache files such as storage cache which you can access and delete via Settings >> Storage >> Cache Memory. Next type of cache files are app caches that can be found via Settings >> Apps >> Downloaded >> 'Click on an app' >> 'Clear Cache' and 'Clear Data'. The third is cache partition for which, you need to retreat to the recovery mode where you can wipe cache partition and a reference to the said procedure is mentioned below.
Update all apps/firmware
You can update all the apps and the Android firmware to resolve any update-related issue which is a thing. For this, you need to open Google Play Store and navigate to 'My apps and games' section where you'll get options to either update apps individually or together or turn on 'auto-update' for the same. Meanwhile, you can visit Settings >> About Device >> Software Updates to check out for available updates.
Pull a factory reset
If nothing else works, try pulling a factory reset on your device and it must work just fine or you can report the issue to a service center. You'll need to press power + volume up button together when the device is turned Off so that you can use volume rockers to scroll and power button to select an option. You need to select 'wipe data/factory reset' and that must do the job.
Buy an external network booster
Call it scheduled place or someplace where the network is literally weak, here you can install an external network booster that will fix the problem just like that. Network booster act as a mini cell tower where it intercepts signals from a cell tower amplifies it and broadcast it through the house or office as per its limitation. This allows users to make calls, send and received messages, and more while sitting in a place where the network is not expected to be available such as a washroom, or a room within a room or so.
Visit nearby telecom carrier
This is because in case if the root of the problem is via SIM card or the telecom towers around your house or office, the telecom carrier will be able to help resolve these issues. Since there is no third-party telecom carrier center, you will have to visit a gallery or say carrier's outlet or office in your locality to get a resolution of the same.
Visit nearby smartphone service center
Little do we know that weak signal or lost network issue could be a result of hardware damage or failure as well but let's include an unsolved software issue as well. Here, the smartphone service center will be able to help fix the problem by scrutinizing it and fixing it that requires either flash, replacement, or repair, etc and that will be charged if not covered by warranty.