Hard Disk 1 Quick (303) error is a system diagnostics error that can be seen on HP PC/Laptop quite often, pushed by HP System Diagnostics. As already mentioned, this particular error can be easily found on HP computers after dropping your HP Laptop or Notebook or even hit strongly by something. Therefore, whenever affected users try to start their HP computer, it can't boot into the system successfully and redirect them to the System Diagnostics. Now, if you're also encountering the same problem then make sure to check out this troubleshooting guide to fix it.
The affected users also try running the full Primary Hard Disk Self Test but it will only show the Hard Disk Quick (303) error. It's also worth mentioning that sometimes the Windows boot logo may appear and during the initial startup sequences, you may receive the specific error which is quite irritating. Usually, HP PC/Laptop users may not receive such issues but it can happen on any Windows OS versions like Windows 7, Windows 8.1, Windows 10, etc. No need to mention, the error indicates that your Hard Disk failed to load the system files and you have to manually fix it.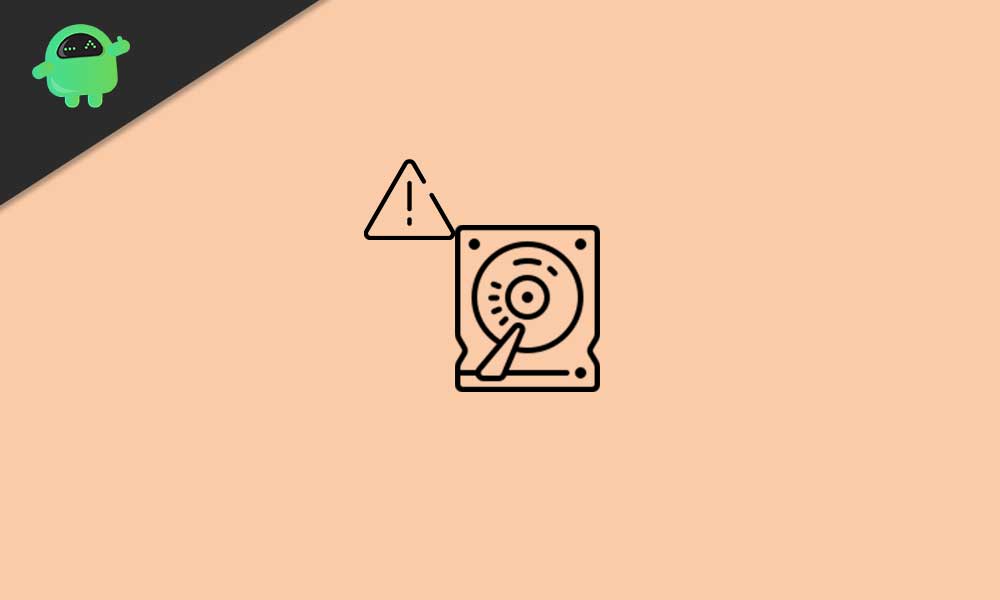 Fix: Hard Disk 1 Quick Error (303) on Windows
Now, some of the affected users may think to replace or repair the Hard Disk at a first call. But that doesn't the case always and there are a couple of ways that users can manually perform to check or repair the possible issues in their hard disk before heading over to the repairing shop. Here we've shared all the possible workarounds below that you should follow properly.
1. Run CHKDSK (Check Disk)
So, if in case, you're encountering the hard disk error quite frequently or during every system startup, then you should try performing the CHKDSK (Check Disk) scan method to identify all the bad sectors or other errors on your drive that can cause such issues. Though this method doesn't fix the possible issues, it'll notify you about the errors or bad sectors that you can fix by following online guides or even asking a professional to repair them.
If Windows is Running:
So, if your Windows system is currently running then do the following steps:
Click on the Start menu > Type cmd to search for the Command Prompt.
Right-click on the Command Prompt > Select Run as administrator.
If prompted by UAC, click on Yes to proceed.
Once the command prompt window opens, type the following command and press Enter to execute: (Make sure to replace the drive letter with your installed Windows files. By default, it should be C: drive)
CHKDSK C:
Remember that according to your C drive space or errors, the disk scanning process may take some time. Therefore, have some patience until the scanning is done.
Once completed, close the command prompt window.
Finally, restart your computer to check if the Hard Disk 1 Quick Error (303) has been fixed or not.
If Windows isn't Booting:
Make sure to insert a Windows installation media pack (bootable USB flash drive) to your Windows PC/Laptop.
Now, start your computer to boot Windows.
Select the bootable USB drive to set the booting sequence by pressing F12 in most cases. It can vary according to the motherboard brand.
Press the Delete or F2 key from the initial boot screen to get into the BIOS.
Once you successfully boot from the Windows installation media, click on Repair your computer.
A new interface will appear > Select Troubleshoot.
Here you have to select Command Prompt from the list of Advanced options.
Next, you can follow the same steps that are mentioned above to run the check disk command.
You're done.
2. Run a TestDisk Scan
If your Windows system is running properly then make sure to run a TestDisk scan too. If the check disk scan doesn't help you out, try this method once before repairing or buying the hard disk.
First of all, download the TestDisk application and install it on your PC/Laptop.

You'll need to extract the file using a Winrar or 7-zip.

Now, go to the extracted application folder, right-click on the testdisk_win.exe file and select Run as administrator.
If prompted by UAC, click on Yes to proceed.
Once the TestDisk app interface opens, select [ Create ] and press Enter to confirm.
TestDisk app will start scanning for all partitions of the drive.
Select the OS partition and press Enter again.
Now, you have to select the partition table type from the list.
Choose [Intel ] and hit Enter.
Next, select [ Analyse ] and hit Enter to scan the current partition structure or lost partitions.
Wait for the process to get completed.
Then choose Quick Search and press Enter.
Press the Y key > Once all partitions are visible, use arrow keys to navigate to the installed Windows OS partition.
Now, press the P key to list the contents of the partition.
Choose the Write key and press Enter then OK to confirm registering the partition table.
Reboot your PC/Laptop to check for the Hard Disk 1 Quick (303) error on your Windows.
3. Backup All Data
Try backing up all of your drive data completely via premium data recovery software on your Windows. It'll ensure you keep most of the required data safe even if your hard disk is damaged or not working well. There is plenty of popular and premium range of data recovery software available for the Windows platform. Just go through the online reviews and price ratio according to your budget and grab a nice deal.
4. Repair or Replace Hard Disk
If none of the methods worked for you, the chances are high enough that the hard drive failed to load. As this is a hardware issue, either you have to repair it or replace it. If in case, your computer or the hard drive is under warranty period, go to your nearest service center and ask for further assistance. Alternatively, you can contact the customer support of the respective PC/HDD manufacturer for replacement or other help.
That's it, guys. We hope you've found this guide pretty helpful. For further queries, you can comment below.