Honor which is a sub-brand of Huawei released the Honor FlyPods3 back in November 2019. And this wireless earphone's from Honor is now getting a new update which is released in batches. The update is arriving via OTA and comes with version number 1.0.0.129 and is expected to be a firmware update to improve the performance of the Honor FlyPods3 wireless earphones. For those who currently own the Honor FlyPods3 can upgrade their earphones via the Smart Life application. We would like to remind our readers that this update is currently live only for the users in China.
Now to give you some specs overview, the Honor FlyPods 3 comes with 37 mAh battery while the charging case has a battery of 420 mAh, and provides music on time up to 3.5 hours, and has Bluetooth 5.0. The device can be completely charged in about 1 hour. Some of the features of the FlyPods3 are dual active noise reduction, reducing the ambient noises.
For those who would like to know how to update their Honor FlyPods 3, you can follow the guide below:
Pre-requisites
Make sure your mobile is running Android 4.4 or above.
Charge the headset to more than 25% and charging case to more than 30%.
Keep your phone connected to a stable internet connection.
Steps to Update Honor FlyPods3
Open the Smart Life application on your phone and head over to the main interface of the app.
Make sure that the headset phone is connected, the two headsets are placed in the charging box. Moreover, the charging box should be in the open state.
Select your connected Honor FlyPods3 to enter the main interface of the headset device.
Now tap on Firmware Update to enter the upgrade interface.
If there is a new version available, then click download and start the upgrade.
After the upgrade is complete, you need to put the earphones in the box and close the box for about 10 minutes to allow the charging case automatically complete the upgrade.
That's it!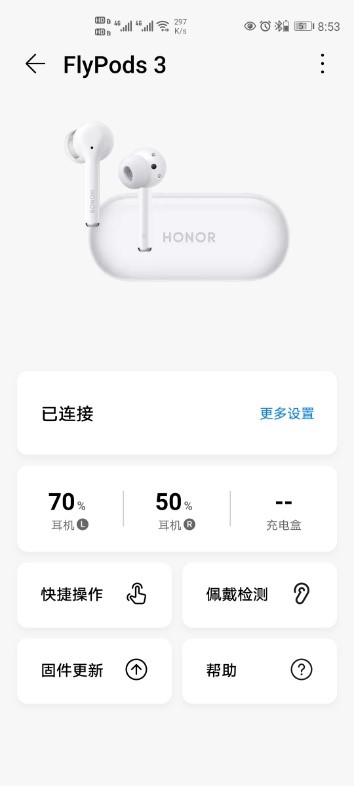 So, there you have it from my side in this post. As already mentioned the update is live only for the units sold in China via the Smart Life app. You can follow the guide above to upgrade your FlyPods3 with the latest firmware. Until the next post…Cheers!