We cannot deny the fact that we're spending most of our time on our mobile and using it to make calls, receive and send emails, stay in touch with friends, shop online, listen to music, watch movies, surf the web, play games and etc. One of the most prevalent issues we often face is the battery draining problem. Even with a boastful spec sheet of smartphones, large capacity batteries, and energy-efficient processors, we often find the battery life to be short even to last for a complete day without juicing up our device. This can be a headache as we rely so much on our smartphone. Such situations force users to often carry a heavy, space-occupying power bank or approach service centers seeking a battery replacement without knowing that they can try and fix battery draining problems themselves. This article would allow you to identify issues and will provide some easy troubleshooting guide that would help you fix Symphony battery draining problems.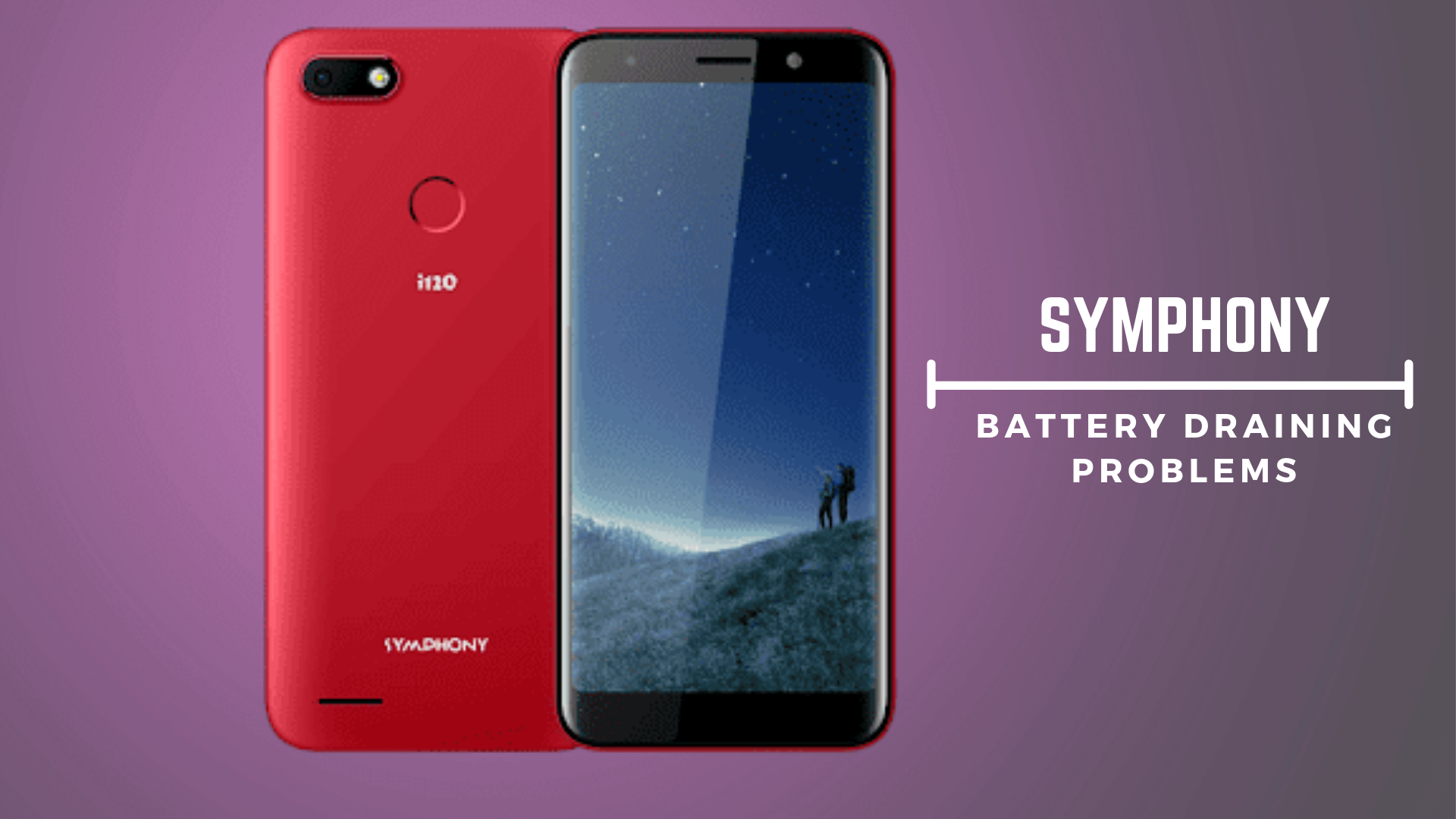 How Fix Symphony Battery Draining Problems?
Method 1: Reboot your device
Rebooting of the device has a record of resolving most of the issues. So, before trying any complex methods, go for your device reboot. This would automatically close any faulty application and give a fresh start to both your smartphone and its battery. This should especially be tried when you are using your phone for a long duration leading to higher battery consumption by applications. This would automatically close any faulty application and give a fresh start to both your smartphone and its battery.
Method 2: Isolate apps draining the battery
Navigate to Settings > Device > Battery > Power > Battery Use. This would provide a breakdown of what percentage of your battery has been used by different apps and system functions for the day, and you can even for a week. Look at the list of battery consumption and identify the apps that are eating up too much power. Uninstall these if you don't use them often. Use third-party applications if you want an in-depth analysis of Android's battery.
Method 3: Closing Unused Background Apps
The phone keeps the app running when you leave to check different one leading to the useless running of applications in the background. Location access, notification access etc increase battery usage which is quite needless. The "Autorun" and "Background Service" permissions can be chosen as per priority to avoid huge battery drains. Alternatively, you can flush all of your running apps with the "Close All" button and just start again with the apps you want open.
Method 4: Disable battery hungry applications
There may be some applications that are really needed and cannot be uninstalled. But you can always disable those applications when not needed. If you find that a preinstalled application is battery hungry, you can always disable the app through the settings. You can always find an alternative application to perform the same task that uses a lesser battery.
Method 5: Change display settings
Device display is the biggest battery consumer and the biggest source of battery drain on an Android phone, so managing it is crucial to its longevity. There are numerous settings related to display that largely affect battery usage. You should alter these settings right away to avoid battery draining problems.
Switch off auto-brightness
Though automatic brightness is usually sophisticated enough to produce a comfortable viewing setting for each individual, it is not capable of selecting the optimal setting. Therefore, you should set the brightness level manually as per your comfortability and surroundings. Put the brightness to moderate when indoors like at home or office and high when outdoors
Turn OFF the 'Wake for notification' feature
Notifications are handy in getting real-time updates of what's going on in your apps is handy for things like email or social networks. But if you encounter battery draining problems, you can prevent applications for waking up the screen when they show up any notifications. Head to Settings > Display and select to turn off Ambient Display (which means no app notifications will cause the screen to wake).
Use still images as wallpapers
Nifty animated or live wallpapers sacrifice a lot of battery just to make your screen look stylish. Tone down and prevent those live wallpapers and prefer using still counterpart instead
Screen timeout refers to the length of time your phone remains idle before its display automatically goes dark. Navigate to Settings > Display to adjust Screen timeout to a much lesser duration rather than a long interval.
Configure Always on Display
Always ON is a fantastic feature giving information at a glance. But it does sacrifice battery to do this. Hop into your phone's Settings and then Lock screen and tap Always On Display to change its settings. You can also schedule the Always On Display feature if you really need it. You can schedule it during the duration when you know you'll need Always On Display — for example, only during your work hours when the phone's going to be in your view. You can also limit brightness setting for Always On Display.
Method 6: Turn Off Wireless Connections
These include Bluetooth, GPS, NFC, Wi-Fi, personal hotspot and all your other wireless connections. Wi-Fi and Bluetooth, the most often used connectivity tools too use a lot of battery to seek new connections and attempt to make an active connection. GPS and NFC are also too battery hungry tools. Some applications that have location access or the ones which use NFC often tend to turn these tools automatically which lead to battery draining problems if not turned OFF. Identify useless running wireless connections and turn them OFF.
Method 7: Toggle Power Saving mode
Power saving or Battery saving mode can be a big saviour if you are experiencing battery draining problems or facing a low battery state. Power saving mode is present by default on every device that forcibly put those apps into an idle state that shouldn't be awake and reduces background animations, turns synchronization OFF, adjusts display settings and location services. Overall it automatically alters your device settings to get the most out of your battery. Some devices also give an option called 'Ultra power saving mode'. This only allows you to place and receive calls and read messages. This comes handy if you are running very low on battery but cannot charge up your device due to some circumstances. But you should note that this is done by sacrificing the performance of your device.
Method 8: Update apps and firmware
As suggested in the above methods, there may be apps can have a dire result on the phone's battery performance. If you find that the application is not a faulty one, it may be quite possible that it has accumulated bugs over time leading to problem generation. Check if all such applications are updated. Update all pending apps by navigating to Google Play Store >> My apps and games >> Update all. You can also update a particular application by searching for it on the Google Play Store and tap Update.
Device software and firmware should also be up to date. Software and OS developers often send updates to resolve issues such as those causing battery draining problems. Check for any software update available for your smartphone.
Method 9: Clear cache files
Cache data helps to access of applications to be faster. But too much accumulated or unemptied cache files can cause several serious issues. Thus, the cache should be cleared from time to time to avoid any software or hardware issues. Navigate to Settings >> Apps >> Downloaded. Tap on each app that you have downloaded and press 'Clear Cache'. You also need to clear the storage cache which is a different section placed in the Settings >> Storage >> Cache Memory.
Step 10: Perform a hard reset
Hard reset helps your device to get a fresh start by removing all applications and making all settings to default. Get a backup of all the data. Follow the steps to perform a hard reset:
Turn off the phone.

Press and hold the Volume Up key and Power key simultaneously.
Release the keys when the Android system recovery screen appears.
Use volume keys as navigator to highlight the "wipe data/factory reset" option and then use the Power button to make the selection.
Step 11: Approach the nearest service center
Unfortunately, if you cannot fix battery draining problems in your smartphones yourself, the only left solution is to approach the service center of your smartphone and ask for a battery replacement. You'll get a free battery replacement in case of a faulty battery if your device is in warranty.