When you pick your phone to call someone or to open an app or play games or just to check notifications, the battery is responsible to provide the power to the components that make things work on a smartphone. If you don't know how a battery works, it shifts electrons from one place to another to produce electricity which is consumed by the components like the SoC and others to complete the given task. But have you suffered from battery draining problems? It is a common sight in Android smartphones because of which, GetDroidTips decided to tackle the issue specifically for Gome users although other smartphone users can refer the guide too. Here's everything you need to know on how to fix Gome battery draining problems.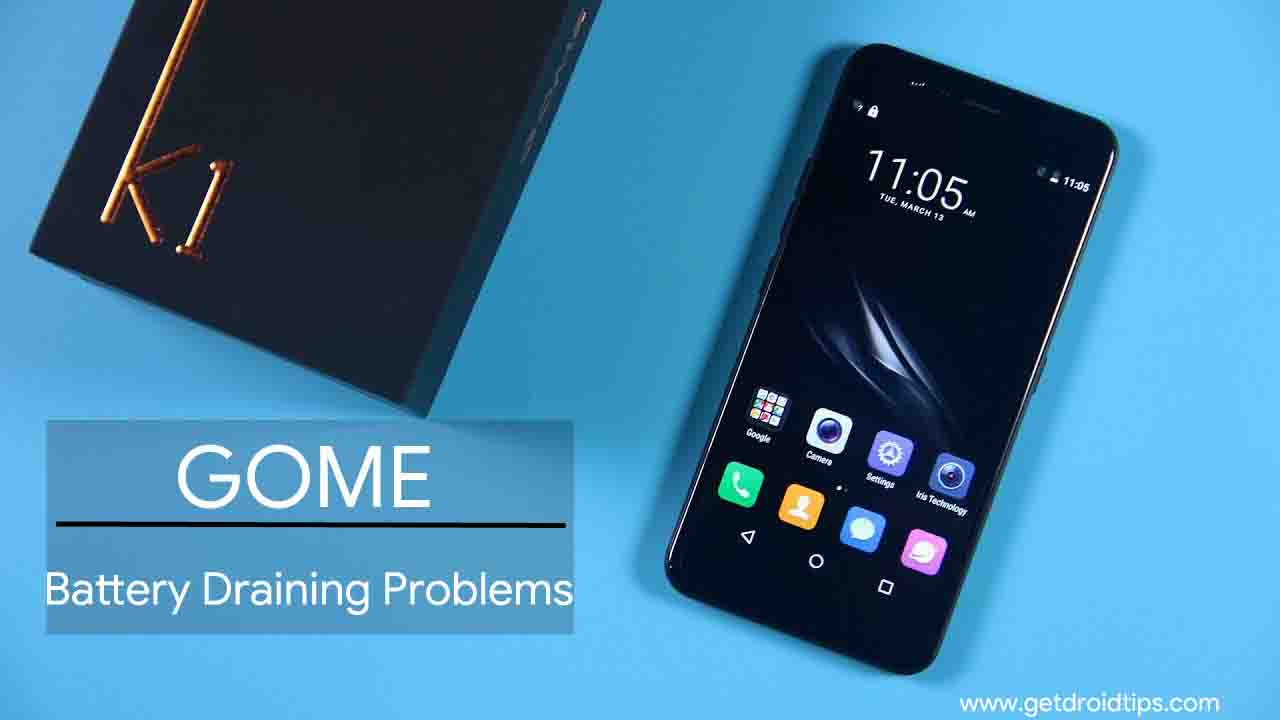 How Fix Gome Battery Draining Problems?
Here, we will be going category which so that everything under apps that you should do is understandable.
Alter the features/settings
Smartphones have advanced over the years. Now, we can control each and every aspect of a smartphone using its settings and similarly, we can also alter how the phone uses the battery and how you can minimize battery draining problems which is a major concern nowadays.
Firstly, you need to adjust the brightness of the screen as per requirement. It must be either set on automatic or you can manually adjust the brightness i.e. bright or high during the day when you are outside and the sunlight is outshadowing the brightness of the phone but moderate to low during indoors even at daytime. Further, you can bring down the brightness to low during the night and yes, there are plenty of apps available or if you have filters and dimmers, you can use it to bring down the brightness further.
Next, we have the location/GPS/wifi/Bluetooth/NFC etc which are usually available in the notification tray. You must disable it when not in use and only enable when in use since these are some of the power-hungry features on a smartphone. I would recommend user to bring down the volume of media or ring volume during the night when not required. Also, you can use the Scheduled On/Off feature available in Settings which literally switches off the phone at a pre-set time and turns it on at the time defined. You can also keep shorter ringtones to prevent over usage.
Everything you need to know about apps
Applications or apps are blessing if you say so since these programs help complete any and every task on a click no matter if it's calculating a sum or calling someone in the United States or other country or making a million dollar deal or talking to your family, etc. But these apps are known to be notorious in many ways and therefore, we have highlighted the various reasons how apps could consume battery and how to prevent it.
First of all, many users wouldn't close an app after use when indeed they must do it because the app is still consuming valuable resources that could cause resource crunch if there are too many apps active both in the foreground and in the background. Thus, you must stop all the apps that you aren't using simply by swiping it across on the 'recent apps' list. But again, there are few apps that might never shut down completely even after you have specifically shut it down from the recent apps list, for this, you can proceed to Settings >> Apps >> Running and force stop those apps.
Next is that if you have too many apps installed on your phone, check for apps that you barely use and those that you never use. It is time to clear these apps since apps consume battery even when inactive and therefore, you must uninstall it when not required. On the other hand, there are apps that you don't use or barely use but can't uninstall as it could be important or it could be a pre-installed app, for this, you can actually disable these apps by diving into the Settings >> Apps >> All and tap on Disable button on the particular app and you have done it.
Finally, you must check for power-hungry apps which are those app that either is graphic-intensively or have been bugged or have developed errors before of which, these apps are consuming more power than usual. For this, you can check out Settings >> Battery where you'll get a complete look on which app is consuming how much battery power and thus, act accordingly.
Updating the system is imperative
Although some people would contradict with it but updating the system is crucial before it lets you get the most of the phone without worrying about the bugs and errors. Developers try to update their apps several times a year so that they could include a slew of features and changes in the user interface and also patching the bugs and errors that were discovered with the last version of the app. This is why updating all the apps installed on your smartphone is vital. The same goes for the firmware which is the bane of all hardware and software components where they aligned together and interact with each other to make things work.
Therefore, you must update the firmware as and when the updates are available. You can check out if the updates are available or not simply by going to Settings >> About Device >> Software Updates >> Check for updates. If there is no update available for a long time, you can either chose to roll back to migrate to a custom ROM to get frequent updates.
Use power saving mode
If you believe that the power consumption is not much than how much faster the battery is draining, you must use power saving mode which comes pre-installed on all smartphones nowadays but in case if your phone doesn't have one, you can always install a power saver app from the Google Play Store to do the same and save a chunk of battery life using various methods specified within the app.
Get rid of temporary cache files
Deleting cache files is one of the most recommended methods to overcome any problem on a smartphone including the Gome battery draining problems. It is because cache files are susceptible to get corrupted easily and therefore, you must delete it. There are basically three ways to delete it. The first is to open Settings on your phone and proceed to Apps. Here, you can navigate to the Downloaded section on tap on a particular app. Here you must click on 'Clear Cache' and 'Clear Data' to get rid of the same.
The second method revolves around Settings app where you can go to Storage and check out Cache Memory and delete it, as simple as it looks. Further, the third method revolves around recovery mode that you can access by pressing power button plus volume up button on a switched off phone for few seconds and leave the keys when an Android logo appears on the screen. This is where you need to select 'wipe cache partition' to delete it. You'll be prompt to confirm the action and there, you need to select 'yes' to do the same.
Scrutinize the battery and the charger
What if the battery is faulty or damage or the charger that you are using is incompatible? These are few possibilities that could happen and therefore, you must steer away from it by verifying it one by one. To check if the battery is faulty or damaged, you can remove it to check if the battery has swollen or not but only if the battery is removable. If not, you'll have to report to a service center and get it scrutinized. Also, you would have to see if the battery is charging properly or not because in many instances, the battery could be charging slowly while the consuming might be higher thus causing battery drain. Further, you must also check if the charger that you are using is compatible or not since incompatible chargers are known to cause problems during charging the phone.
Advanced Method: Phone Reset
This is the final resort you can do if in case the problem is because of errors or bugs in the firmware or any other software. You can perform a phone reset which is simple as you can follow the given procedure to do it.
Firstly, turn off the phone.
You need to tap and hold power button + volume up button together for 10 to 15 seconds until the phone shows an Android logo on the screen or it vibrates.
When it enters into the recovery mode, you can spot a menu where you can use volume rockers to toggle across and power button to select or 'OK' an option.
To reset the phone, you need to tap on 'wipe data/factory reset' and finally, select the option called 'yes – delete all user data' listed on the resultant page to reset the phone.
The last step is to reboot the phone and reconfigure it as a newly bought smartphones.
Get help!
Still struggling to find a way out, why don't you report the issue to an authorized service center and get it replaced and since this entire guide didn't help you, it becomes a compulsion now to visit a technician so that the battery draining problems can be fixed.