One of the most annoying issues on your iPhone XS Max is undoubtedly no Wi-Fi internet connection. This particular issue has plagued almost all the iPhones and could be either temporary or long-lasting disallowing users to access Wi-Fi which is always faster and cheaper than a mobile data plan. There could be various underlying issues resulting in no Wi-Fi internet connection such as the problem could be due to network outages, downtime, etc. If it's due to any software-related issues, it could be because of software crash, bad actors like bad updates, or it could be related to hardware such as Wi-Fi antenna or it could be due to faulty or damaged network equipment like router or modem. Resolving any problem caused due to network or software-related issues is easier than resolving a problem caused due to a hardware issue and here's everything you need to know on how to fix Apple iPhone XS Max that has no Wi-Fi internet connection.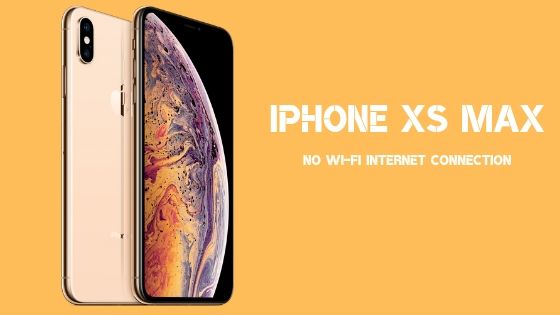 How to fix an Apple iPhone XS Max that has no Wi-Fi internet connection?
Method #1: Verify if there's an outage or downtime at ISP
If there's no internet access upon connecting to a Wi-Fi, cross verify the same with a different phone by connecting to the same network. This will allow you to check if either the problem is with your phone (if the internet is accessible on that test phone) or if the problem is on ISP's end. If yes, you can simply call your internet service provider to get the problem diagnosed. They will be able to help with information regarding network outages as well. You can ask them to send a technician for further assessment.
Method #2: Restart your iPhone XS Max
How come restarting the phone will help fix the no Wi-Fi internet connection issue, you may ask? The answer is simple. Many times, the problem is as small as a technical glitch or snag or a bug occurred before or during you were using Wi-Fi on your phone and could have triggered due to any event. This can render Wi-Fi difficult to use since it either it could cut you off from the network or it will keep dropping off the signal or the internet connection will be severely hit in terms of speed and performance. Thus, this is where restarting the phone comes into play and here's how you can refresh the device.
First of all, press the Side button and either of the Volume buttons simultaneously for a few seconds.
This will trigger a slider on the screen with the command 'Slide to Power Off' and that's what you need to drag to the right to turn off the phone.
Finally, press the Side button and hold it to restart the iPhone and that's it.
Method #3: Restart your router/modem
Why should I restart the router/modem, you might ask? The answer lies in the fact that these network equipment broadcast signals to a specific area while allowing devices to connect and use Wi-Fi internet connection. It is possible that the firmware of the router has crashed and that will need a reboot. Similarly, if there's any cache or bug, it can prevent or pose as a problem towards accessing the internet over the Wi-Fi network as well. This is why I usually recommended performing a full power cycle on the router itself. Simply press the power button behind the router to turn it off, turn off the power to the AC Adapter and wait for a few seconds before restarting both the switches. Now, go to the website of your router manufacturer and download the latest firmware update if available and feed it into the admin panel of the router which you can access via IP address such as 192.168.0.0 or 192.168.0.1 or 192.168.1.0 or 192.168.1.1 and so on. You need to verify what is the IP address of your router which is dependent on the manufacturer.
Method #4: Refresh Wi-Fi & Airplane Mode
The thing is, refresh the Wi-Fi does help in many cases since it kinds of jumpstarts the feature if it is not working for the first time. Drag the Control Center and tap on Wi-Fi to turn it ON and toggle it several times before verifying if it has worked or not. You can also go through the Settings >> Wi-Fi to toggle it. If that doesn't work out, try toggling airplane mode instead, which is a good stress buster for any minor glitch that might have occurred on a smartphone and it must be able to bring your iPhone from the valley of the no Wi-Fi. To toggle Airplane or Flight mode, you can simply drag the Control Center and tap on the icon a few times to jumpstart the Wi-Fi.
Method #5: Is there any obstacles in-between
If you are failing to register to a Wi-Fi network or if you can easily connect to it when near the router or the modem but as you move away, it becomes difficult to connect, check if the obstacles are causing the issue or not. Obstacles such as walls, doors, etc can halve the signal strength and that is what you must avoid. If the router's position is not changeable, you can at least change the direction of the antennas pointing. You can also install Wi-Fi range extender device that must be able to provide an amplified signal from the router and must spread across the entire house or office efficiently.
Method #6: Forget Wi-Fi connection & reconnect
If you are unable to connect to a Wi-Fi network, it is possible that either the network in question or altogether that are saved on your device are corrupted. It can introduce a string of problems such as unstable internet or Wi-Fi signal or no Wi-Fi internet connection at all. This is why you need to get rid of all the networks including the one you are trying to connect and check if it makes any difference or not.
Step 01: Go to the Home screen and tap on the Settings app.
Step 02: Tap on Wi-Fi and check out the list of all the saved networks.
Step 03: To delete a network, you need to tap on the "i" icon in front of that network and select 'Forget This Network' and confirm the same to go through with it.
Step 04: Repeat the same process over and over again for all the saved networks.
Step 05: Search for available Wi-Fi network, tap on the one you want to connect and input the password and check if it works or not.
Method #7: Update the carrier settings
Network-related issues can be resolved via a quick update to the carrier settings that will ensure that the device's network security and other functionalities are strengthened. Here's how to go about the update on your iPhone XS Max.
First of all, you need to go to the Home screen and go to Settings.
Select 'General >> About' and see if there are any carrier updates available or not.
If yes, proceed with the same and if not, try following other steps mentioned here.
Method #8: Reset network settings on your device
Before you can take any extreme step like the next method, you need to reset all network settings. It is possible that a bug or say a technical glitch has caused to network configuration and settings to register incorrect values resulting in no Wi-Fi internet connection. Although it doesn't happen just like that since we are here to fix problems for all the iPhone XS Max that might be facing issues due to varied reasons, here's how you can reset network systems to escape the clutches of no Wi-Fi internet connection.
For this method, you are required to go through "Settings >> General >> Reset" and finally tap on 'Reset network settings'.
The system could prompt you to enter credentials for authentication before proceeding further,
Once done, check if it has made any changes in the working of Wi-Fi or not.
Method #9: Erase all the data & settings
Erasing all the data and settings from your iPhone XS Max will effectively curb all the bugs that are irritating any of the functionality of the device or any virus which is not that easy to get rid of. It can also fix complex system errors as well and that is why we call it an ultimate solution as well. Before proceeding further, you need to take the backup of all the personal data including videos, photos, audio files, contacts, etc since once you go through this procedure, everything will be washed off irreversibly.
You need to visit 'Settings >> General >> Reset'.
Here, an option 'Erase all content and settings' will be available that you need to select.
You will be asked to enter the password or passcode for authentication and once filled, it will automatically finish this procedure prompting users to perform a reboot and thus, it is over.
If you aren't able to fix the "no Wi-Fi internet connection" issue on your iPhone XS Max, it is quite possible that the problem is induced due to a hardware issue. And that is where an authorized service center comes into play. Note that you can always visit a nearby third-party service center which is cheap, however, I would recommend visiting an authorized service center or Apple Care which is although expensive but it is always a better option to choose.