The solution to lagging and freezing of the screen and the phone as a whole is a frequently requested on GetDroidTips and unfortunately, even the most appealing and powerful iPhone XS Max is not spared here. Usually, lagging and freezing issue on iPhones is caused due to memory issues, cache memory, apps that have turned rogue or if there are software bugs and finally, due to malware and viruses infestation among other possible reasons. In some cases, wear and tear due to constant rough use or physical or liquid damage could cause the concerned components of the system as a whole to get fragged and respond abnormally when putting under pressure such as when streaming live videos or while playing intensive graphics games like Fortnite or PUBG, etc. Although this definition given here contains most of the reasons why your iPhone XS Max will lag or freeze once or more times, it is not usually the only reasons why it could happen and thus, there could be a series of underlying issues that I haven't mentioned causing the issue on your device.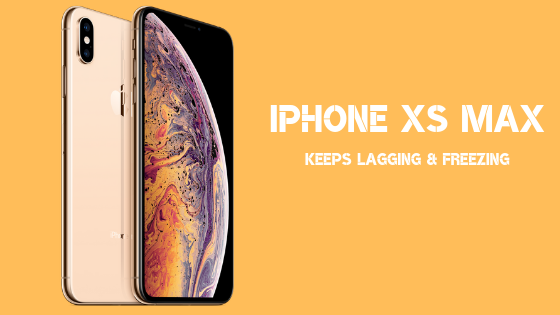 The common methodology used to fix this issue on Apple iPhone XS Max is to find workarounds or use the various settings and functionality of the device to turn around the issue and kick it off. Although you could end up finding millions of troubleshooting guide on how to fix iPhone XS Max that suddenly keeps lagging and freezing, I have prescribed a detailed troubleshooting guide on how to fix the issue using the various methods available at your disposal. This is a detailed guide and thus, must be at your disposal for almost any reason your phone is facing the said problems. There is also a guide on where you can visit to get the phone diagnosed or fixed if the problem is indeed on the hardware end.
How to fix an Apple iPhone XS Max that suddenly keeps lagging and freezing?
Method #1: Clear all the background apps
A lot of people wouldn't give a second to think about apps that they use and minimize without closing or exiting from it. These apps are called background apps and can be easily relaunched were left simply by viewing the recent apps and tapping on it. However, these apps might misbehave or at least one of the app(s) could misbehave or become abnormal or hostile when there are just too many apps in the background and other potential issues. Thus, it is practically recommended to clear all the background apps that you can do so simply by repeating the said step-by-step method.
Tap on the bottom center of the screen (when on the home screen) and drag it to the center of the screen.
This will trigger the device to showcase recent apps via card previews.
You can simply drag and flip each app upwards to get rid of it.
Repeat the same procedure for each app and there you have it, the process is over.
Verify if it did make any changes to the lagging and freezing situation on your iPhone XS Max.
Method #2: Clear app cache files
Cache files make sure that you can access an app or service immediately or at least reduce the overheads. However, these files tend to end up getting corrupted or are vulnerable to bugs and therefore, deleting it is the best thing you could do for now. This is a redundant procedure as you would have to do for each app individually.
Firstly, go to Settings >> General >> Storage & iCloud Usage.
Next, tap on 'Storage >> Manage Storage'.
A list of all the apps will appear where you click on an app, select 'Documents & Data'.
If the cache files are more than 500MB, try uninstalling and reinstalling the app and there it is done.
Method #3: Free up memory & storage
It is not a secret that internal memory on iPhones is static and not changeable or expandable. However, users can complement or substitute iCloud or other cloud-based services to store data, however, internal storage is faster to retrieve the data from and accessible offline. However, lack of internal storage can trigger the device to go hostile and dial down the overall performance of any iPhone. If the phone constantly lags and the screen freezes for a few seconds or more but rectifies itself or not, the reason could be lack of storage. I would recommend users to? free up some internal storage by deleting some files or redirecting it to the cloud, therefore, treating the issues related to it.
Method #4: Perform a soft reboot on your iPhone XS Max
If you don't want to act redundantly by following the previous method, try this method for a change. Although this method involves closing all the operations on your phone without saving any unsaved data just like that, it can remove your phone out of the constant lagging using the soft reboot process. On the other hand, frozen screen or the phone as a whole can be treated using a forced reboot which is an easy process too and I have mentioned it below.
To perform a soft reboot, simply press & hold on Side or Power button and either of the Volume buttons.
Keep the buttons pressed until a slider comes alive on the screen that says 'Slide to Power Off'.
Drag the slider to the right and the phone will turn off immediately.
You can wait for a few seconds or a minute or two before long-pressing the Power button to reboot the phone.
To perform a forced reboot, you can simply press the Volume UP button once and quickly press the Volume DOWN button once.
Now quickly press and long hold Side/Power button until an Apple logo comes alive on the display.
This is where you release the keys and let the phone reboot itself and that's all.
Method #5: Update all the apps installed
Next order of business to take care of is to get all the apps installed or otherwise updated to the latest available version. You can check out if the apps have any updates or not by navigating to the App Store >> App Updates. You can set up 'Auto-update' within Settings >> iTunes & App Store >> Updates so that you don't have to take care of the updates anymore. Updating the apps ensures that the system is protected against unwanted logins and malware and other intrusions thereby proofing the system.
Method #6: Upgrade to the latest iOS firmware
Similarly how apps that are updated promise protection against intrusions although there is no 100% assurance, updating the firmware takes security a step further. The firmware is the base or foundation of a smartphone where the software and hardware parties coincide and interact. This makes it imperative to take close attention towards updating the firmware without any failure. You can do so by walking into the Settings >> General >> Software Update to find out if there's any firmware update file available and if yes, download and install it or else, wait until an update is available which in the case of iOS is not more than a month or so.
Method #7: Reset all settings on your device
Resetting all the settings on your phone is analogous to how you would refresh a PC without deleting any user data. This will effectively restore all the settings including any invalid configurations that might have triggered the device to go overboard with the lagging and freezing issue at the first place. To do it, you need to step into the Settings app and proceed to General → Reset → Reset All Settings and that's it. You will be asked to enter any passcode to authenticate but once that is entered, all the settings will be restored and hopefully, all your problems will vanish with it.
Method #8: Perform a Factory Reset
This is an ultimate step so you need to think it through before proceeding with it. You are performing a factory reset which means all the data will be wiped out of the system and thereby the problem regarding the lagging and freezing is bound to vanish itself as well. But ensure that you have a backup before going through and here's how you can restore the iPhone XS Max to its original factory settings.
You need to dive into the Settings >> General >> Reset.
Here, you need to click on 'Erase all user data and settings' after which, the system will prompt you to authenticate the step which you can do by entering the passcode.
After providing with the credentials, let the system take care of the reset.
It will prompt you to reboot it once so go through it, configure the device and it is done.
Method #9: The permanent solution!
Back up a bit and visit a nearby service center preferably an authorized one because you would get trusted service while retaining the warranty on the device. On the other hand, a third-party service center is inexpensive, however, it voids the warranty on the device for sure.