Gmail has a lot of features of which, one is saving contacts stored on any smartphones that can be accessed remotely using any PC or Mac or even a smartphone. It usually plays a vital role when you are setting up a device for the first time or transferring everything to a new or used iPhone XS Max or any other iPhone or smartphones (Android & others). Syncing the Gmail account with contacts usually allows skipping the procedure to manually save contacts on a different phone while relieving users of any misplaced contacts while manually moving the contacts or using the SIM cards as carriers to transfer contacts from one iPhone to another.
The process is practically simplified as you just need to sync the current device with your Gmail account and ensure 'Contacts' are backed up too. Next thing, remove the account from one iPhone (which isn't necessary) and log in your Gmail account on a different iPhone and sync it. Once the process is done, the contacts stored on your Gmail account will be automatically pasted on the new (or old) device. However, it would have been great if any no issues occur because there are several instances were iPhone XS Max users have encountered issues where Gmail contacts won't sync on their iPhone.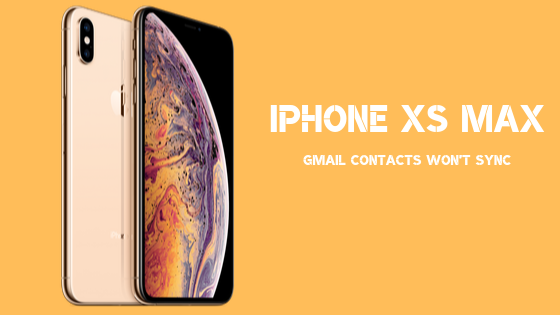 How to fix Gmail contacts that won't sync on Apple iPhone XS Max?
Step 01: A stable internet connection is required
This is like the basic requirement since you already know that you are syncing your device to the Gmail account which is basically storing every contact on Google's server and that would need internet access. Have a look on Gmail and if all the contacts are available online or not. If the answer is no, either the last sync you did was partially successful or this could be the last sync after which, you added a lot more contacts that would need re-syncing to store on the cloud. Note that this process is automatic if the settings are such or else, users will have to do it manually.
Talking about a stable internet connection, try using mobile data or Wi-Fi connection or swap from one to another service if the other is not working properly. To check if the Mobile Data or Wi-Fi network you are connected to is working at all or not, simply open Safari and load any webpage and you'll know the status right there. On the other hand, you must make sure that there are no intermittent issues with either of the service provider you are subscribed to i.e. your carrier (if its mobile data) or the ISP (if it's Wi-Fi). You can ask the concerned authorities for resolution if it is on their end or follow the next method to fix the issue.
Step 02: Toggle the Airplane Mode
At first, toggle OFF and turn back ON whichever service you are using to access the internet (Wi-Fi or Mobile Data). If that doesn't work, this step should work in your favor.
Airplane Mode or Flight Mode as you would know on your iPhone XS Max deactivates all types of networks temporarily. But the thing is, it has the tendency to resolve random glitches and issues related to network as well, which means both mobile data provider by your telecom carrier and Wi-Fi (both wired and wireless) provided by ISP. It works as simple as it sounds. You just need to visit the Control Center or Settings and look for 'Airplane Mode' or a logo that everything will be familiar with. Once you spot it, tap on it to engage it which will disconnect all cellular and Wi-Fi networks temporarily. Note that you can still use Wi-Fi when in Airplane Mode.
Next, wait for a few seconds before disconnecting Airplane Mode that must resolve the issue right there. If not, try it several times to see whether there's any effectivity on your device or not or you can just proceed with the next step. Since contacts not syncing with Gmail account isn't that of a massive issue, I don't think there must be much fuss about it anyways.
Step 03: Sync it up as default email account
One way to sync all Contacts on your iPhone XS Max from the Gmail account or vice versa is to make it your default email account on the phone. Here's how you can do it.
Launch the Settings app and proceed towards 'Accounts & Passwords'.
Now, tap on 'Add Account' where you need to enter login credentials with the Gmail account.
Next up is to sync up with Contacts under Gmail and now click on 'Save' to confirm.
This confirms that you have added a new account on your iPhone XS Max, however, you need to make it default to grab if the Contacts syncing isn't working just by adding it so follow along.
Go to Settings application and select 'Contacts'.
Here, you need to tap on 'Default Accounts' and from amidst the list of various accounts (if any), select 'Gmail' for that matter.
Step 04: Manage Contacts with your iPhone XS Max
First of all, you have to manually set up and sync the contacts saved on your device to the Gmail so that you can remote access it when needed. Now, if you haven't set it already, here's how you can do it about.
First of all, go to the Home screen and tap on the Settings app.
Proceed to Accounts & Passwords and select the Gmail account you have registered there.
In case there are multiple Gmail accounts registered on your device, select the one you want to sync with the contacts.
Amidst the list of data that can be sync, tap and turn on Contacts and the phone will automatically start taking the backup as per its programmed instructions.
Step 05: Restart the phone
Still finding it difficult to sync all the contacts to your Gmail account using iPhone XS Max or any other iPhone for that matter, check out if restarting the phone works or not. The thing is, it is alright from a piece of software to face random issues and glitches when worked upon and that is what causes singular or even multiple related functionalities to go haywire.
This is where a powerful "reboot" comes into play as it shuts down all the apps and services, functionalities and more. Once the system is up and running after the reboot, you are practically using a phone which didn't have any temporary software glitch to start with. This method is useful in a plethora of issues including the Gmail contacts that won't sync issue so try it out and proceed with the next if it doesn't work.
Step 06: Reset all settings
There is a probability that you either manually tweaked some settings on the device itself tweaked something preventing it from syncing contacts with Gmail. This is where resetting all the settings stored on your device comes into play as it restores it back to its original factory-made settings which although might not be just the top-notch settings you are used to but it is still a major bone-breaking method for any settings-related issues.
To reset the settings stored on your device, go to Settings.
Proceed to General >> Reset.
Next is to tap on 'Reset All Settings' where you will have to enter the login credentials to confirm the method.
Finally, select 'Reset All Settings' and it will conclude with the said method.
Step 07: Manually sync contacts via iCloud or iTunes
You were trying to automatically sync contacts with Gmail as of now but that's not working as you can see with reference to the given methods. You can also opt to manually sync the contacts with your Gmail account via iCloud or iTunes, which is a handy way to make sure that your data is backed up from time to time without any glitch.
For this to work, connect the phone to the computer or Mac and open iTunes on it while the phone is still connected via its connector.
Next up, select 'Sync Contacts with Google Contacts' that you must see on the main screen where you need to tap on the 'info' tab.
Enter the Gmail credentials or select the Gmail account if shown and that should resolve the Gamil contacts that won't sync issue.
Step 08: Use "Alternatives"
The best thing about having an iPhone XS Max or say any iPhone is that there are plenty of apps available on the App Store and iTunes that would enable do any task may it be transferring the data or contacts in this context. If you aren't able to pair up your Gmail account with the contacts stored on your phone, try copying or moving them using any app like 'AnyTrans for iOS' or 'EasyUS MobiMover' although there will be underlying regulations, limitations with these apps that you must take note of.
Since all these apps have clean UI, instructions mentioned at each step are enough to fuel whatever you need to understand and do to get the stuff you want to complete. Some apps might move Contacts alone while some would need backing up everything including Contacts so have a look for proceeding. Don't forget to read a few reviews on App Store here and there to avoid getting virtually mugged.