Speed Test is a tool that is very frequently used by people to test their network speed. One of the most widely used and reliable platforms to test speed is speedtest.net. While many users are able to use the platform without any problems, some users have reported a Socket Error issue while doing the Speed Test. This hinders the ability to properly carry out the test. There are a few reasons why this error throws up at times.
Depending on the cause of the issue, there can be a number of fixes for this issue. Sometimes an Outbound Rule, Connected Devices Platform – Wi-Fi Direct Transport (TCP-Out) in Windows Firewall might be the issue. Many times people use cloud storage solutions such as Google Drive and Dropbox. Keep in mind that this may trigger the problem as well. Finally, if you are using a third-party antivirus that might cause the issue as well. Nonetheless, here are some of the fixes you can try to get rid of the socket error issue.
How to Fix Socket Error Occurred on SpeedTest?
Solution 1: Enable Connected Device Platform rule in Windows Firewall
This is the most common cause of the socket error problem which pops up while doing a Speed Test. Fixing it is very easy and can be done in a matter of seconds. This issue is more common on Wi-Fi than on Ethernet. Fixing it is very simple, just go to Advanced Security Settings of Windows Firewall and enable the outbound rule. Here is a step by step guide on how to do it.
Go to Start and Search Windows Firewall
Click on Windows Defender Firewall and select Advanced Settings in the left pane
Double click on Outbound rules
Scroll down to Connected Devices Platform – Wi-Fi Direct Transport (TCP-Out)
Double click on Connected Devices Platform – Wi-Fi Direct Transport (TCP-Out)
Go to the General Tab in the Properties Dialog Box
Make sure the Enabled checkbox is ticked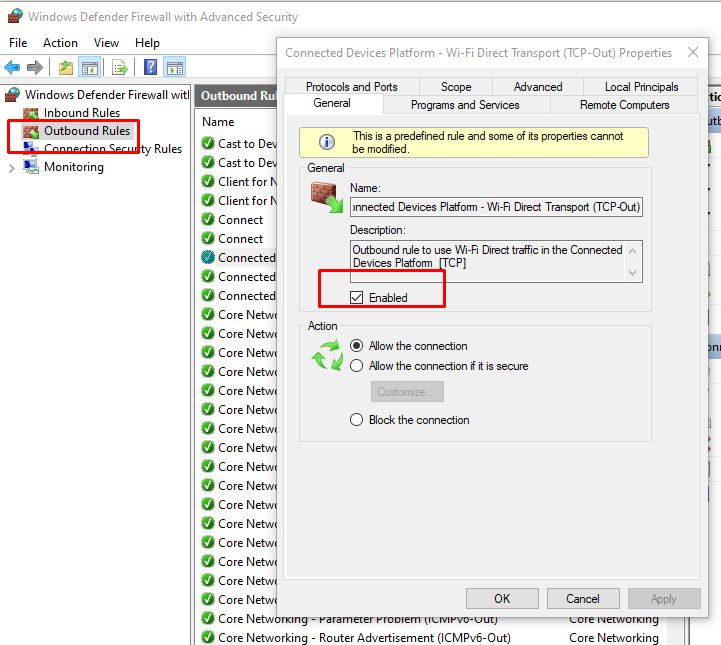 Solution 2: Pause OneDrive Cloud Sync
Cloud Storage solutions consume a lot of bandwidth and that is the reason why many people face the socket error issue while checking their speed. If you do use a Cloud Storage solution, make sure you pause the sync before attempting to check your internet speed. Here is how to disable Sync on OneDrive
Right Click on the OneDrive taskbar icon
Select Pause Syncing and select the duration as 2 hours
Check if the issue is resolved
For Google Drive, follow the following steps:-
Click on the Google Drive icon in the Taskbar
Go to the Actions tab in the top-right corner and click on Pause
Check if the issue is resolved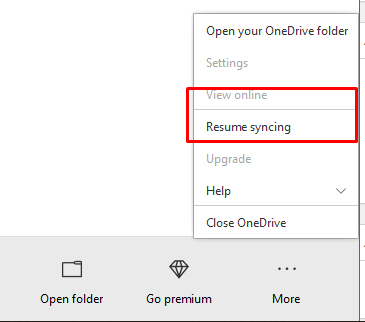 Solution 3: Whitelist Speedtest in Your Antivirus
If you are using anti-virus software, then it might be that your anti-virus is blocking the Speed Test. This can lead to socket error issues. You can pause your anti-virus software for a while when you are using Speed Test and resume it again once you are done. The feature you need to disable is commonly known as real-time protection. Alternatively, you need to visit the Exclusions or Exceptions section of your antivirus software and add the URL of Speed Test, https://www.speedtest.net/, to it.
Solution 4: Uninstall 3rd Party Anti Virus
Sometimes the antivirus software still causes issues even though real-time protection is disabled. If you are still facing issues then uninstalling the antivirus software is the way to go. To uninstall your antivirus follow the following steps:-
Right-click on Start and Select Run
Type 'appwiz.cpl' and press Enter
Scroll Down to your anti-virus app
Right-click on it and select Uninstall
Follow the on-screen instructions
Solution 5: Try another Speed Test service
If none of the above solutions work, then you need to try another service. Here are some popular speed test websites.
Fast.com
TestmySpeed.onl
Speedof.me