Do you know what happens when you accidentally delete files from your computer? It's easy to assume that such files will never be recovered. But don't worry; many data recovery tools help you get those files back. If you are wondering how to recover deleted videos from your PC, you've come to the right place.
In this article, we'll show you how to recover deleted videos from your PC and also share the best solutions for getting rid of them permanently.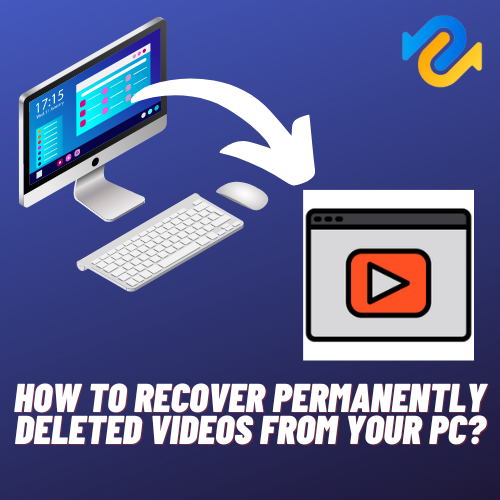 If you have permanently deleted videos from your pc, it is possible to restore them. Tenoreshare 4DDiG is the software we recommend you to use this software to recover them back. This software can recover deleted videos from various storage devices such as Hard disks, USB flash drives, and memory cards. It supports all windows operating systems such as Windows and MAC. It has a simple interface, and you can recover videos in no time. So, if you want to know how to get back deleted videos using Tenoreshare 4DDiG, then follow the steps given below:
Step 1: Select a Local Disk
First of all, download and install the software. Once Tenorshare 4DDiG Windows Data Recovery has been installed and launched, you will be presented with the home interface below, which includes Data Recovery & Advanced Options. We need to select the local drive where we lost our videos from a list of hard drives and then click Start. You can select the target file types in the upper-right corner of the screen.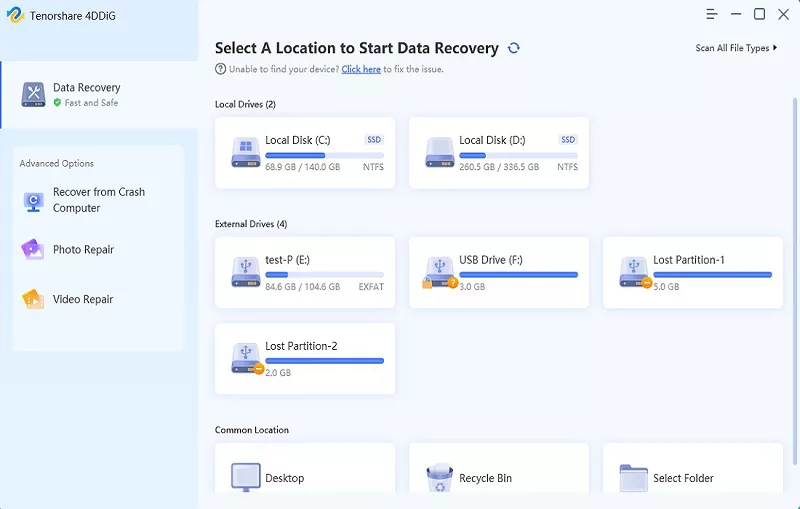 Step 2: Scan the Local Disk
As soon as 4DDiG determines that the selected drive contains missing data, it examines it for missing data. If you have identified files you want to recover, you can pause or stop the search anytime. Under the Tree View, you will find categories such as Deleted Files, Existing Files, Lost Location, RAW Files, and Tag Files. The File View also lets you see file types such as Photos, Videos, Documents, Audio, and Emails. The left panel also allows you to filter your search by using Filter or to search for target files.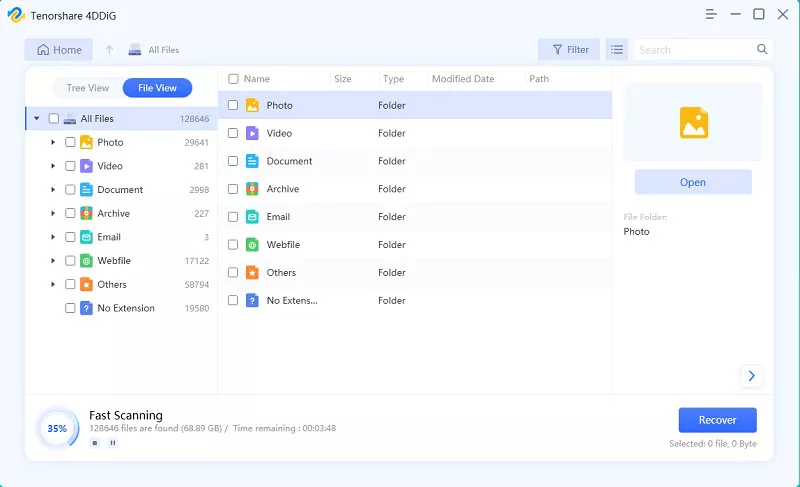 Step 3: Preview and Recover Files from the Local Disk
It is possible to preview and recover the target files after discovering them. Save data to a different partition if there has been disk overwriting or permanent data loss.
Part 2: How to Recover Deleted Videos without Software?
If you have deleted a video, you can still get it back. Even if your PC hard drive has been wiped, there is always a possibility that the deleted files are still there. If you want to retrieve them, do not panic. You can try the following solutions:
Solution 1: Recover Deleted Videos via Backup of Your Computer
If you periodically back up your files, the deleted videos might be recoverable by copying and pasting them into your computer.
You can copy your video files back into your PC from an external hard drive if you've backed them up.
It is also possible to download the files to your PC by right-clicking and choosing to download them if you have backed up your data on a cloud storage service like Google Drive.
Solution 2: Retrieve Deleted Videos from File History Feature
The File History feature in Windows backs up versions of your files automatically. However, it is important to note that you must already have the File History backup option set up on your PC for this method to work. Based on that assumption that it is turned on for you, here is a process for recovering deleted videos using File History:
In the Start Menu, search File History and choose the best match.

From the left-hand menu, select Restore personal files.

A list of backed-up folders will appear. Choose the location of the video file you wish to recover.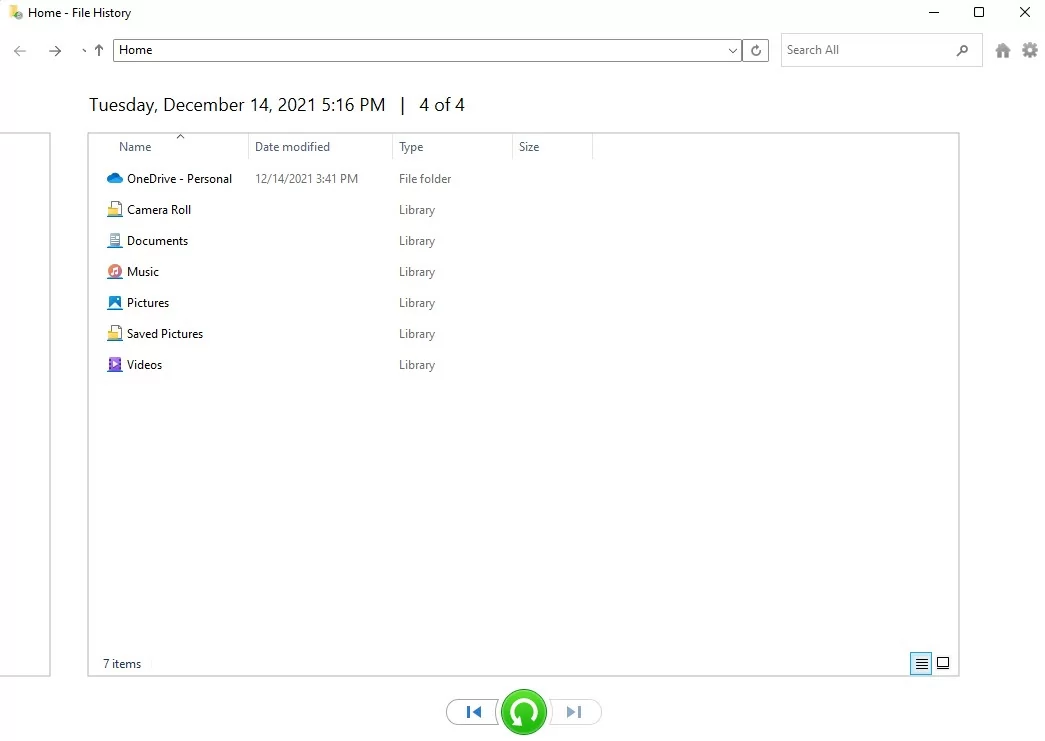 4.You can recover a video file (or an entire folder) at the bottom of the page by selecting it and clicking the green recovery button.
You will be able to retrieve the video files from their original location. It's important to remember that the recovered video file may not be the most recent version, so any edits you made recently may be lost.
Solution 3: Deleted Videos Recovery with the Previous Version
Using File History, you can restore a previous version of a file:
The deleted file can be found by opening Windows Explorer and right-clicking it.

You can restore previous versions by selecting Restore previous versions.

You can preview the contents of a File History backup by selecting the most relevant one and clicking Open.

Make sure the file you want to recover is selected.

If you wish to recover it, click on the green Recover button on the preview window's bottom.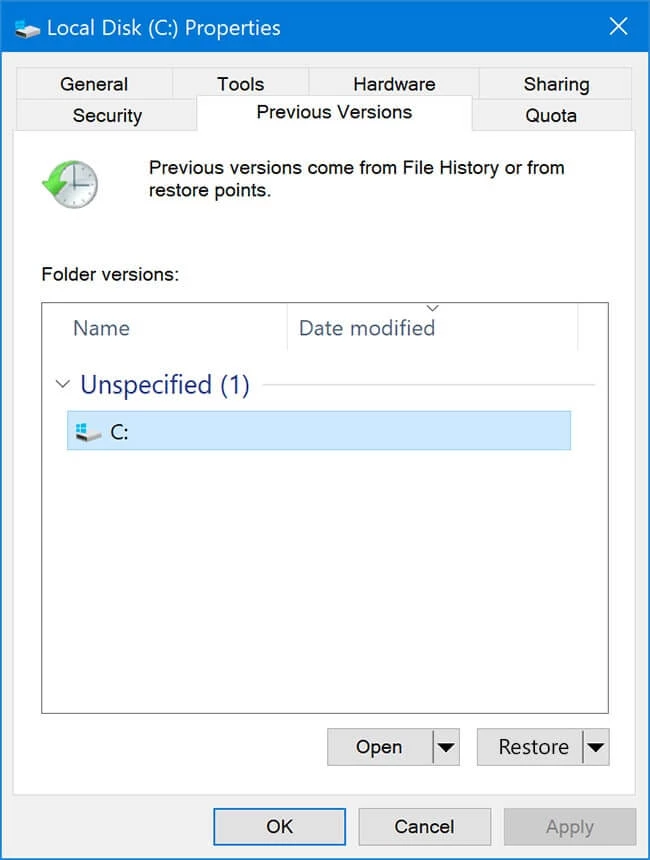 Solution 4: Restore Deleted Videos Using Command Prompt
You can use Microsoft's Windows File Recovery tool to recover files on Windows. However, you will need to be familiar with using the Command Prompt since the utility has a command-line interface.
It is also limited to Windows 10's May update, newer versions, and Windows 11.
The steps for using Windows File Recovery are as follows:
From the Microsoft Store, download Windows File Recovery.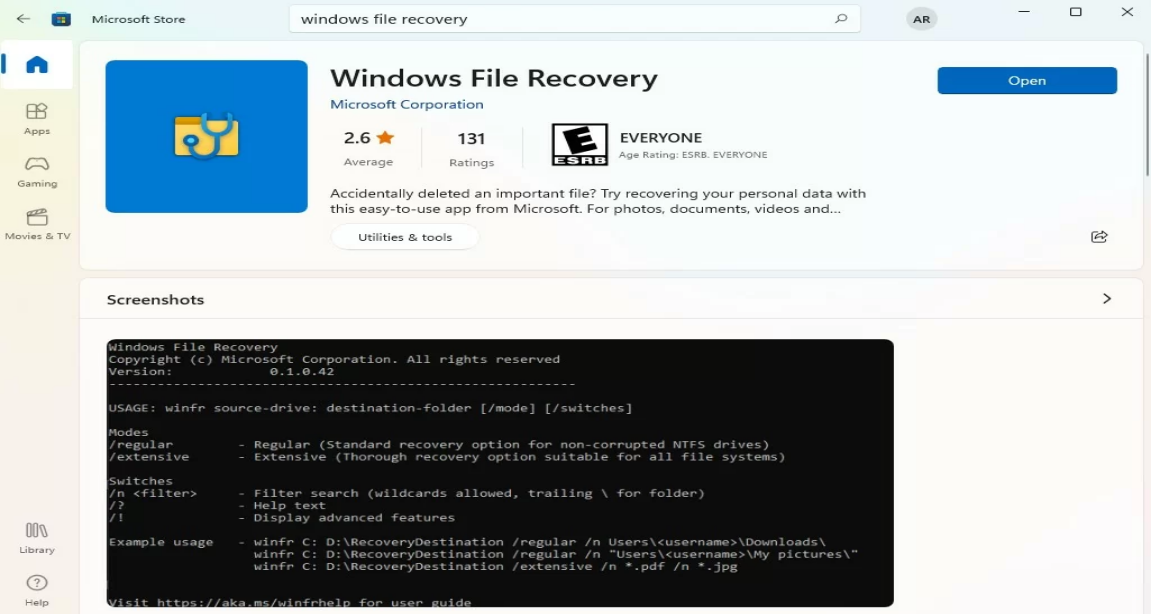 2. Select the Best match under Windows File Recovery in the Start Menu once installed. Click Yes if the UAC prompt appears.
3.In this case, we will assume D: is the destination drive and E: is the source drive: winfr E: D: /regular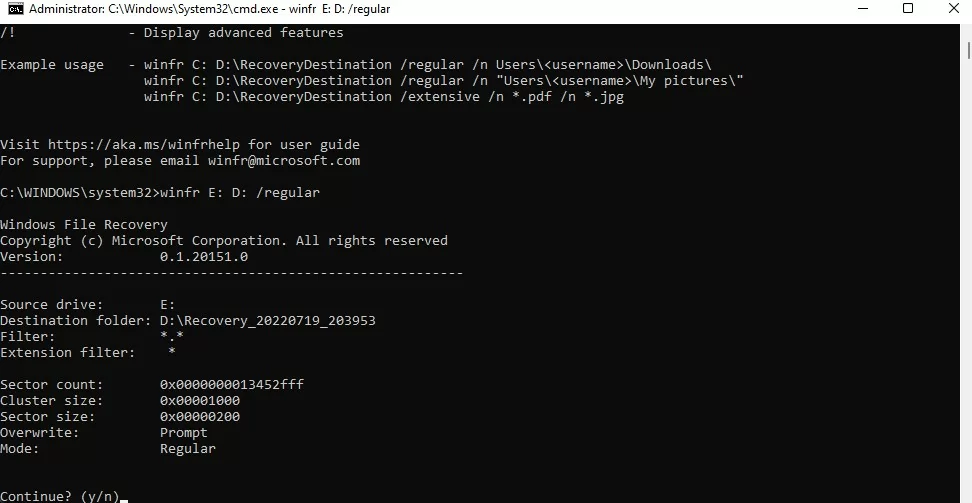 You can filter the recovery results if you know the video file extension with the switch winfr E: D: /regular /n *.mp4
4. Upon completion, you will see a folder called "Recovery-[date]-[time]" containing the recovered files on the destination drive.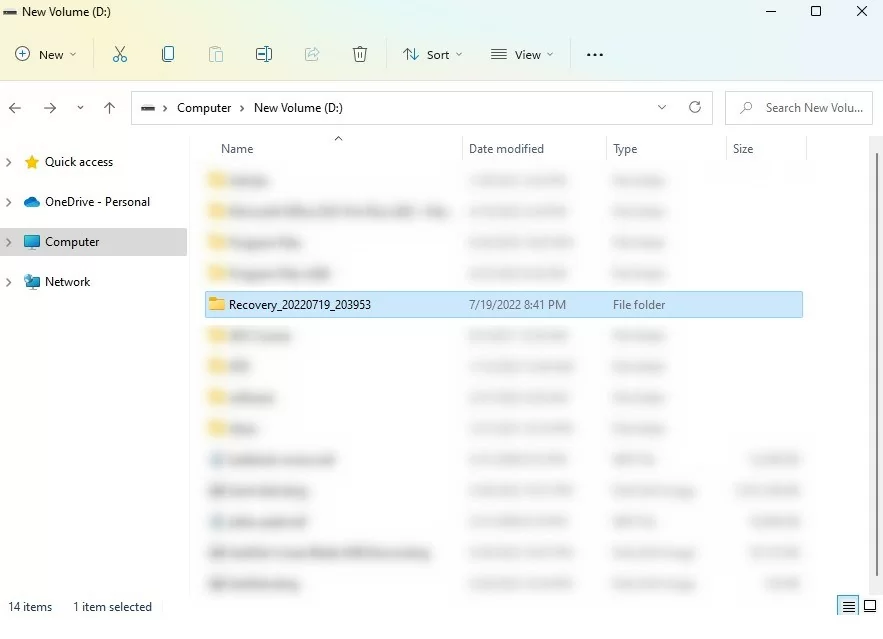 Part 3: How to Protect Important Videos?
If you have any important videos on your computer, it is always better to protect them. If the video gets deleted accidentally, you might lose your data. So, it is always better to protect important videos by ensuring they are not deleted.
Here are some tips to protect important videos:
Back up your videos regularly so that you can recover them if something happens to them. When it comes to protecting your videos, it's very important to keep them safe. Most people store their videos on their computers, but if something happens to your computer, it could mean losing your videos. Cloud services like Dropbox or Google Drive allow you to save your files to the cloud and access them from anywhere. Cloud services also allow you to share your files with others, making it easy to collaborate.
Conclusion
If you lost valuable video files through accidental deletion, don't panic. You can always get your files back with the help of a good data recovery program like Tenoreshare 4DDiG. We hope you found this post helpful. Please feel free to share it with others.
Tenorshare is one of the best software companies that offer a wide range of products to help you manage and back up your files. Their 4DDiG video recovery software is one of the best tools for recovering lost or deleted videos from your PC. It's easy to use, fast and reliable. The Tenoreshare(Back-to-School Sales) is coming up, which will run from Sep. 7 to Oct. 10. During this period, you can avail of huge discounts on Tenoreshare 4DDiG. So, don't miss this chance and grab the software at the most discounted price of the year.