Bringing comfort and design to a whole new level. Experience picture-perfect comfort, wellness, and sustainability through this massive canvas. With the HP Monitor, you can enjoy a new high-definition experience while playing, working, or simply staring at it. There are many positive reviews that the HP monitors have because their products are really good, and they even offer 4K displays.
However, with such greatness, it has many flaws. Yes, many users recently started reporting that the HP Monitor is not detecting HDMI. That's why we are here. In this guide, we have explained some basic fixes that you can try to resolve the HP Monitor not detecting HDMI issue. So, without getting late, let's start with the guide.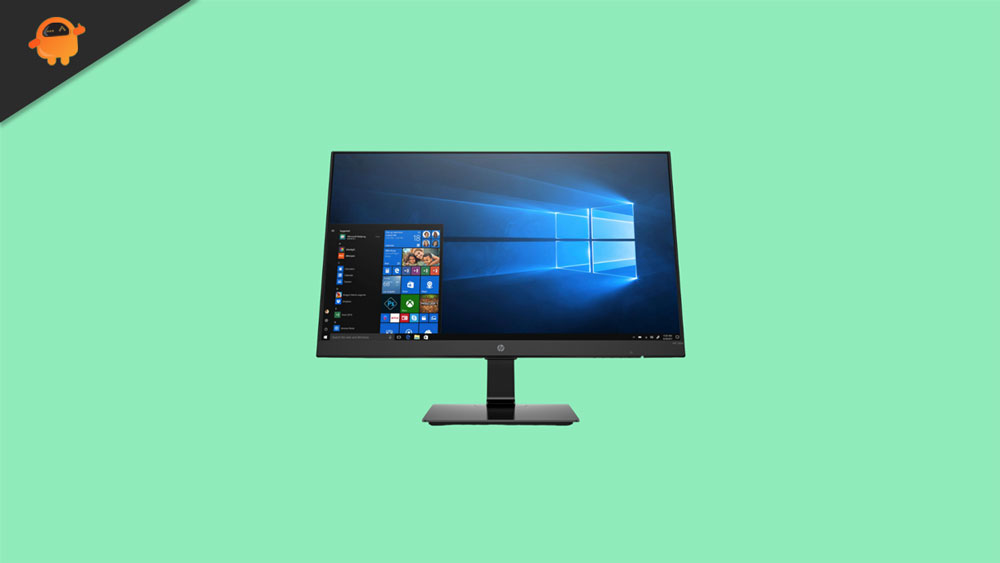 How To Fix HP Monitor Not Detecting HDMI?
If you are facing the HP Monitor not detecting HDMI issue, then you can follow the fixes we have described below. So, let's get started with the fixes:
Fix 1: Reboot Your Device
It is important that you reboot your HP monitor as well as the PC to which it is connected at first. This is because you may experience an HDMI problem if you have random glitches and bugs preventing your HP Monitor from detecting HDMI. Therefore, by rebooting, you will be able to fix the issue of the full-screen not appearing because all the bugs and glitches will be removed.
Fix 2: Check The Settings of Your Application
The full screen isn't displayed when you run many apps with full-screen settings. Therefore, a full screen should be enabled for that application. As the method of enabling full-screen mode varies by application, we will not cover how to do it here.
When you are not able to find the full-screen settings, you can visit the official website of that particular application. Make sure that you have full-screen settings as well as a resolution setting for that application.
It is possible for PC users to change the video game resolution to meet their requirements. Therefore, try all these and check if you are able to fix the HP Monitor not detecting HDMI issue or not.
Fix 3: Adjust the Display Settings
When the display settings of Windows 10 are inappropriate, the full screen displays incorrectly. For this issue to be resolved, you should adjust the display settings in Windows 10. To get started, you should:
Press the Windows logo and I together to bring up the Settings app.

Next, click System.

Choose Display from the left-hand menu.

Under the Display resolution section, select the appropriate resolution for your monitor.

Change the scale and layout of text, apps, and other items to 100%. Try a different scale setting if the 100% doesn't work.

Under scale and layout, click Advanced scaling settings.

Try letting Windows fix any blurry apps if they aren't already.

Once your System has restarted, you should now be able to see the full screen.
Also Read: Fix: VLC Not Playing Audio Through HDMI
Fix 4: Update Your GPU Driver
If your full screen is appearing because of graphics card problems, it could be a problem with your graphics card. You may have problems viewing full screen on your monitor if you do not have the latest graphics card driver. In order to rule out a video card driver problem, you should update the driver for your video card. Here's how it's done:
To begin, right-click on the Taskbar and select the Device Manager.

Right-click on the GPU manufacturer's name under the Display Adapter.

Choose Update Drivers from the menu.
Fix 5: Use Compatibility Mode
When one or some of your applications fail to run in full-screen mode, the software can be adjusted to run in Compatibility mode. To do so, simply follow these steps:
Right-click

the application on your desktop that is causing the full-screen problem to see the location of the file.

Now, tap on the

Properties

from the right-click menu of the

setup file

.

Click on the

Compatibility

tab.

Thereafter, select

Run this program in compatibility

mode and hit the

Apply > Ok

button to save the changes.
Fix 6: Close Background Processes
Your HP Monitor may also not detect HDMI due to background processes. To prevent system resource-consuming background processes from running, you should close them all. Therefore, let's close the background processes as follows:
Start by right-clicking the Taskbar and selecting Task Manager.

On the Processes tab, select the running application and click the end task button.
Fix 7: Check The HDMI Cable
Connecting your device to the HP Monitor also requires you to check the HDMI cable. You should, therefore, thoroughly inspect your HDMI cable for any damage. Unfortunately, the HP Monitor does not detect HDMI issues that may be resolved by replacing the cable if any are found.
Fix 8: Contact the Support Team
Unfortunately, if none of the fixes we have mentioned earlier in this guide has helped you, except for contacting the HP support team, you have no choice. Therefore, you must contact the HP support team and ask them to resolve the HP Monitor not detecting HDMI issue.
Also Read: HP Monitor Not Turning On, How to Fix?
So, that's all on fixing the HP Monitor not detecting HDMI issue. We hope that you find this guide helpful. Meanwhile, for more information regarding this topic, comment below and let us know.