It seems that Huawei is also offering the FRP lock feature to its devices for a couple of years and that's why after performing a factory reset, your Huawei device may ask for a correct password for the phone activation with Huawei ID. Now, if you've forgotten the password or you're not the sole user of your device, you won't be able to unlock it. Here we've shared an easy way for Huawei Y6P MED-LX9N to Remove Huawei ID and Bypass FRP.
Although Huawei Y6P didn't come with Google Play Services preloaded, it's running on the MediaTek MT6762R Helio P22 SoC out of the box. So, even if the handset is having Huawei Mobile Services (HMS) instead of Google Mobile Services (GMS), the latest MediaTek chipset-equipped devices do come with a built-in FRP lock feature. So, if in case, you've done a factory reset on your handset, you'll be stuck in the initial setup screen.
What is FRP Lock?
Well, Google Account Verification lock or Factory Reset Protection (FRP) lock or Phone Activation lock (Huawei) is, all the same, to simply protect your mobile system as well as the user data from an unknown user. Even if someone steals your device and performs a factory reset, the person won't be able to use that device until the FRP lock gets unlocked using the previously used Phone Activation password for Huawei (Non-Google Play) devices.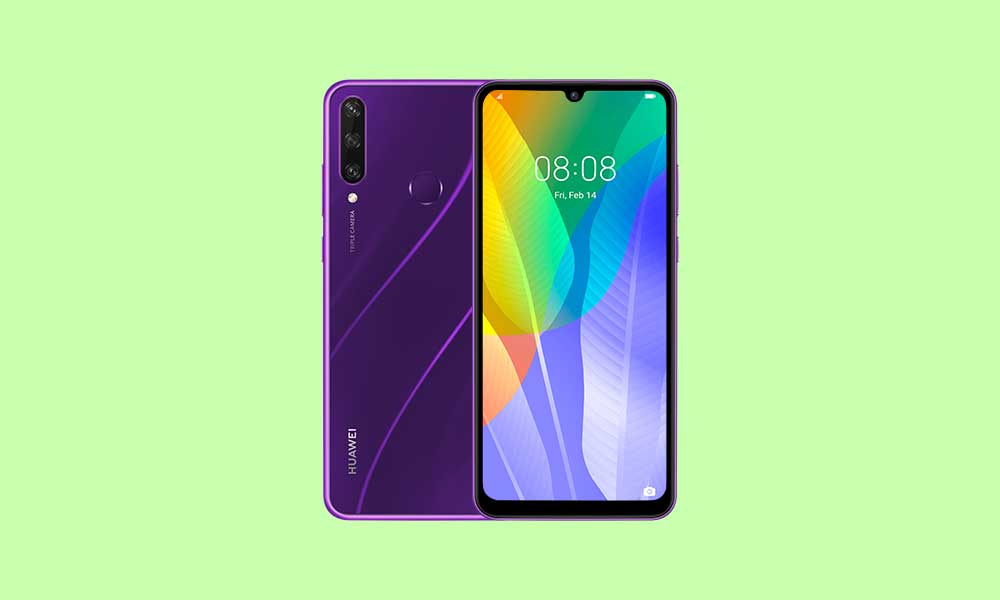 Now, if you're the actual and sole user of your Huawei Y6P handset but can't remember the Phone Activation Password that you've created before, then you can follow this guide to easily bypass FRP right from your device itself. There is no need to root your handset or no need to use any box tool.
Huawei Y6P MED-LX9N Remove Huawei ID and Bypass FRP
So, we assume that you've already performed a factory reset to your Huawei Y6P device, and then it booted into the initial setup screen. Now, you're unable to put Phone Activation Password and that's why you're unable to use your handset too. Now, without wasting any more time, let's jump into the guide below.
From the WELCOME screen, select English (or your preferred language) > Tap on GET STARTED.
Select Region according to your preference > Tap on Next.
Terms of Use screen will appear > Tap on Next again.
It'll ask to Insert SIM card > Tap on SKIP.
Now, connect to a Wi-Fi network > Tap on Next > On Data & Privacy, tap on Next.
Phone Activation screen will appear > So, you don't know the password or even can't activate with lock screen password.
Press and hold the Power button on the handset to bring power menu > Tap on Power Off and Tap on Touch to Power Off.
Now, make sure to download the Huawei Y6P MED-LX9N 10.1.0.107.rar file on your PC.
Extract the archive file into a folder and copy the 'dload' folder into a MicroSD card.
Then insert the MicroSD card on your Huawei Y6P > Press the Volume UP key and then the Power key to hold for a couple of seconds until the Huawei logo appears. [Release the Power key but keep holding the Volume UP key until the Huawei logo turns off]
Now, the stock EMUI Recovery menu will appear > Tap on Update Mode.
Select Memory Card/OTG Update Mode > The device system will automatically start verifying the update.
It may take some time so have some patience > Then it'll start installing the update.
The update installation will also take some time to complete. So, wait for it.
Once you see the 'Update success' message on the screen, the device will automatically boot into the system. [It'll also take some time to boot]
Again you'll on the WELCOME screen > Press and hold the Power key again and Power Off your handset.
Press the Volume UP key and then the Power key to hold for a couple of seconds until the Huawei logo appears. [Release the Power key but keep holding the Volume UP key until the Huawei logo turns off]
Now, the stock EMUI Recovery menu will appear > Select Clear Data.
Select Factory Reset > Type yes and then tap on Factory Reset.
It'll take some time to perform the factory reset > Once done, tap on Restart.
Tap on Restart again > Now, press and hold the Volume UP + Power keys when the Huawei boot logo appears.
Keep holding both buttons until the Huawei logo turns off and appears again.
Now, release the Power button but keep holding the Volume UP button.
The EMUI stock Recovery menu will appear > Tap on Update Mode.
Tap on eRecovery Mode > Tap on Update and recover system.
Tap on Download update and recover > It'll enable Wi-Fi and connect to the Wi-Fi network.
Tap on the Wi-Fi network that you want to add > Enter Wi-Fi password to connect it.
Once the device is connected to the Wi-Fi network and then the system will download the package.
Tap on Cancel to download the package > Tap on Emergency Backup.
Tap on Continue > The device will boot into the Emergency Backup screen.
Select BACK UP > From the backup screen, tap on the here link.
Tap on Browser to open the mobile browser app > If prompted, allow permissions and other access.
Go to Network Settings > Tap on Biometrics & Password.
Tap on Lock screen password > Tap on Change Unlock Method.
Select Pattern > Draw a lock screen pattern and confirm the changes according to your preference.
Then tap on Done > Now, press and hold the Power button then select Restart.
Your device will restart the system now. It may take some time to reboot.
Once the Huawei Y6P device rebooted, unlock the screen lock using the just added pattern lock.
Tap on GET STARTED > Tap on NEXT > Allow the Terms of Use and select Next.
Tap on SKIP on the Insert SIM card > Connect to the Wi-Fi network.
Once the Wi-Fi network is connected, tap on NEXT > Tap on NEXT from the Data & Privacy screen.
Now, tap on Activate with lock screen password from the Phone Activation screen.
Then draw the unlock pattern to activate the phone and remove the FRP lock.
Finally, log in or sign up into the Huawei ID to continue.
Otherwise, just skip this step, and follow the on-screen instructions to select skip or later to directly get into the home screen.
You're done. Enjoy!
This is how you can easily unlock the FRP lock on your Huawei Y6P device without using any tool or special access.
Huawei Y6P MED-LX9, MED-LX9N Test Point
Here we'll gonna share how you can find out the Huawei Y6P MED-LX9, MED-LX9N Test Point, or get into the Download Mode (Emergency Download Mode) so that you can perform multiple advanced level tasks by yourself. You can basically use this test point in any box-like tools such as the MRT key tool, UFI, UMT, Medusa. All you need is to just shoot the gold point to the ground and then connect a USB cable.
Why Do We Need Test Point?
Install the firmware file on Huawei Y6P.
You can remove Huawei ID using Test Point
Repair IMEI and NVRAM using it
Restore or Unbrick dead Huawei Y6P by flashing firmware.
Easy to remove FRP lock or screen lock
Where to Find Test Point in Huawei Y6P
Remove the back panel of the Huawei Y6P device carefully. Try not to damage hardware parts.
Now, check the screenshot below to find out the Huawei Y6P Test Points.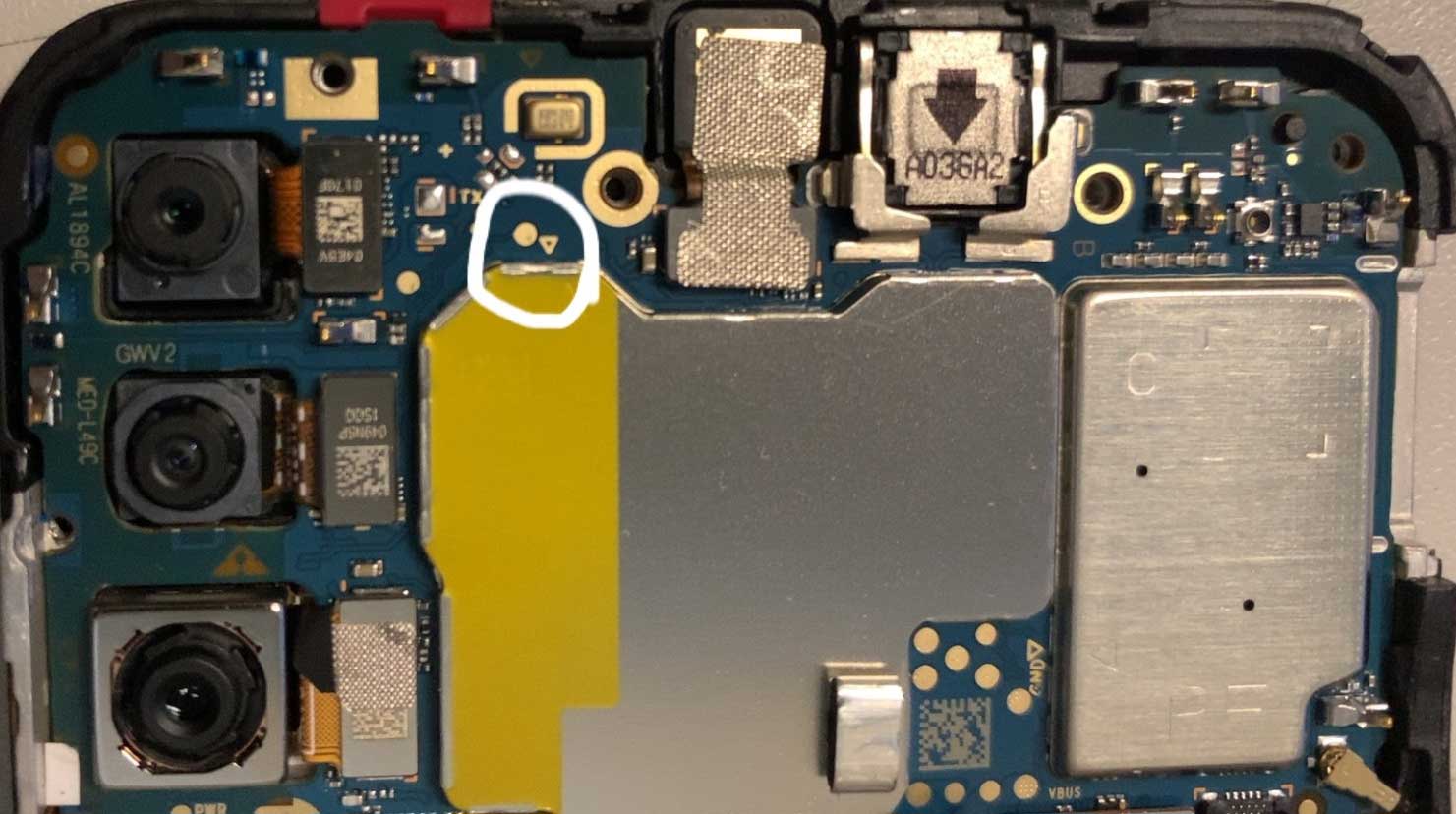 How to Remove Huawei ID on Huawei Y6P MED-LX9, MED-LX9N FRP Lock
Download and install the SigmaKey Software on your computer.
Connect your device to PC using a USB Cable in upgrade mode
Select the Serial Port as DBA Adaptor Port.
Select the Software Testpoint On Off
Now load the downloaded firmware package "UPDATE.APP"
The software will start the flashing process. Wait for a few seconds or minutes to complete the process on your Huawei Y6P. Do not remove your device.
After the process, the device will enter factory mode.
Now you can connect your device again by removing and connecting the USB cable again.
Now under serial port, make sure you select USB (autodetect)
Select Authorize has Huawei
Tap on Remove Huawei ID.

The process will begin to remove the firmware protection, also called FRP lock.
After successfully removing the Huawei ID, you have to set the testpoint OFF. This will again revive the phone from factory mode to normal phone mode.
Select the Serial Port as USB (autodetect), Authorize with device model, and then tap the Software Testpoint on/off.
After completing the process, your device will be back to normal.
That's it, guys. We assume this guide was helpful to you. For further queries, you can comment below.