Well, we all know that Android Oreo is the latest Android version that is unveiled by Google recently. Presently only a few devices have this latest OS installed in them as most of the manufacturers are working to fit them on their devices. It is quite true that being the latest Android Version it is one of the best things for those who love Android. We know every wants to add functionality in their Android devices but no one actually wants to root their devices. If you are one of the Android Oreo users who want to install a Dark theme on your device, we will guide you in this post on how to keep up the pace in this matter. In this guide, we will help you to install Dark Theme on Android Oreo without Root.
There is nothing wrong to say that a few themes are really amazing and this is actually the reason that why many people don't mind rooting their devices for getting them. It is true that since the last couple of years, Google themes are light. Many people want dark themes as in some earlier version of Android. To install a dark theme on Android Oreo without root, there are certain things you need to keep in kind.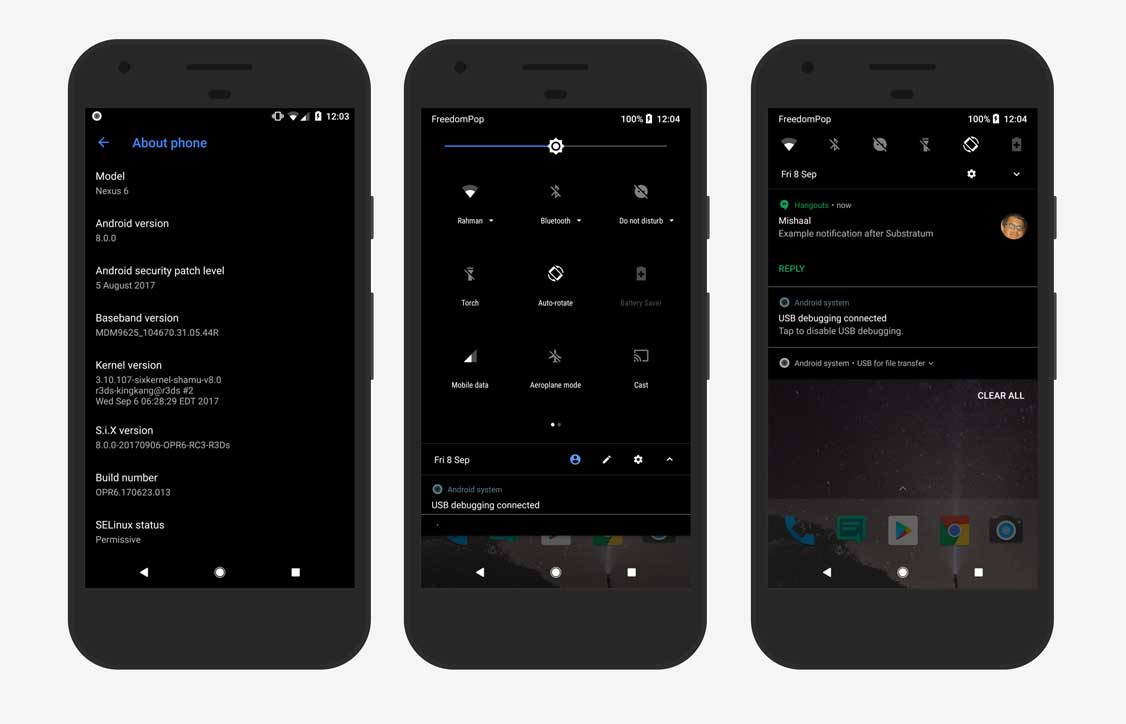 Prerequisites
Before you proceed further to install a Dark theme on Oreo, you must have a device running on Oreo 8.0. Currently, the devices which have this latest Android version installed in them are Google Pixel, Pixel XL, Nexus 5X and 6P. Also, you must have a Pc based on Linux, Mac or Windows.
After this, you can simply proceed to install a dark theme on Android Oreo without root. Check out the below link to get Sai's Android Oreo black theme. It is available free of cost. Check it out by clicking the below link.
Download Files
Download Sai's Android Oreo Black Theme
You can even assure of a dark background on the apps you have installed on your device when you open them. It works fine on Twitter, Play Store, and Messages.
How to install a Dark Theme on Android Oreo without Root
The very first thing to make sure before you proceed is to start Andromeda desktop client application. This is because Substratum needs some permission to manage the themes. Here is our full guide on How to Install Substratum Theme Manager without root.
Open Substratum and check "Sai's Android Oreo black theme" and simply click on it to enter the setup page for the theme pack.
You will see an option "select to toggle all overlays"
When you are done, you will see that it select the theme colors that are by default. In case you need to change them, simply expand the drop-down menu which you will see under "Android System" and choose your desired color from the list available. You have the option to choose Rose, Better Teal, and Violet. In a very similar manner, you can also change the color for UI Navigation.
Once you select it, simply click on the floating button that has an icon of the paint roller. You will see a floating menu on the screen.
Next is to click "build & enable" option. As the Substratum starts compiling and installing, you will see a loading message on the screen. After this, you can see every overlay file in your device. All the tasks will be done without your interference.
You can then see the status on dark theme installation on the bottom in the form of a snack bar. Basically, it remains available there for a short time. To see a full-scale message on the screen or acknowledgment of successful installation, you need to expand your notification panel.
Immediately you can see that notifications and setting panel will become too dark.
It must be noted that any notification that exists already in the panel prior to applying this theme wouldn't show a dark color but the new notifications arriving at the device you use would be dark for sure.
In case you need to install a dark theme for apps, you need to download the Sai's Fresh Theme from below link
Open Substratum and look for the Sai's fresh theme. Next is to select the themes you want to apply on the apps. You need to select the paint roller as in a similar manner as already mentioned to apply the theme.
You can now enjoy a dark theme on your phone which will remain with you even if you reboot the device. In case you need to remove it, follow the 1-6 steps, but instead of build and enable the option, click the "Disable Selected".
That's it! enjoy the dark theme on Android Oreo without Root.