Well, there is nothing inaccurate to say that Android Oreo is one of the hottest topics that are discussed on the World Wide Web for the last couple of months. With its release recently, many Android lovers have found themselves in a state of extreme happiness. One reason is Substratum theme supported on Lineage 15.0 ROM for Oreo. Although it's not yet available for all the devices, you need not to wait for long to get it to your smartphone. There are certain things about Android Oreo that are being unveiled after its launch. Every day we came to know about amazing about it and this post is going to unveil another fact about Android Oreo and i.e. Substratum themes on Android Oreo without root.
Well, the fact is a lot of people look here and there to install a custom theme on Android Oreo. Although it's not a big deal, in most of the cases you need to root your device which voids its warranty. Continue reading this post to know how to install Substratum themes for Oreo without rooting your device.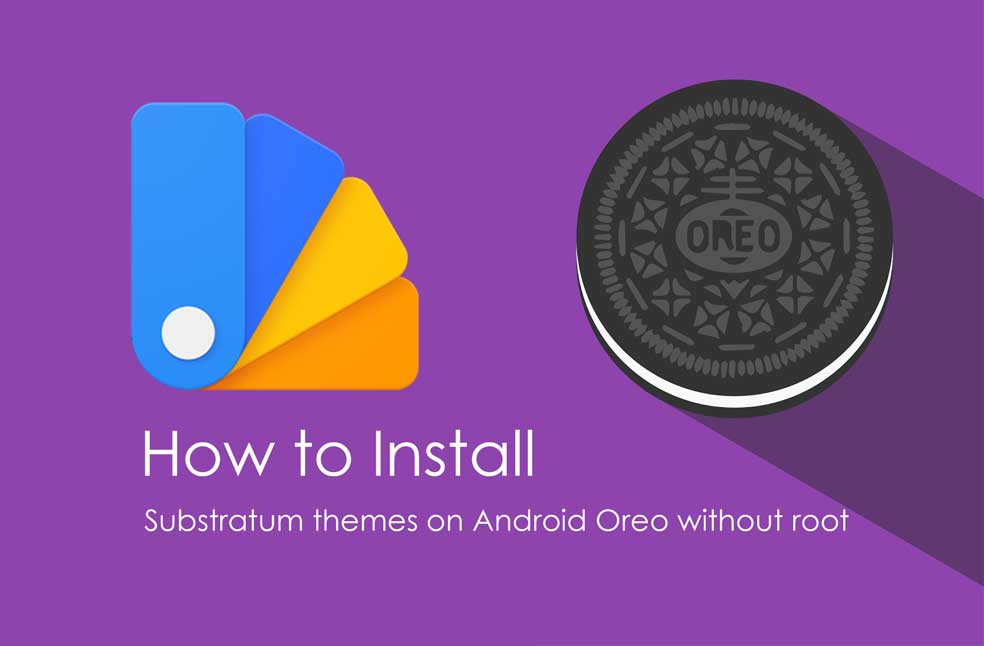 How to Install Substratum themes on Android Oreo without root
Custom ROM adds additional functionality in the Android devices but it's also true that there are many features that don't work after that. It is a well-known fact that Google has never made API available for building themes on Android platform and this is exactly the reason that theme engines need root access for validating the themes on Android devices. However, when it comes to Substratum themes for Oreo, there is no need for you to worry about rooting your device as it's possible to install Substratum themes on Android Oreo without root. The credit goes to Substratum which is a well-known and simply the amazing theme engine for making it possible.
It is true that Substratum has made available several custom themes for Android based widgets. Before this, there was a need of root access with Substratum themes. However, they have come with recent API which is not just amazing but simply work without the root access. Next big thing is Substratum theme supported on Lineage 15.0 which is probably very good news.
To install Substratum themes on Android Oreo without root, there is a bit of work which you need to do to keep up the pace simply. Substratum theme engine required to be set up in the rootless mode. This needs to be done through Andromeda app which I basically a paid app. However, you need not to worry about the cost because it's not too high. Also, the price is nothing when compared to the elegance of Substratum themes for Oreo which you will have on your device. The app is available on Play Store simply. Also, there is a need to install Andromeda Desktop Client. You need not to worry about the OS installed in your PC as Andromeda Desktop Client tool works with Mac, Windows, as well as for Linux. So here we go.
Downloads
How to setup Andromeda on any device running Android Oreo
First of all, Download and Install the Substratum Theme Engine and the ADDON Andromeda app from the play store. (Link is given above)
Now you need to download and Install the ADB and Fastboot Setup on your computer.
In your phone, you need to activate the developer option in order to enable USB Debugging
–> Go to Settings –> About Phone and Tap the build number 7-8 times until you see a toast message saying Developer Option Activated.–> Go back to Settings –> Developer Option —> Enable USB Debugging option here.
Now open the Andromeda app on your phone and you'll see a pop-up screen which shows connection disconnected.
You can follow the next step to fix the Andromeda connection error.
Fix the Andromeda Connection disconnected status:
To fix the Connection disconnected status on Andromeda app on your phone, you need to follow this step below.
Connect your phone to PC/Laptop and give the permission access to allow USB Debugging
Now download the Andromeda client for your PC from the above downloads and unzip the file to a separate folder on your desktop window on your PC/Mac.
1. Windows: Open the folder and click the start_andromeda.bat file. It may ask you for "administrator" rights. If it asks, give the permission and you will see a cmd prompt window screen (Command Window), now press enter and some bunch of ADB commands will work. These commands will set up Andromeda add-on so it can run without the help of PC Connection.
2. For Mac: Open the Andromeda client folder and click on AndromedaClient.app. It will ask you to select the "disk image of the mounted Andromeda client." Now Press continue and select the Andromeda from the devices list that pop-up.
3. For Linux: Open the folder where you extracted the Andromeda desktop client, run the start_andromeda.sh file. Now you will see a command window which will now show some bunch of codes working, this is actually fixing the Andromeda to work on your device independently. Wait until the script loaded to your device.
If the script has loaded properly. Now Andromeda add-on app will show a Connected status on your device.
Once the device shows the Andromeda service, then you can now go back to Substratum theme engine and install themes on Android Oreo without root
Steps to Install Substratum themes on Oreo without root
If you have followed the above steps or already have Substratum Theme engine on your device running Android Oreo, then you can browse the play store and look for the best theme that you like. 'Here is the link to Play Store. You need to download OMS Substratum theme, Legacy and RRO Substratum will not work on Oreo device.
Once you've downloaded, now go back to Substratum theme engine and install it.
You can select all the overlays at once or you can manually select each overlay that you want.
Once you are done, now scroll down and you will find a floating button with paintbrush icon, tap on it and select Build & Enable. (this may take some time, so be patient.)
That's all. Finally, you have Substratum theme on Android Oreo without root. If you have any queries or feedbacks, please leave a comment below. Enjoy!